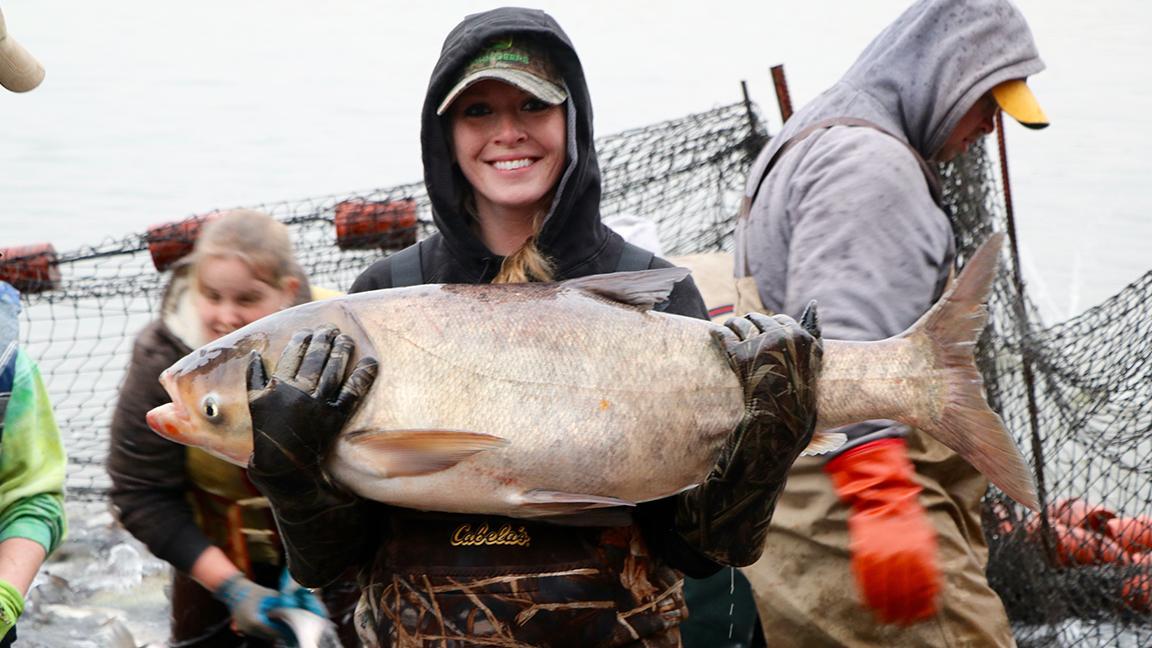 Charmayne Anderson holds a large Bighead carp caught in a lake in Morris, Illinois, in 2017. (Evan Garcia / WTTW News)
When it comes to keeping Asian carp out of the Great Lakes, Illinois is the last line of defense, but the state's not alone in the battle.
On Thursday, Gov. J.B. Pritzker and Michigan Gov. Gretchen Whitmer announced an intergovernmental agreement that will transfer up to $8 million from Michigan's coffers into Illinois' as Great Lakes states move forward with plans beef up the bulwark against the invasive fish.
The funds will be used to support the pre-construction engineering and design (PED) phase of the Brandon Road Ecosystem Project, which is expected to cost $10.5 million. Per the agreement, Illinois is responsible for 35%, or $2.5 million, of the projected PED costs. Those funds have been allocated through the Rebuild Illinois capital plan. The Army Corps of Engineers estimates it will take three years to finalize the design. 
Ultimately, the project will entail the installation of additional barriers at the Brandon Road Lock and Dam near Joliet. An electric barrier, acoustic deterrent, air bubble curtain and a flushing lock in a newly engineered channel are among the technologies to be deployed as part of the $800 million project to stymie the carp.  
The Brandon Road Lock and Dam in the Chicago Area Waterway System is a critical pinch point for keeping bighead, silver and black carp — the species of greatest concern — out of the Great Lakes. 
"The Great Lakes support 1.3 million jobs, including over 350,000 jobs right here in Michigan," Whitmer said in a statement. "That's why after decades of work, today Michigan, along with the State of Illinois and the U.S. Army Corps of Engineers, has taken a historic step towards protecting the Great Lakes from Asian carp. I am determined to continue to use every tool at my disposal to keep harmful invasive species from damaging the Great Lakes ecology and our economy."
Asian carp were imported to the U.S. in the 1970s to help clean retention ponds. Through flooding and accidental releases, they escaped into the Mississippi River and have since made their way into the Illinois River, which is their gateway to the Great Lakes courtesy of the Chicago Sanitary and Ship Canal.
Asian carp are voracious feeders, capable of weighing up to 100 pounds and consuming one-third of their body weight daily. They not only outcompete native fish for food, but also can alter the underwater environment so that it's uninhabitable for plants and other animals.
With completion of the Brandon Road project still more than a decade away, current defenses will be relied on to halt the carp, including electric barriers near Romeoville and expanded nonstructural measures such as focused commercial fishing.
Contact Patty Wetli: @pattywetli | (773) 509-5623 |  [email protected]
---