Organizing a few community events inspired Chicagoans Brianna Ramirez and Marisa Diaz-Arce to create Lolita Productions, an organization dedicated to creating platforms and opportunities for artists of color. Their biggest platform yet: Lolita's Bodega.
Named after Puerto Rican activist Lolita Lebrón, Lolita Productions set up the pop-up bodega in Humboldt Park in late 2018 to showcase the work of primarily Latino artists, vendors and small business owners.
"If we're not making and we're not supporting our own, no one is going to support us," said Ramirez. "We have to do it ourselves."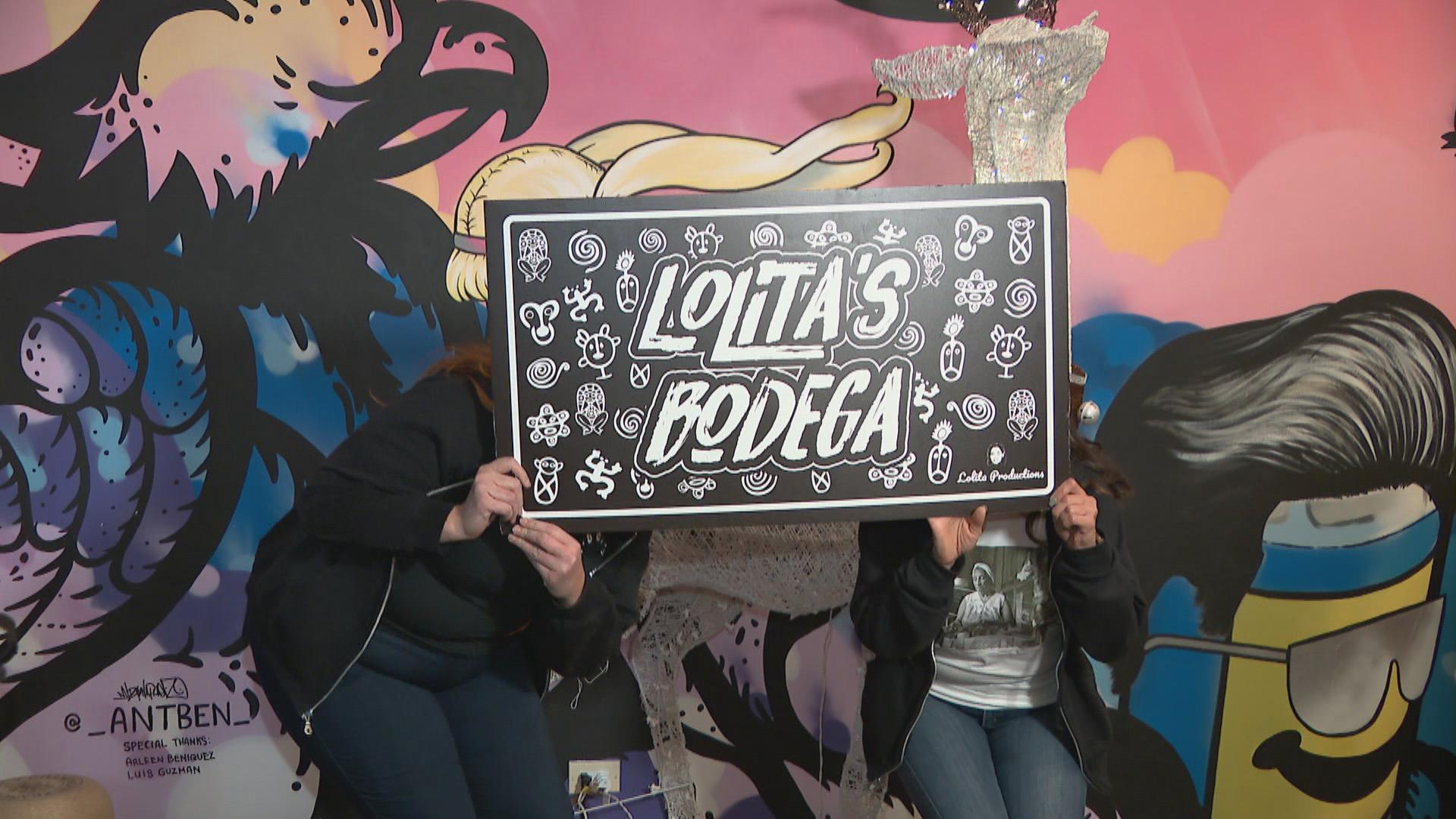 (WTTW News)
Ramirez and Diaz-Arce say by their third event, the artists had collectively made over $22,000.
"The farmers markets I've been to is a nice vibe, but you're just selling something," Ramirez said. "At a bodega, you're hanging out. Someone might offer you a drink or food, it's a good time." 
"It's not just a place to come and spend money," said Diaz-Arce. "It really is about community because we wouldn't be able to do what we do without those that believe in us."
When COVID-19 infections began to surge in the fall, the bodega turned virtual, but the artists involved in the project say that hasn't hindered the community in the slightest. 
"I don't think my art would be the level of where it's at without them," said Armando Rios — aka Mr. Barbudos. "They were taking a chance, and I didn't want to make them regret it. They do that with so many local artists, there's so many stories to tell and they're really giving people that platform to do it."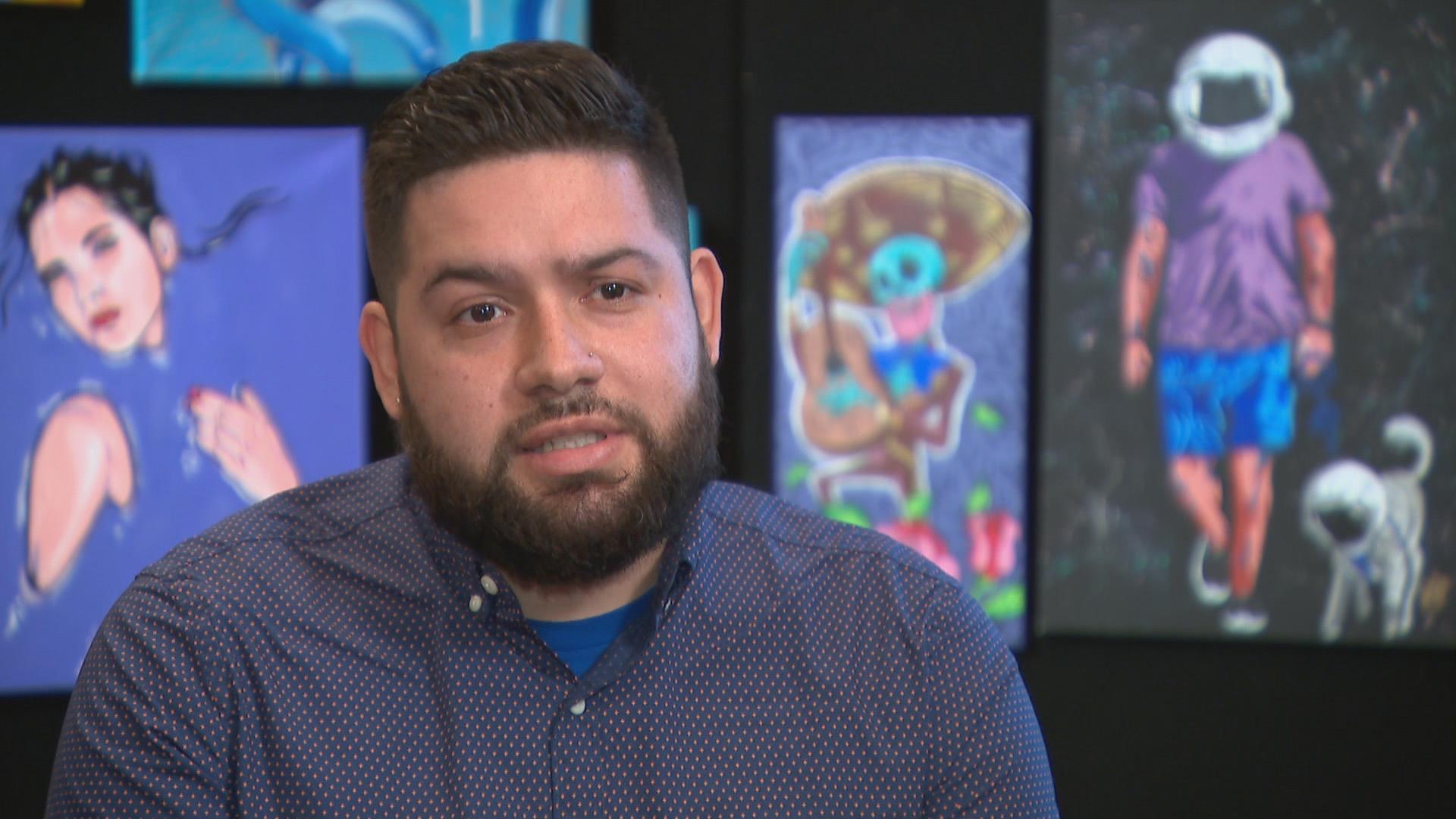 Chicago artist Armando Rios — aka Mr. Barbudos. (WTTW News)
The virtual bodega offers PDFs with links taking customers directly to the works of newer artists like Marie Ferrer — aka  Cookie Kwan — whose use of neon colors and detailed lines takes her characters to different universes. 
"They make me feel seen, and that's really important for artists especially starting out," Ferrer said.
Sarah Sosa, who goes by Sosa, thought her art could be more impactful than the work she'd originally planned to do as a doctor. 
"If I were to create something that has all of me in it and you can relate to that and it's healing for you, then that piece is going to be a part of you forever and a part of me is going to be with you forever," she said. "So it kind of creates a connection and a web of community, however far you are." 
Art educator and artists Brenda Torres-Figueroa says art is not only a way to connect but to understand. She uses fabrics from as far as West Africa for her handmade, wearable art.
"We are culture producers. We are building culture in many different ways by reflecting the world around us," Torres-Figueroa said. "This is important not only for us being visible and represented, but also as a part of the process of building a space together and leaving our legacy behind."
"We can't do what they do," said Diaz-Arce. "We believe in the work they have to offer—art, food, fashion—the world deserves to see it. And no one else is shining a light on our people, so we need to be the people that shine the light on each other."
---
More on this story
If you're interested in checking out some of their artwork in person, visit their community partner Your Happy Place Liquors where they're selling prints in person. Lolita Productions' next event take place Wednesday with a food and toy drive in observance of Three Kings Day.
Follow Angel Idowu on Twitter: @angelidowu3
---
Angel Idowu is the JCS Fund of the DuPage Foundation Arts Correspondent.
---