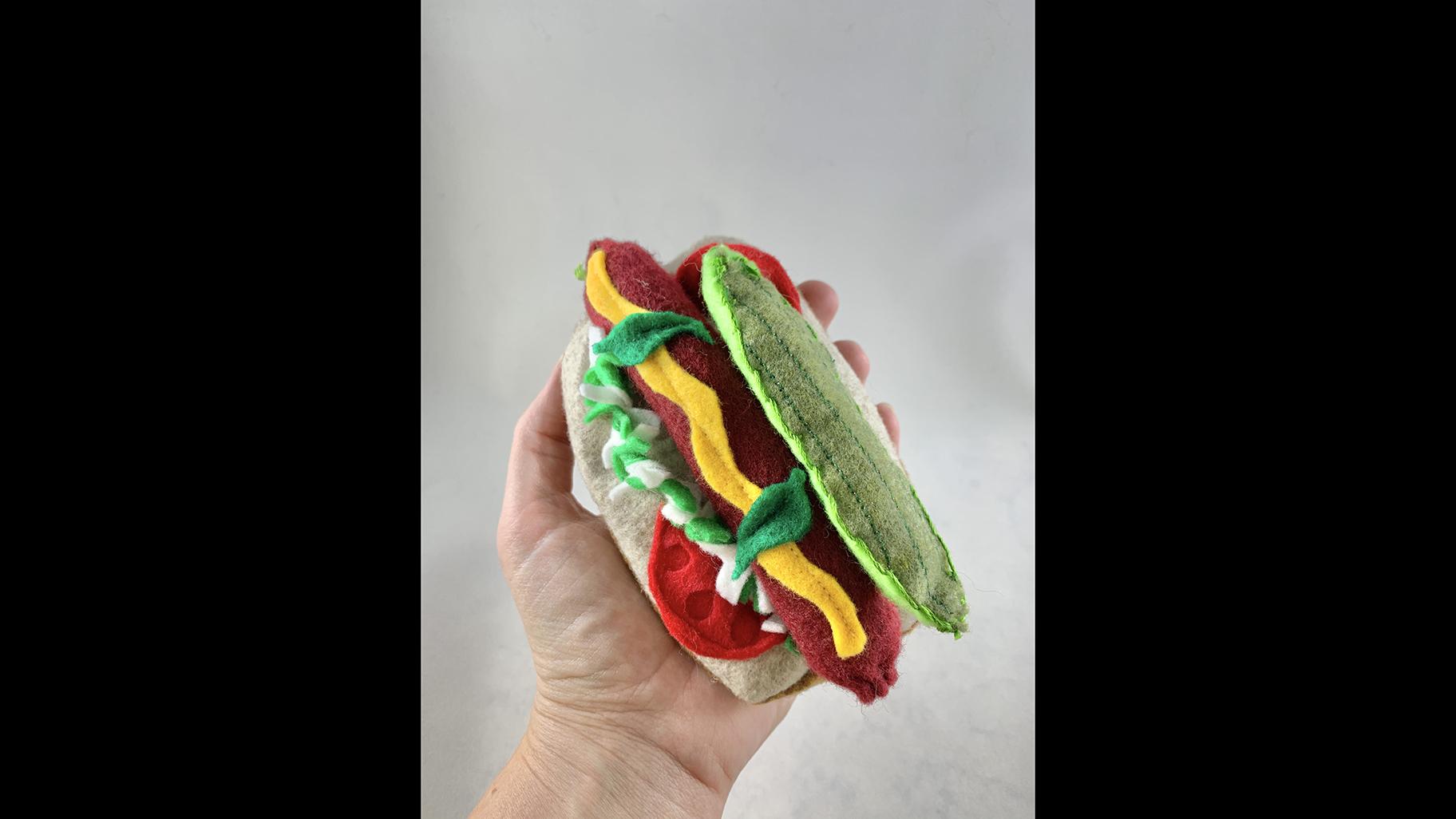 A Chicago-style hot dog, handmade in Chicago. (Courtesy of Rebecca Skoch)
When she couldn't find a Chicago-style hot dog ornament for her Christmas tree, Logan Square resident Rebecca Skoch saw a business opportunity.
The pandemic had already upended her livelihood as a longtime organizer of events like Donut Fest, Nacho Fest and Poutine Fest, so she decided to pivot, turning her arts and crafts hobby into a new way to make money after this year's festival season was largely nixed. 
Her new online pop-up shop Chef's Kiss Co. offers artful representations of the city's most popular eats and regional fare made from recycled felt — and unlike their real-life counterparts, these dishes double as holiday gifts or Christmas tree ornaments that won't get your fingers greasy. 
Skoch, who also works as a food and beverage consultant and writer, misses the many local bakers, beer companies and restaurants she worked with for the last 10 years. "It's been so tough," she said. "There are so many industries that rely on people being together."
These days, Skoch is focusing her energy on her new shop as she waits to see what will come of next year's festival season.
Since launching Chef's Kiss at the end of November, she's made about 350 snack items, ranging from a slice of deep-dish pizza to platters of vegetables and a meat-and-cheese option to a French seafood dish, key lime pie, and of course, the beloved Chicago-style hot dog.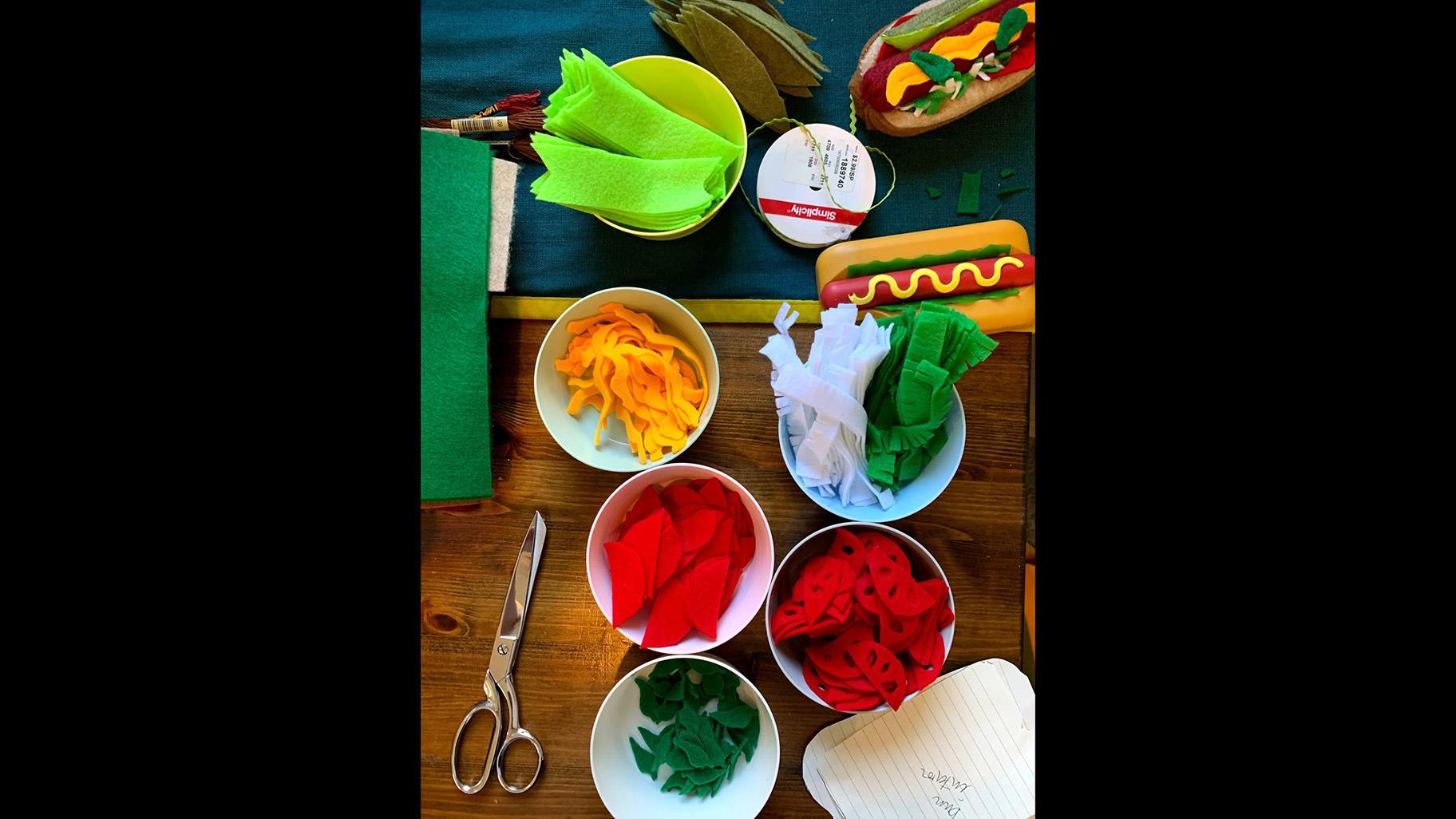 The making of a Chicago-style hot dog. (Courtesy of Rebecca Skoch)
Skoch says the hot dog was the first item she made and it's one of her top sellers. It took two weeks to perfect, she said, because there are multiple layers and condiments that need to be sewed on in a specific order. As a tree ornament, decorative item or toy, each hot dog can be flipped inside out like a pillow, keeping all of the ingredients together. 
The felt is made from recycled plastic bottles, so it stretches and morphs into Skoch's designs. With an array of colors, patterns and realistic touches, each snack is unique.
"It's like an idiot savant thing that my brain can do," she said with a laugh. "I can't do math but I can take a piece of paper and a piece of felt and make it look like a bun."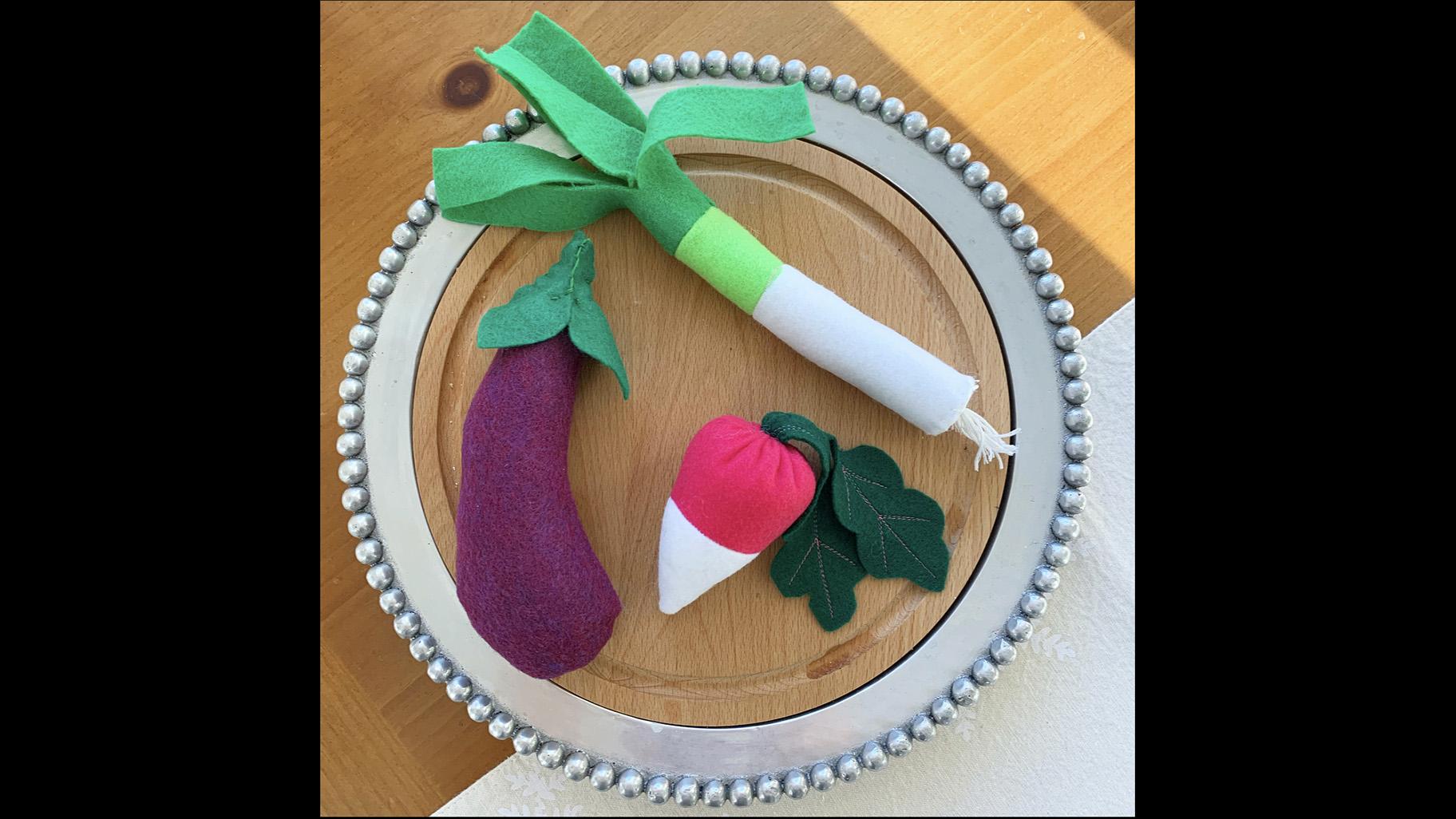 A veggie platter. (Courtesy of Rebecca Skoch)
Skoch plans to expand her Chicago-centric offerings to include items such as an Al's Italian Beef, pierogis and Tex-Mex items. She also wants to try her hand at gastronomic fare as a nod to the city's Michelin-starred restaurants. 
"I definitely want to do more bread, more carbs and maybe some pasta," she said.  
Skoch also plans to make more regional food favorites, like Cleveland Stadium Mustard. 
Ultimately, Skoch is looking forward to hosting events again and being able to socialize — even if that means wearing masks and using lots of hand sanitizer. Because her indoor events brought groups of about 1,000 people indoors, she anticipates things looking different in 2021 if, and when, festival season rolls around.
Deep-dish pizza, minus the calories. (Courtesy of Rebecca Skoch)
"[It might] be a few years of people being scared but I feel like it's going to go back to normal-ish eventually," she said. "People will be excited to get out and support local businesses that we promote and be around people again."
Ariel Parrella-Aureli is a freelance contributor to WTTW News: @ArielParrella
---