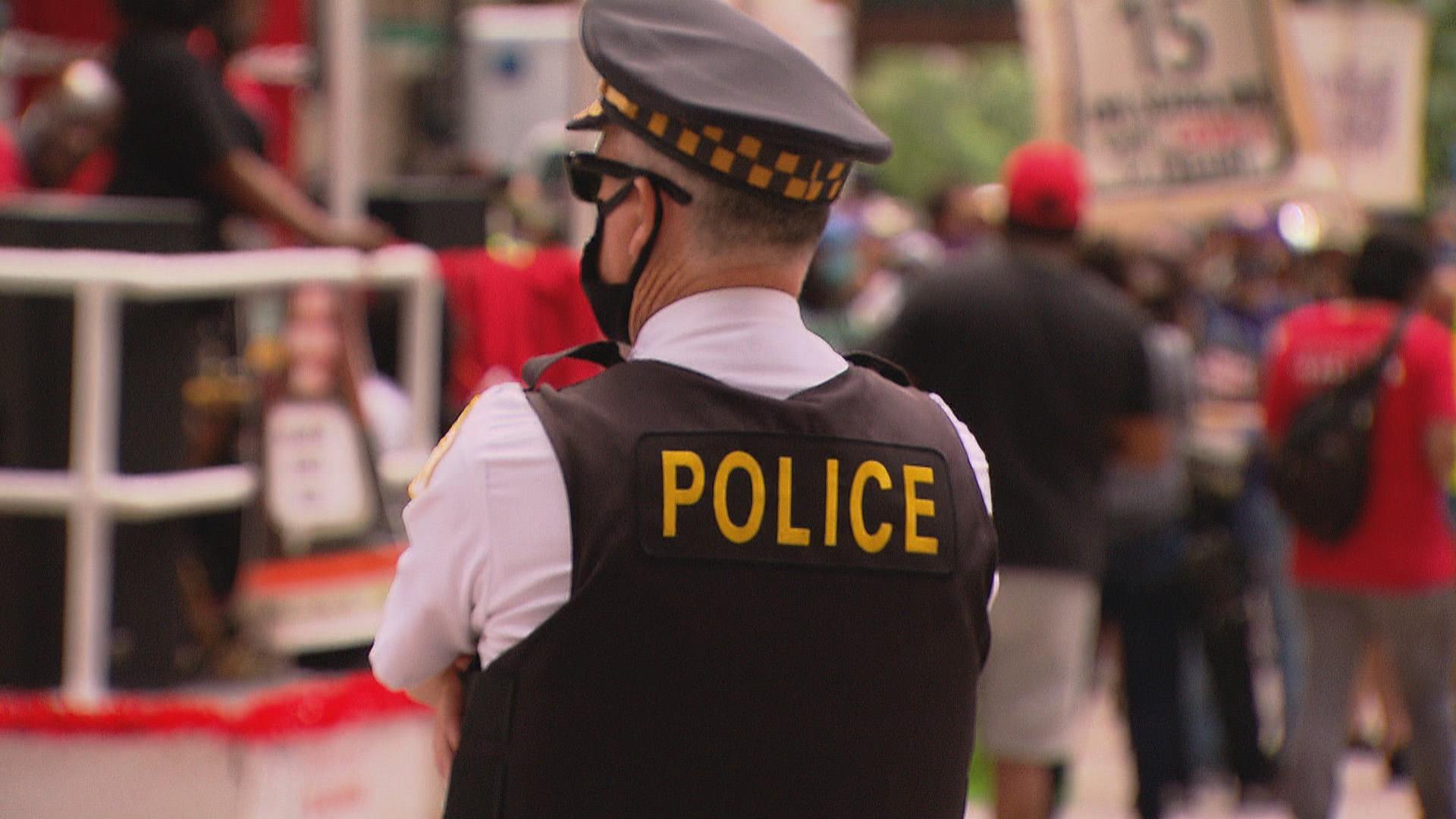 Demonstrators march in Chicago on Wednesday, June 24, 2020 to show their support for removing police officers from schools. (WTTW News)
A Black high school student who was dragged down the stairs and tased by a police officer stationed at Marshall High School should get $300,000 to settle her lawsuit against the city, aldermen agreed Monday.
Two Chicago police officers were captured on surveillance video confronting Dnigma Howard, a 16-year-old special education student at Marshall at the time of the incident on Jan. 29, 2019. When video of the violent altercation between the student and the officers became public, it created a firestorm of controversy that helped fuel a move to remove officers from Chicago Public Schools this summer.
Howard, who had been asked to leave the school for having her cellphone out during class, refused to leave and started to walk away when Officer Johnnie Pierre grabbed her wrist and dragged her down a flight of stairs with Officer Sherry Tripp on top of her, according to the video.
Video footage shows Pierre and Tripp punching Howard and stepping on her prone body before hitting her with a Taser three times.
The City Council's Finance Committee unanimously endorsed the settlement on Monday. A final vote is set for Wednesday by the full City Council.
Pierre and Tripp are no longer assigned to work as school resource officers, Chief Assistant Corporation Counsel Jeff Levine told aldermen.
Neither officer has been publicly disciplined for their conduct, although the incident prompted a complaint to the Civilian Office of Police Accountability and an investigation by the inspector general for the Chicago Public Schools.
Howard was charged with two felony counts of aggravated battery after reports filed by the officers accused the teen of attacking them. Those charges were dropped after surveillance video as well as video captured via cellphone by other students proved those allegations were false.
After the incident, Howard's father, Laurentino Howard, became a leader of the effort to convince Mayor Lori Lightfoot and her appointees to the Chicago Board of Education to remove police officers from Chicago's schools.
Although that effort failed, school officials slashed spending on the school resource officer program and gave local school councils the final say on whether officers would be stationed at their schools. 
The outcry also prompted the school board to revise their agreement with the Chicago Police Department to prevent officers with sustained allegations of excessive force, or complaints of inappropriate interactions with youth in the past five years, from being assigned to schools. 
Map: Which CPS Schools Have Voted to Keep or Remove Police Officers?
A half-dozen schools removed school resource officers from their campuses. The pandemic has prevented in-person learning since mid-March.
The Marshall High School local school council voted to keep the school resource officers on campus.
The Finance Committee also advanced two other settlements on Monday to resolve allegations of police misconduct.
Aldermen endorsed a recommendation from city lawyers to pay $295,000 to siblings Jamell, Trezell and Janell Island, who sued the city after their home was raided in 2018 based on faulty information in a search warrant.
In addition, aldermen advanced a recommendation to pay $192,000 to Patrick Bowden, who was arrested in February 2018 but released from jail nearly a year later after a judge ruled that testimony from an officer who said he saw Bowden toss away a gun was not credible, Levine said. All charges against Bowden were dismissed.
Contact Heather Cherone: @HeatherCherone | (773) 569-1863 | [email protected]
---