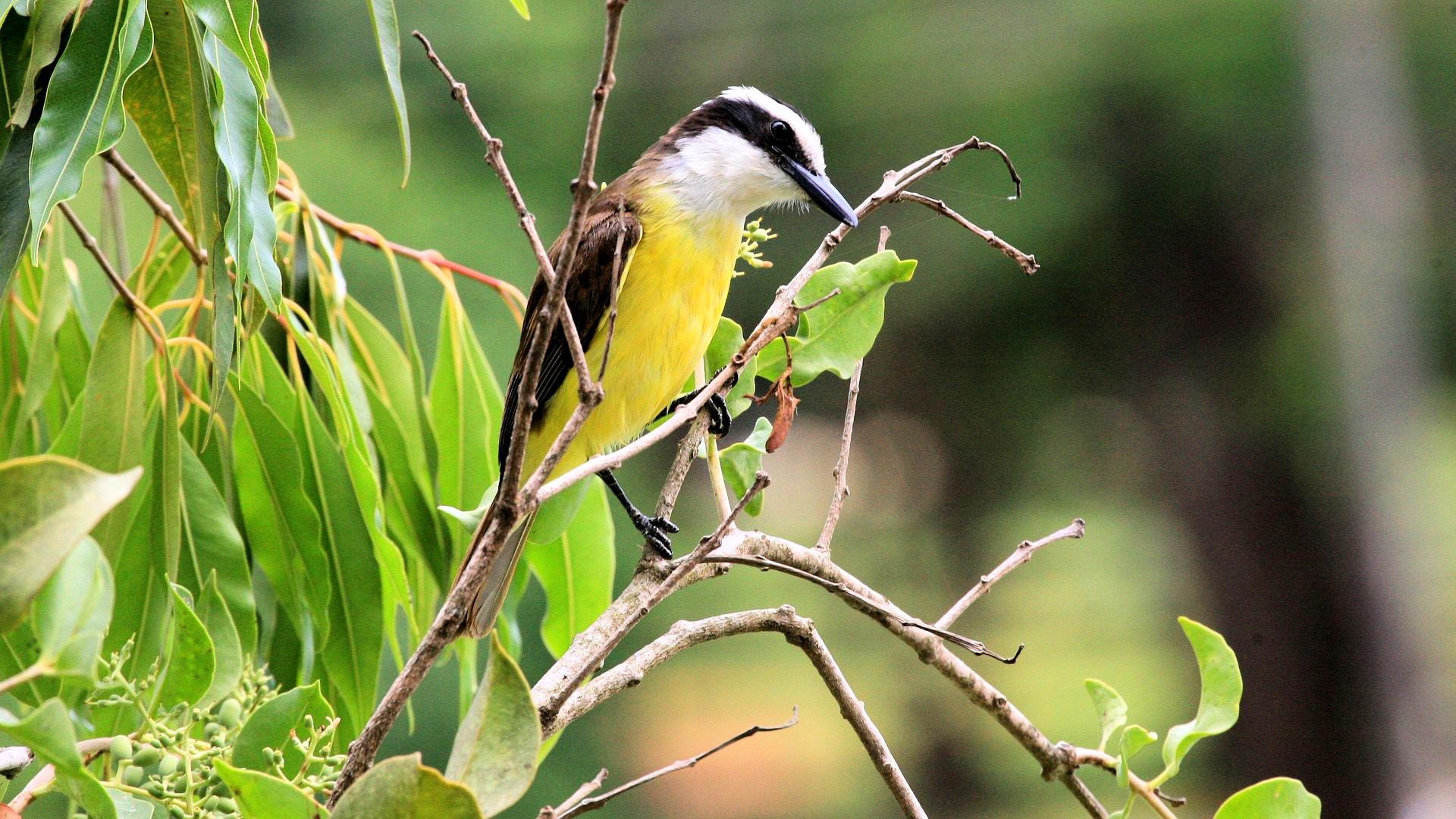 Great Kiskadee (Liam Lysaght / Pixabay)
With their bright-yellow bellies, a black bandit's mask around their eyes and a distinctive kis-ka-dee call, Great Kiskadees are easy birds to spot and hear. If you're visiting Mexico or Central or South America, that is.
The bird is seldom found north of southern Texas, which is why last week's sighting of a lone Great Kiskadee in Channahon, southwest of Joliet, had the local birding community buzzing. 
"Rare bird alerts" were shared on multiple digital platforms, attracting flocks of birders to Will County, hoping to catch a glimpse of the wayward traveler before it wises up to its navigational error.
Because Great Kiskadees are not migratory birds, naturalists are scratching their heads over why one would be found so far afield from its normal range. The best guess is that it may have been blown off course by a hurricane, according to Bob Bryerton, a program coordinator for the Will County Forest Preserve.
Though the sighting has created quite a stir among birders, it's also cause for concern. Many are hopeful the bird will somehow understand it's in the wrong place at the wrong time and shuffle off before biting cold temperatures and a lack of food threaten the creature's survival.
In case you're wondering what a horde of birders at a stakeout looks like. Actually not a bad day of winter birding so far with multiple Carolina Wrens singing being a highlight. Still no sign of the target... pic.twitter.com/uiitl1RJ1E

— Edward Warden (@DigiNaturalist) December 6, 2020
---
Will County notched another rare sighting last week, this time of a Baltimore Oriole at Rock Run Rookery Preserve in Joliet. The bird has never been reported in the county after September, typically having migrated south by now.
"Only time will tell if this is a shift and they are starting to stay north longer," Bryerton said in a statement. "People being able to document and share these rare sightings may help us to get more detail on these birds' movements and could change the way we think about their range and migration going forward."
---
Contact Patty Wetli: @pattywetli | (773) 509-5623 |  [email protected]