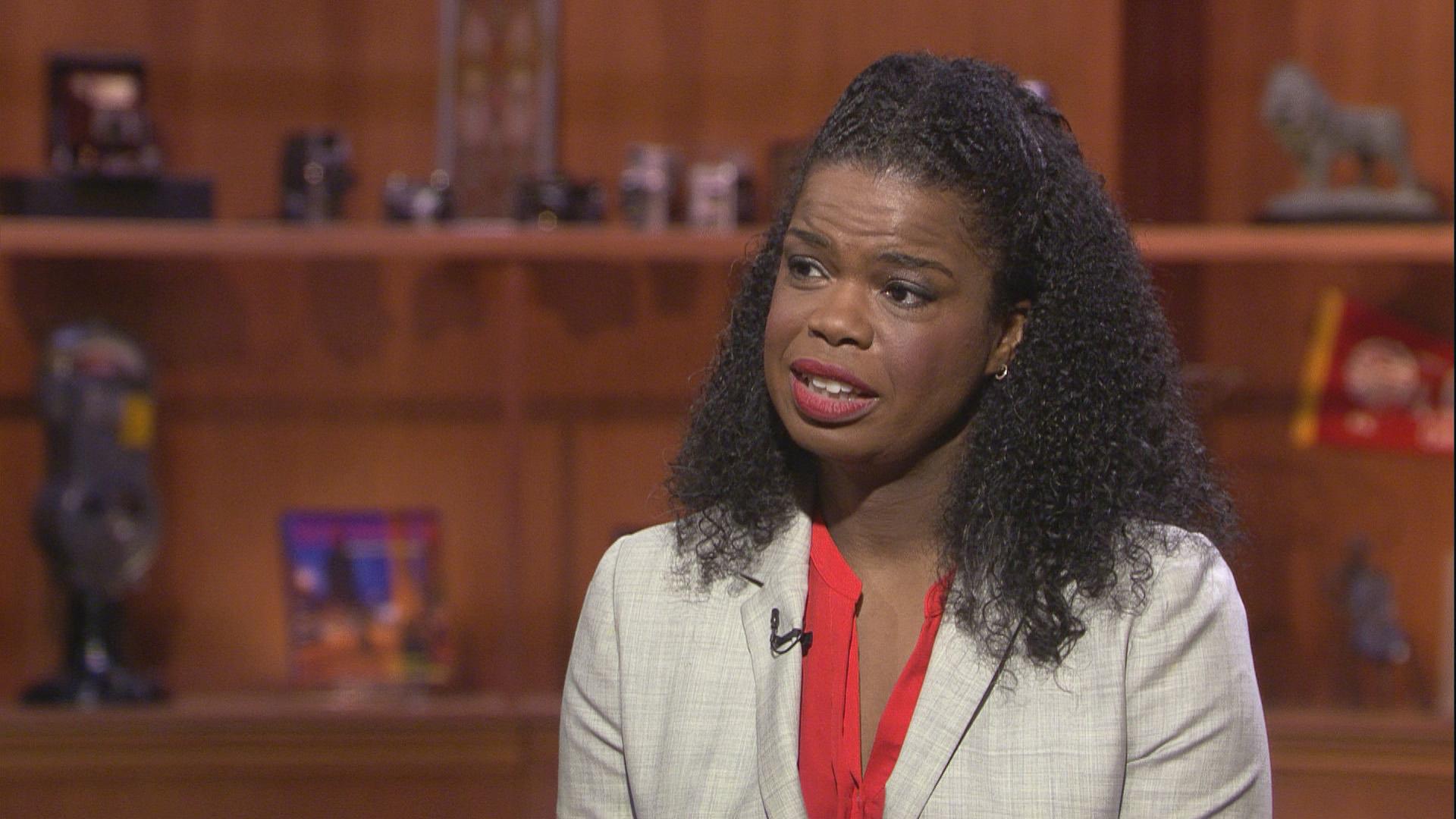 Cook County State's Attorney Kim Foxx appears on "Chicago Tonight" on March 18, 2020. (WTTW News)
A little over a month after she won her reelection bid, Cook County State's Attorney Kim Foxx was officially sworn in for a second term as the county's top prosecutor at her Loop office.
"I'm really proud of what we've done in the last four years," she said. "And I'm really proud, especially, of the men and women in the Cook County State's Attorney's Office who work tirelessly every day to meet the needs of our victims and our communities and work collaboratively with our partners in law enforcement. That work continues."
Foxx earned her second term by defeating Republican challenger Patrick O'Brien and Libertarian Brian Dennehy, earning 54% of the vote in the November election.
In her remarks following the ceremony Monday, Foxx reflected on the challenges of 2020 — an ongoing pandemic, economic hardship and surging gun crime — while looking ahead at the tasks she hopes to accomplish in the next four years.
Those include improving and expanding diversion programs and gun crime strategies, working more collaboratively with law enforcement to address gun violence and engaging mental health and public health experts to "devise plans to meet people where they are before they end up in our justice system."
Just as it was four years ago, Foxx said one of her main goals is addressing the spike in gun violence seen this year.
Chicago has already recorded more than 700 homicides in 2020 and is on pace to have its second deadliest year since the mid-1990s. Foxx, who came into office in 2016 when Chicago recorded 778 homicides, said her office had success in reducing gun violence the following year when it introduced its gun crime strategies unit, which embedded assistant state's attorneys in some Chicago police districts.
She told WTTW News on Monday she hopes to expand that program both in Chicago and the suburbs during her second term.
Today I was sworn in to serve the people of Cook County as your State's Attorney for a second term.

While there is still much work to do, and I cannot wait to get started, I'm immensely proud of the incredible strides we've made in just four short years. pic.twitter.com/k4gekd8QWS

— State's Attorney Kim Foxx (@SAKimFoxx) December 7, 2020
---
Another major challenge facing Foxx is the COVID-19 pandemic. Court operations this year have slowed to a crawl, creating what will be a significant backlog of cases once things get back to normal.
One recent study found that Cook County's criminal court system recorded an average of nearly 7,000 case dispositions — dismissals, guilty pleas and trials — between April 1 and June 30 in both 2018 and 2019.
During that time frame this year, courts resolved only 477 cases.
Foxx said her office has done the best it can to operate remotely and meets regularly with other criminal justice stakeholders, but there's not yet any clear resolution for how these delayed cases will be handled.
"I don't know what the short answer will be of what this will look like when the courts fully open," she said. "I, like you, predict that as courts reopen with the backlog as it exists right now, it will be an incredibly stressful time for our justice system and our office."
Foxx, who campaigned as a reformer when she first ran in 2016, also pointed to the "innovations" she's brought to the office over the past four years, such as releasing felony-level case data to the public, seeking widespread cannabis expungements and helping to overturn 95 wrongful convictions.
In her second term she hopes to expand bail reform, and said she's supportive of efforts to end cash bail completely.
The current system, she said, is based more on access to money than public safety. Foxx said that flaw is typified by Kyle Rittenhouse, the teen who's charged with murdering two people in Kenosha, Wisconsin, but was able to post the 10% of his $2 million bail necessary to be released from jail.
"At the same time, we have people who are in jail for low-level, non-violent offenses, who can't afford something as little as $1,000 to get out," she said. "Our existing bail system that does not take into account public safety, but takes more into account people's access to cash, does very little to keep our community safe. It has to be abolished and (replaced with) a system that is about public safety at the core."
Foxx's tenure as state's attorney has not been without controversy. Her office's dismissal of felony disorderly conduct charges against "Empire" actor Jussie Smollett was widely criticized. Foxx has admitted she could have handled that situation better, but the case remains ongoing after special prosecutor Dan Webb brought renewed charges against Smollett earlier this year.
A subsequent investigation by Webb's team into Foxx and her office's handling of that initial case revealed "substantial abuses of discretion and operational failures," though he said he found no evidence to warrant criminal charges against anyone in the state's attorney's office.
The Fraternal Order of Police Lodge 7, which represents some 8,000 Chicago police officers, has also been highly critical of Foxx both for her handling of the Smollett case and a perception that she's soft on crime, going so far as to ask for federal intervention after she declined to prosecute many offenses stemming from this summer's unrest.
While she said she won't engage in "name-calling" or "political stunts," Foxx said she is open to working with the FOP "to address issues that are of a common goal."
As for the Smollett case, Foxx said she first took office with the hopes of restoring the public's faith in the state's attorney amid the Laquan McDonald case. That's an objective she maintains, despite concerns raised during her first term.
"While one case garnered a lot of attention, I think a lot of people were more shook, to be quite honest, about the history of this office, being the wrongful confession capital of the United States," she said. "We'll continue to demonstrate by our daily efforts that this is an office that should have their credibility, but that's earned. And it is my goal to continue to earn that every day."
Contact Matt Masterson: @ByMattMasterson | (773) 509-5431 | [email protected]
---