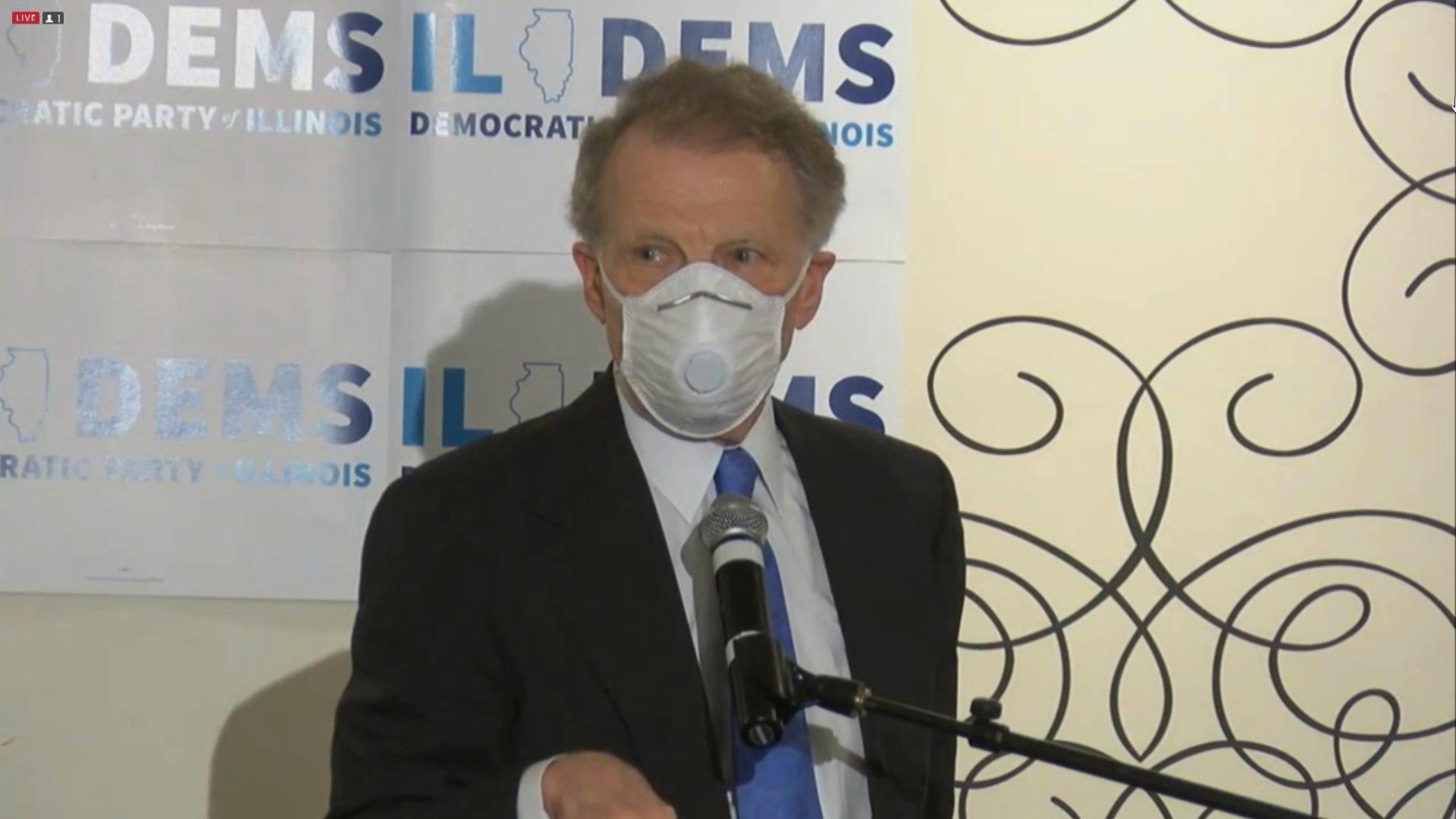 Illinois House Speaker Michael Madigan (WTTW News)
A defiant Michael Madigan vowed late Friday to run again for speaker of the Illinois House despite a swirling corruption investigation around him that has prompted 18 Democratic state representatives to publicly say they will not vote to reelect the Chicago Democrat as their leader.
Those public statements mean Madigan is likely five votes short of the 60 votes he will need in January to win a 19th term as speaker of the Illinois House. Madigan has held that position for all but two years since 1983.
"The decision on the next speaker of the Illinois House will be made at a caucus, after a full discussion of the issues facing our state and the qualifications of the candidates," Madigan said in a statement. "I plan to be a candidate for speaker, and today I confirmed that I continue to have support from a significant number of House Democratic caucus members."
State Rep. Eva-Dina Delgado of Chicago on Friday became the 18th House Democrat to publicly withdraw her support from Madigan. 
"The ongoing allegations surrounding Speaker Madigan have become a distraction from the important work before us during these unprecedented times," Delgado said. "Our state has some serious issues to address and now is the time for new leadership."
Madigan's support among the 73-member Democratic Caucus began to drop precipitously after his longtime consigliere, Mike McClain, two other Commonwealth Edison lobbyists — John Hooker and former City Club of Chicago President Jay Doherty — and former ComEd CEO Anne Pramaggiore, were indicted on Wednesday for allegedly conspiring to give contracts, jobs and money to Madigan allies in order to entice and reward the speaker for supporting legislation favorable to the utility.
McClain, Hooker, Doherty and Pramaggiore have not yet entered a plea to the charges. McClain, Hooker and Pramaggiore issued statements that they did nothing wrong.
In July, ComEd agreed to pay a $200 million fine after the utility giant admitted that it engaged in a yearslong bribery scheme with Madigan at the center.
Madigan — referred to in the indictments as Public Official A — has not been charged with a crime, and he maintains his innocence.
"If there was credible evidence that I had engaged in criminal misconduct, which I most certainly did not, I would be charged with a crime," Madigan said. "But I have not, and with good reason because there is nothing wrong or illegal about making job recommendations, regardless of what people inside ComEd may have hoped to achieve from hiring some of the people who were recommended."
Gov. J.B. Pritzker has refrained from directly calling for Madigan to step down, but he said twice this week that the speaker should answer detailed questions about his conduct before Democrats elect him to another term.
Rep. Stephanie Kifowit of Oswego is the only Democrat to announce she will run against Madigan for speaker.
Contact Heather Cherone: @HeatherCherone | (773) 569-1863 | [email protected]
---