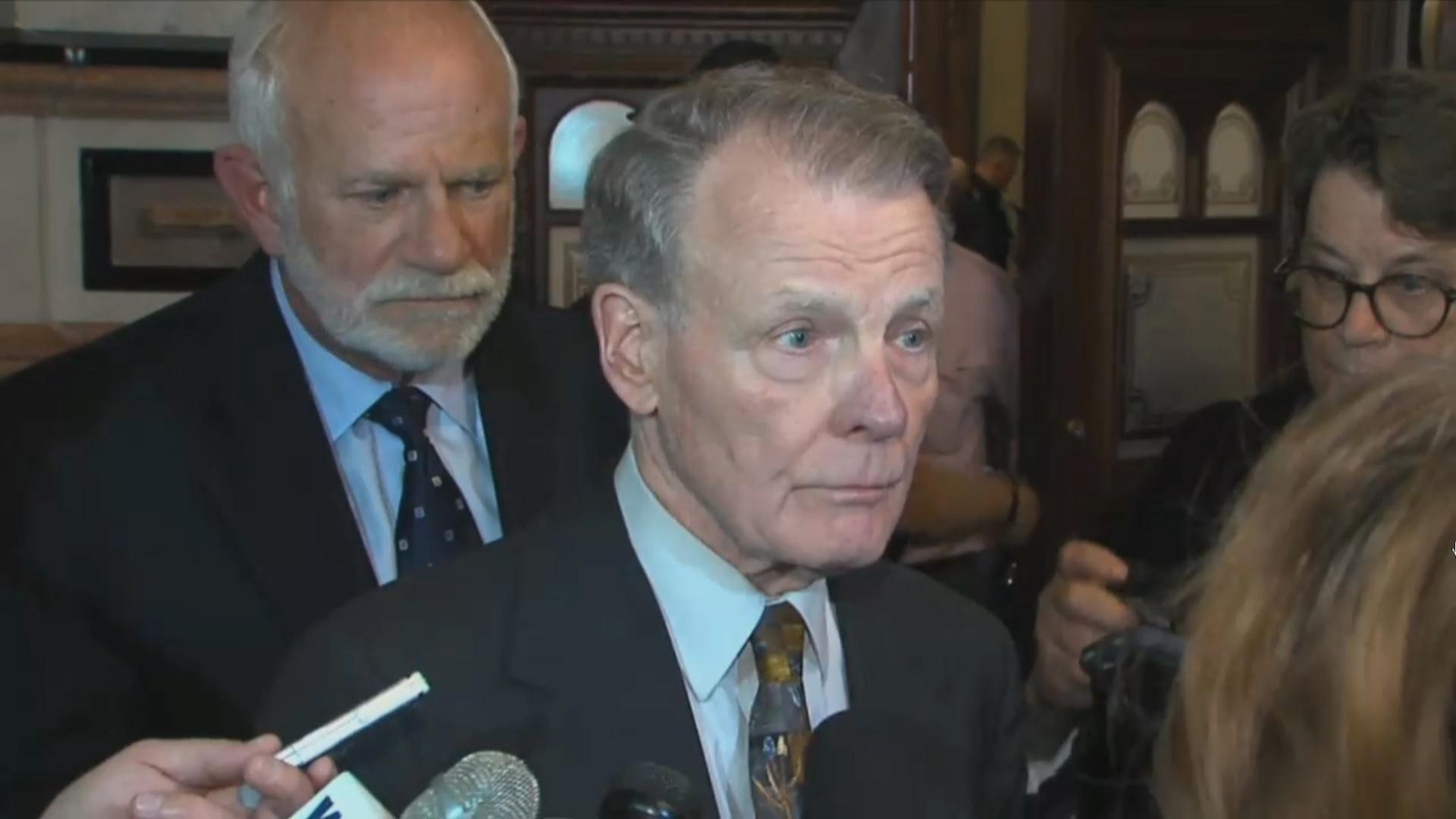 Illinois House Speaker Michael Madigan (WTTW News)
A close confidant of Illinois House Speaker Michael Madigan and Commonwealth Edison's first female CEO are among those indicted Wednesday in connection with a bribery scheme.
According to the indictment, they allegedly "corruptly" solicited and demanded, and accepted and agreed to accept jobs, contracts and money "for the benefit of Public Official A" with the intent of influencing and rewarding the powerful politician.
Madigan is not directly named in the court documents, but he is repeatedly referenced as "Public Official A," identified as the long-serving House Speaker.
The indictments of ComEd lobbyist Mike McClain (who has been close with Madigan since they served together as state representatives in the '70s), former ComEd and Exelon executive Anne Prammagiore, former ComEd government relations vice president and later lobbyist John Hooker, and former City Club of Chicago president Jay Doherty – who was also on retainer as a ComEd lobbyist – detail an alleged scheme first unveiled in July, when Commonwealth Edison admitted to bribery.
The deferred prosecution agreement (DPA) reached between the U.S. Attorney's office and the utility delineates efforts by executives including Prammagiore to steer contracts.
McClain purportedly served as both a go-between and a conductor who guided Prammagiore and Hooker to hire individuals and interns connected to the speaker, while Doherty used his lobbying firm to funnel money to Madigan allies even though they performed little or no work.
Another former ComEd executive, Fidel Marquez, is also referenced in the latest court filings. He pleaded guilty to a bribery charge in September.
Madigan's press team did not immediately respond to a request for comment but for months maintained that he did nothing wrong, and that he was unaware of any attempt to bribe or influence him.
"The DPA does not attribute any misconduct to me," Madigan wrote this fall in a letter to a House committee investigating his behavior. "To the extent that anyone at ComEd or Exelon believed that they could influence my conduct as a legislator by deciding to hire someone I may have recommended, someone who worked for me, or someone who did political work for me, they were incredibly mistaken."
In the letter, Madigan said that he would have "made every effort to put a stop to it" had he been made aware of any attempts.
He defended recommending individuals for jobs, writing that that's within the purview of a state representative, but he said that he "never promised, implicitly or explicitly, to provide anything" of value should a prospective employer hire someone he'd recommended.
The House panel has not met since September.
The indictments come as Madigan is working to rustle up the votes for a 19th term as speaker – a vote that has become almost perfunctory but is proving a struggle as a growing number of House Democrats say the corruption allegations swirling around Madigan are a distraction and show it's time for new leadership.
Prammagiore, through an unnamed spokesperson, said she "unequivocally rejects the government's charges that she engaged in unlawful behavior" when as ComEd's CEO she led a turnaround of the utility via "consumer-oriented, complex energy legislation" negotiated over years through multiple stakeholders.
"After enduring months of baseless innuendo and misinformation, Anne Pramaggiore welcomes a full and truthful accounting of the facts in this matter," the statement reads.
McClain's attorney, Patrick Cotter, released a statement on his client's behalf referencing McClain as "an honest and honorable man" and called the indictment the "result of a misguided investigation and misapplication of the law, driven by an obvious desire to find some way to criminally implicate a current elected official, who happens to be Mike McClain's longtime friend."
Follow Amanda Vinicky on Twitter: @AmandaVinicky
---