Bethany Barbouti, left, and Jackie MacCartie opened Eco & the Flamingo this year in Lincoln Square. (Courtesy of Barbouti)
Starting a business during a pandemic sounds like a gamble, but it's one that some intrepid entrepreneurs are willing to take.
Brainstorming their dreams for a retail store in 2019 in a notebook covered with whimsical pink flamingos, Bethany Barbouti and Jackie MacCartie, who operate Eco & the Flamingo in Lincoln Square, discussed all sorts of concerns.
They mulled over customer demographics, consumer demand, business expenses and competition. But they never envisioned that a pandemic would throw a wrench into their plans.
The business owners signed a two-year lease in January for a space at 4750 N. Rockwell St. for their zero-waste general store that enables customers to bring in their clean, used containers and fill them with variety of bulk items, from various organic foods to spices to soaps.
"We got into our space March 1, and then on March 15, the whole world shut down," Barbouti said. "We were like 'What are we going to do?' We just decided we've already purchased inventory and we've got a lease. We're just going to go forward and make it work."
Making it work—or getting to work on a new venture—appears to be what many people are doing. Some, like Barbouti and MacCartie, may have already been working on a business. Others may be choosing to start a new venture after losing a job.
Either way, government data shows that applications for business licenses are up despite the pandemic. The U.S. Census Bureau reports that as of Nov. 7, there were 80,820 business applications nationwide, an increase of 30.6% over the previous year. In Illinois, the number was 2,017, an increase of 30.9% over 2019.
One of the first moves that Barbouti and MacCartie took as new business owners was to change some of their carefully made plans. They had planned to open on April 22 — Earth Day. They pushed that date to May 7 and opened for online orders only, which worked out for them because construction of their space wasn't finished and fixtures were delayed due to the pandemic.
While hundreds of thousands of small businesses have closed throughout the country due to the pandemic, some, like Eco & the Flamingo, have opened, and business owners have learned that operating a business in one of the nation's worst health crises ever requires flexibility.
It's a lesson that Kendall Griffin and his wife, Aisha Griffin, have taken to heart since opening their business, Afro Joe's Coffee & Tea at 8344 S. Halsted Ave. in the Auburn Gresham neighborhood, five weeks ago.
Their business, which offers coffee, pastries, salads and sandwiches, had been in the works for four years and construction had already begun on their space when the pandemic hit.
"We were so far into it, we had to move forward," said Kendall Griffin. "The hardest part has been not knowing what's going to happen from week to week."
When Afro Joe's opened last month, 40% occupancy was allowed for dine-in customers. Now, indoor dining is prohibited and the business is relying on online ordering and curbside pickup.
"It's becoming very efficient because they literally drive up and we run their food out to them," Griffin said.
Even though the business is new, Griffin has already altered some of his plans and is adapting to things he didn't expect.
"Because of COVID, we're serving a lot more food than I thought we would so I'm looking at making a capital investment in kitchen equipment," he said.
Unfortunately, he's not yet been able to find any grants to help him make that investment.
Both Griffin and Barbouti said one drawback of being a new business in 2020 is that neither have been able to access any of the COVID-19 relief grants such as the federal Paycheck Protection Program or Economic Injury Disaster Loans that are geared toward businesses that existed before the pandemic.
Jay Aldrich, owner of StretchLab, another business that made its debut during the pandemic, said he was able to attain a very small PPP loan to cover payroll expenses for his storefront franchise at 50 63rd St. in Willowbrook.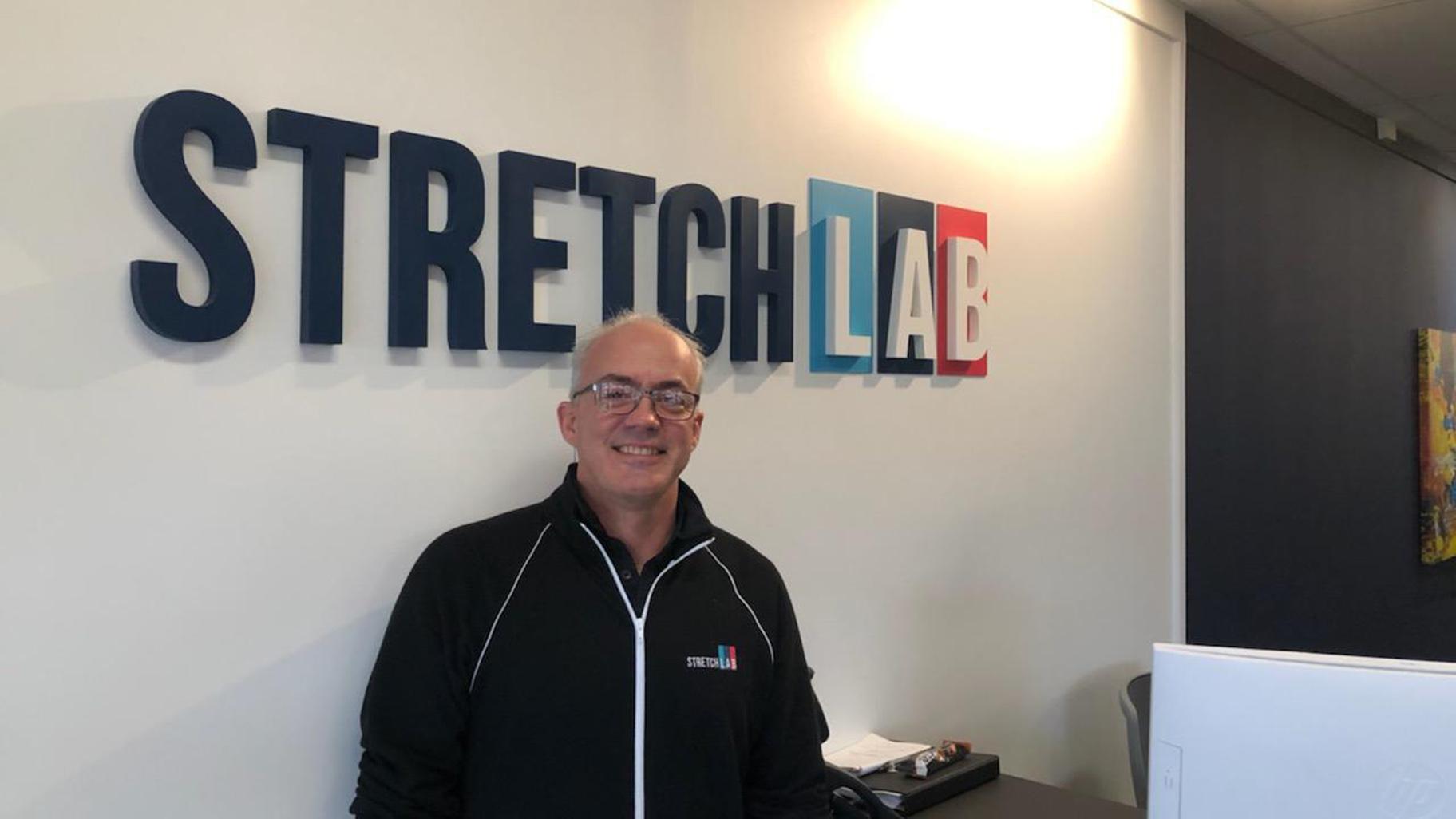 Jay Aldrich, owner of StretchLab in Willowbrook. (Courtesy of Aldrich)
Stretch Lab, which provides one-on-one deep stretching, had planned to open in March. That was delayed until June 1 and the business started its first month limiting use to members only rather than accepting dropins.
"We wanted to control the flow of who was coming in," said Aldrich, who added that the pandemic has spurred demand for their services from people who aren't moving as much as they used to and are feeling the effects.
"They're getting what I call COVID tight," Aldrich said. "They're sitting a lot. They have tight hip complex, hamstrings and sloped shoulders because they're hunched over their keyboard or the phone."
His business provides individual attention, which has helped it withstand the pandemic, he said.
"My concept is kind of COVID-resistant," he said. "Because it's one-on-one and because the client knows that it is an appointment and there aren't going to 50 strangers in there mingling around."
A membership costs $149 a month or more, depending on the length and frequency of visits.
Like Aldrich, Barbouti said the pandemic meant they had to change some of their plans. But it also helped in some ways.
Demand for cleanliness has been high during the pandemic, which Barbouti said had customers clamoring for soap. Her store sold 30 gallons of different types of soap during the first month it was open, which enabled the store to achieve its first, modest goal of making enough money to cover rent and having a little more to be invested back into new products.
The store's inventory has grown and in September, it moved into a neighboring space, which is double the size of its previous 1,000-square-foot store.
Barbouti said many people in the neighborhood are patronizing her store because they want to support small businesses and because they want to stay healthy.
"You could say that soap saved us," Barbouti said.
Annemarie Mannion is a freelance contributor to WTTW News. 
---