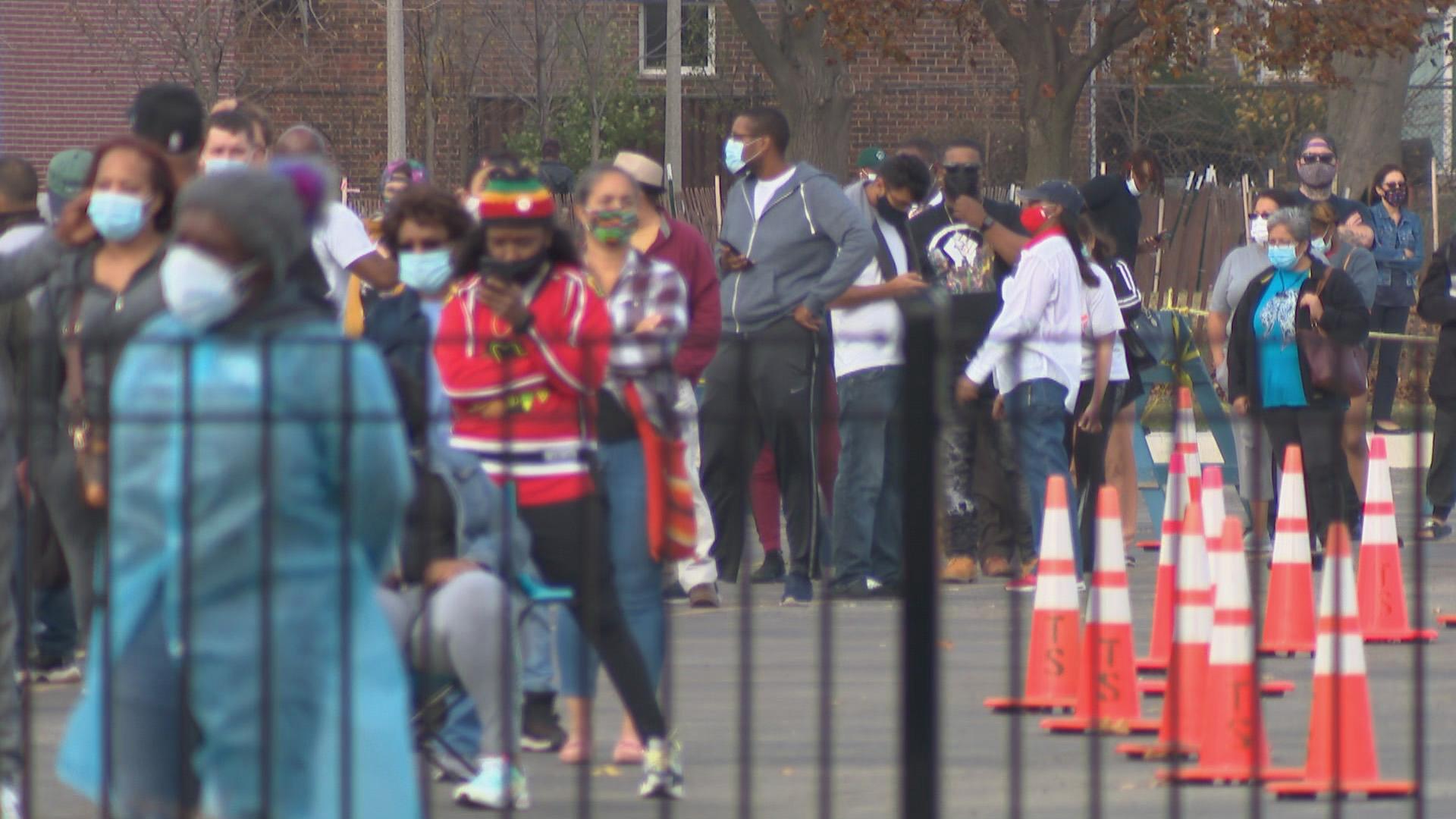 People wait in line for COVID-19 tests in Chicago. (WTTW News)
For the 10th consecutive day, public health officials reported more than 10,000 new COVID-19 infections in Illinois within a 24-hour period. 
The Illinois Department of Public Health reported 10,631 new confirmed and probable COVID-19 cases Sunday and 72 deaths, including 21 Cook County residents ranging in age from their 50s to their 80s.
Laboratories processed more than 84,000 tests within the past 24 hours, the IDPH reported Sunday afternoon, pushing the total number of tests conducted since the pandemic hit Illinois beyond 9 million. On Saturday, the agency reported a record 114,370 tests processed within a single day.
---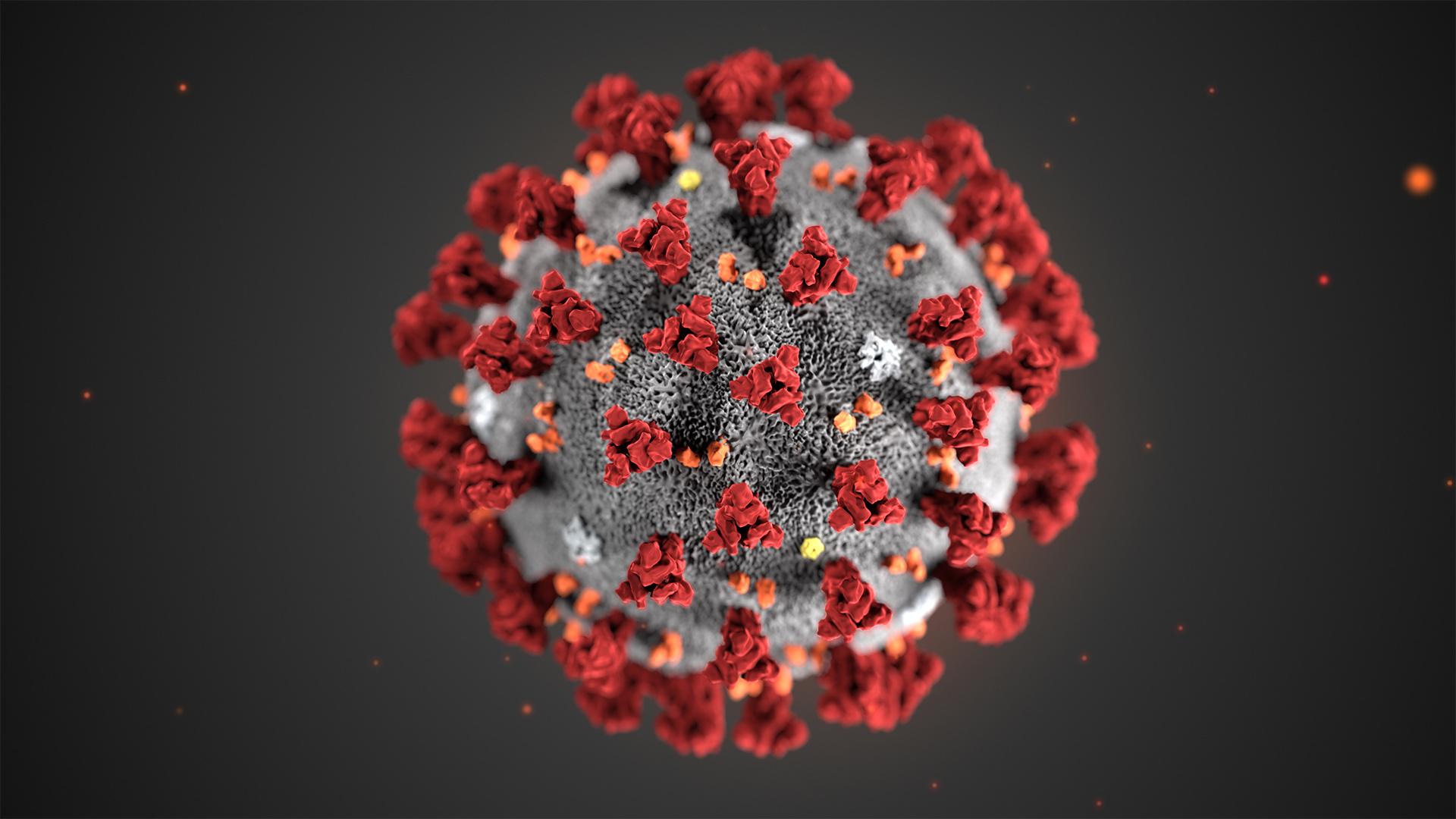 WTTW News is renewing its commitment to covering COVID-19. Find our full coverage of the pandemic here.
---
The seven-day statewide positivity rate for cases as a percentage of total tests is now 12.8%, IDPH reported Sunday. A week ago, that rate was 10.6%. Test positivity across the state — the number of positive tests as a percentage of total tests — is 14.8%. That rate is similar in suburban Cook County (14.8%) and Chicago (14.6%), IDPH regional data shows.
As of Saturday night, 5,474 people in Illinois were reported to be in the hospital with COVID-19, according to IDPH — an increase of more than 1,100 people from just one week ago. Of those, 1,045 patients were in intensive care units and 490 patients with COVID-19 were on ventilators, IDPH data shows.
On Saturday, the IDPH reported 11,028 new confirmed and probable COVID-19 cases and 166 deaths.
A lag in the reporting of death data on Friday led to an inflated number of deaths reported Saturday, according to IDPH Director Dr. Ngozi Ezike. On Friday, 27 deaths were reported, but that figure should have included an additional 66 deaths for a total of 93. Accounting for the lag reduces Saturday's death total to 100.
All told, a total of 193 virus-related deaths were recorded Friday and Saturday, including 71 residents of Cook County who ranged in age from their 40s to their 90s.
All but six Illinois counties are at a warning level for the virus, according to IDPH data. 
"We are at a crisis level," Gov. J.B. Pritzker said during a press briefing Friday, once again calling on Illinois residents to wear masks, wash their hands and stay at least 6 feet away from people who are not part of their households.
We're asking Illinoisans in every part of the state to stay home as much as possible – because the situation we face now is increasingly dangerous for healthcare workers and hospital systems in every part of the state. pic.twitter.com/2EXHMM0mrU

— Governor JB Pritzker (@GovPritzker) November 14, 2020
---
Barring a dramatic turnaround in the spiking numbers of COVID-19 cases, hospitalizations and deaths in Illinois, the state may soon be looking at another version of a stay-at-home order, the governor said Thursday.
Also on Thursday, Mayor Lori Lightfoot urged all Chicagoans to stay home for 30 days to stop the prolonged surge in coronavirus infections and avert the deaths of another 1,000 Chicagoans from COVID-19 before the end of 2020. The advisory goes into effect at 6 a.m. Monday.
Chicagoans "must cancel their traditional Thanksgiving plans," Lightfoot said.
Suburban Cook County officials followed suit Friday, issuing a stay-at-home advisory that will also take effect at 6 a.m. Monday.
Note: This story was originally published Saturday, Nov. 14, 2020. It was updated Sunday with the latest data from the Illinois Department of Public Health.
---