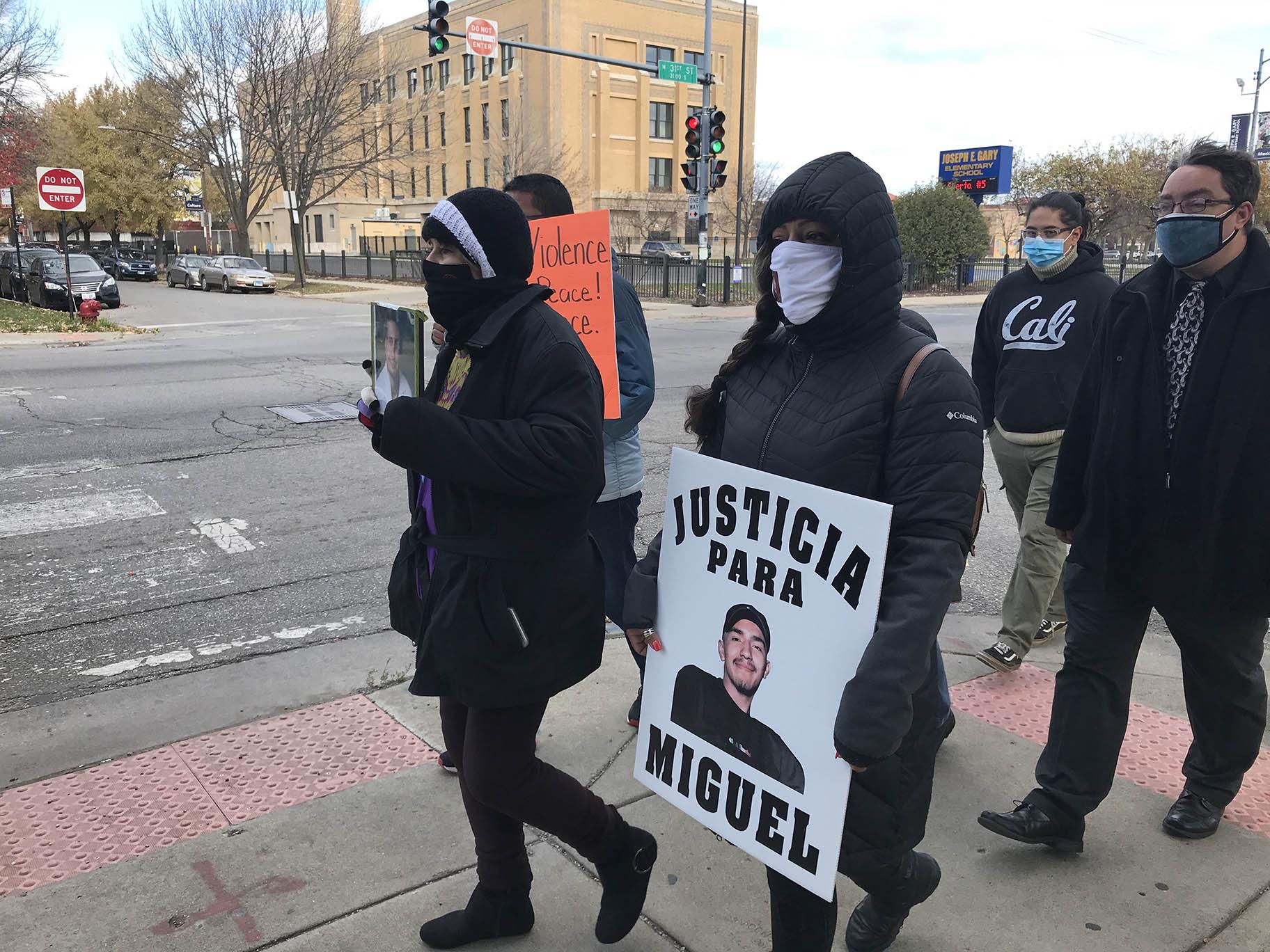 The families of Frank Aguilar and Miguel Rios, both victims of gun violence, chant "No justice, no peace," in English and Spanish on Sunday, Nov. 1, 2020 in Little Village along with organizers of the march. (Ariel Parrella-Aureli / WTTW News)
Frank Aguilar's sister remembers him as a pure soul who loved anime, honey buns and helping others. 
"He had integrity, he always helped everybody. He was always the peacemaker," Aguilar's oldest sister Sharee Rangel told WTTW News on Sunday at the corner where he was killed nearly a year ago. 
Aguilar, a 32-year-old nurse, was gunned down by the occupants of a passing vehicle as he was returning home in the 3700 block of West 32nd Street in Little Village on Nov. 12, 2019, in what police believe was a case of mistaken identity at the hands of gang members. 
Aguilar's family, along with others who have lost loved ones to gun violence, held a press conference and small march in Little Village on Sunday to commemorate his life as part of Day of the Dead celebrations and to continue to push for justice in finding his killer. They added fresh flowers and a new photograph to the memorial at the corner of South Hamlin and West 32nd Street to honor his life.
The family of Frank Aguilar added new flowers and a new photo to his memorial at the corner of South Hamlin and West 32nd Street to honor his life on Sunday, Nov. 1, 2020, the eve of Day of the Dead. (Ariel Parrella-Aureli / WTTW News)
Last December, 19-year-old Armando Lopez was charged with a a single count of first-degree murder in connection with the slaying. Investigators believe Lopez was the driver of the vehicle.
Police also identified a 13-year-old "person of interest" but no charges were filed. There were no witnesses to the shooting and the only evidence recovered from the scene were two bullet casings, but police were able to locate Lopez from private residential footage of the shooting from a nearby location. 
Prosecutors said Lopez was on bond at the time of the shooting in a separate case, where he was charged with aggravated unlawful use of a weapon. He was convicted of possession of a weapon when he was 17. 
Raul Montes Jr., a community activist who organized the rally on Sunday, said Cook County State's Attorney Kim Foxx is too lenient on offenders and that Mayor Lori Lightfoot is not doing enough to keep police officers safe amid recent incidents of looting and civil unrest. The city needs better gun control and better policy to end soaring gun violence, Montes said.
Chicago has seen a 51% increase in homicides through the first 10 months of 2020, with 655 homicides through Oct. 31, compared to 431 during the same period in 2019, according to data released Sunday by the Chicago Police Department, making 2020 one of the most violent years in recent history. Other crimes, such as burglary and theft, have decreased this year, according to CPD data.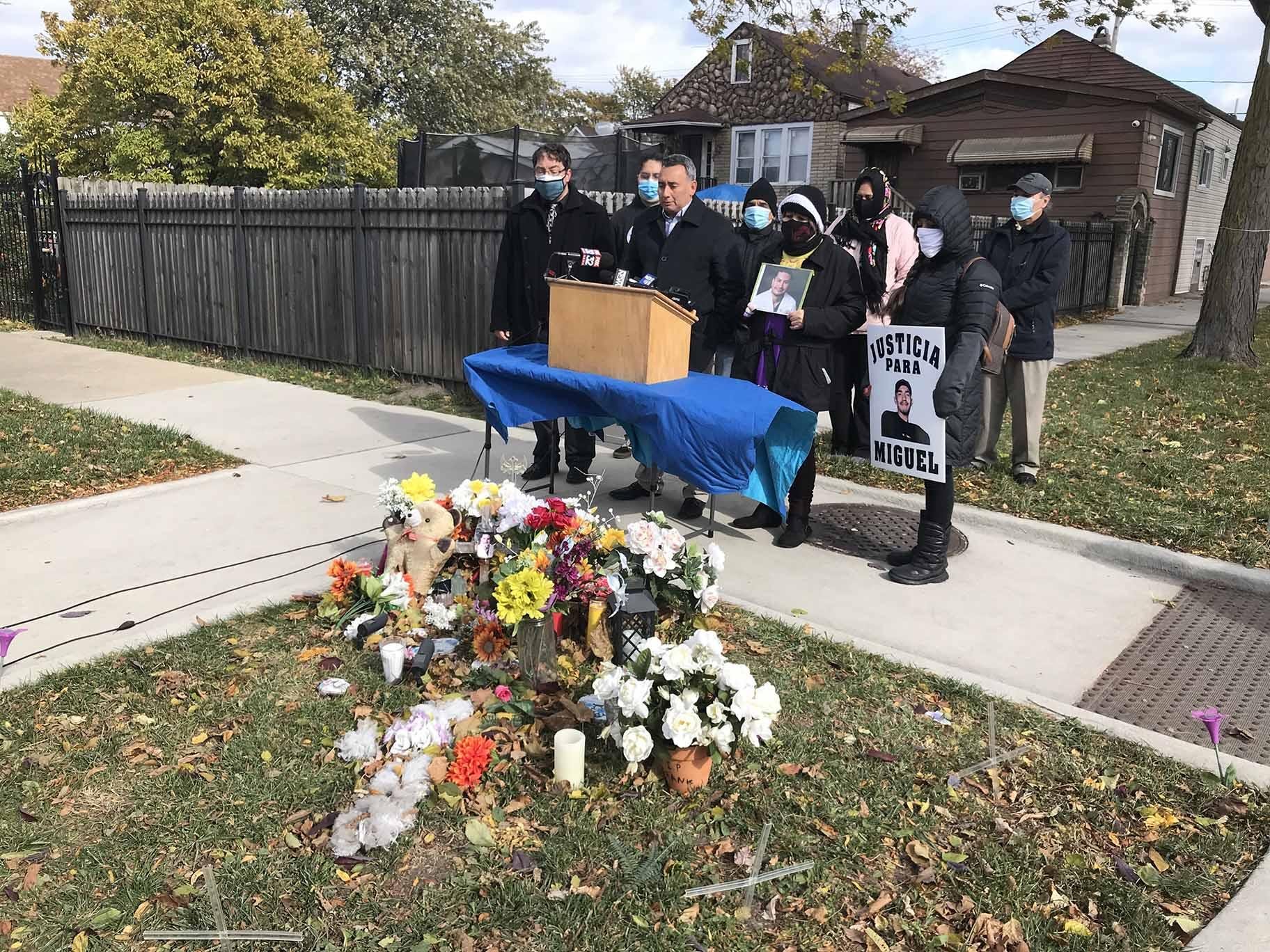 Activist Raul Montes Jr. speaks at a press conference Sunday, Nov. 1, 2020 with Frank Aguilar's family. (Ariel Parrella-Aureli / WTTW News)
"We want change and we want this to stop," Montes said. "It's cold out here but we are here because we want justice. We want these cases solved because they are going cold."
Frank Aguilar's mother, Elvira Aguilar, said she is thankful to the police and the community for coming forward to help solve her son's case.
"Thank you to the police, who are slowly advancing on solving the case," Elvira Aguilar said in Spanish.
Catalina Andrade, whose son Miguel Rios was fatally shot July 18, also in Little Village, held a sign that read, "Justicia para Miguel," or "Justice for Miguel." Wearing a mask with a picture of her son, she told WTTW News that she came to support the Aguilar family and raise awareness of her son's unsolved murder. 
"Most of the crimes could be solved if the community of people that saw something could talk but they decide not to speak up," Andrade said.
She said it's getting harder and harder to live without her son, but not having justice makes the weight that much heavier.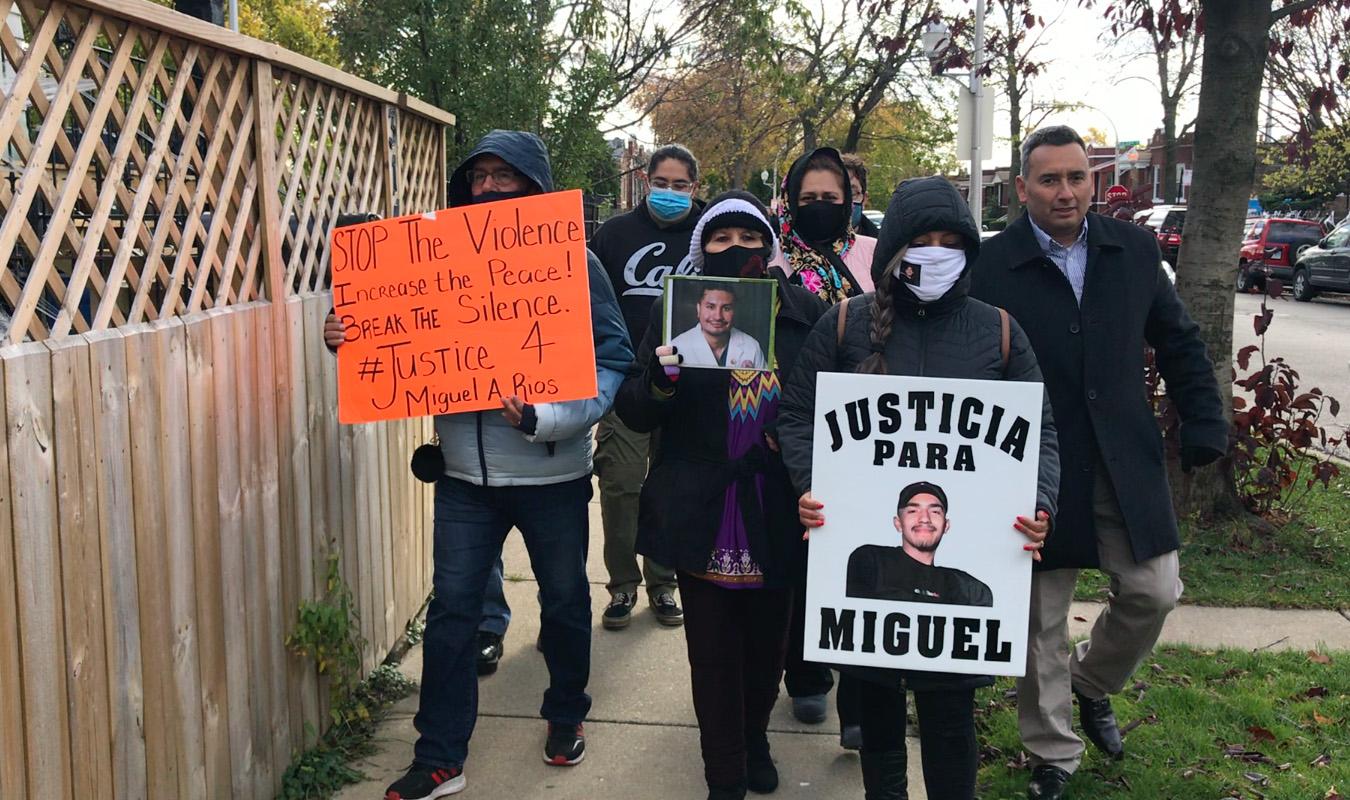 The families and organizers take a walk around the block while calling for justice in English and Spanish on Sunday, Nov. 1, 2020. (Ariel Parrella-Aureli / WTTW News)
"We are supposed to feel safe in our communities and we are not," Rangel said. "This could have been prevented but it wasn't." 
She said she wants to see offenders held accountable, especially those who have previous charges. The community needs to work together, she said, to make sure there are no more victims of gun violence.
A nurse at the nonprofit developmental home Misericordia Home, she said her brother never cut corners and was known as a perfect nurse by his coworkers. He was the first in the family to earn a bachelor's degree and had a dream of helping others.
"He had taken the Police Department exam but then decided he wanted to help people instead," Rangel said. "His goal was to work in the ER, saving others and we never thought he would end up [killed] … We miss him very much." 
Ariel Parrella-Aureli is a freelance contributor to WTTW News: @ArielParrella
Additional reporting by Matt Masterson.
---