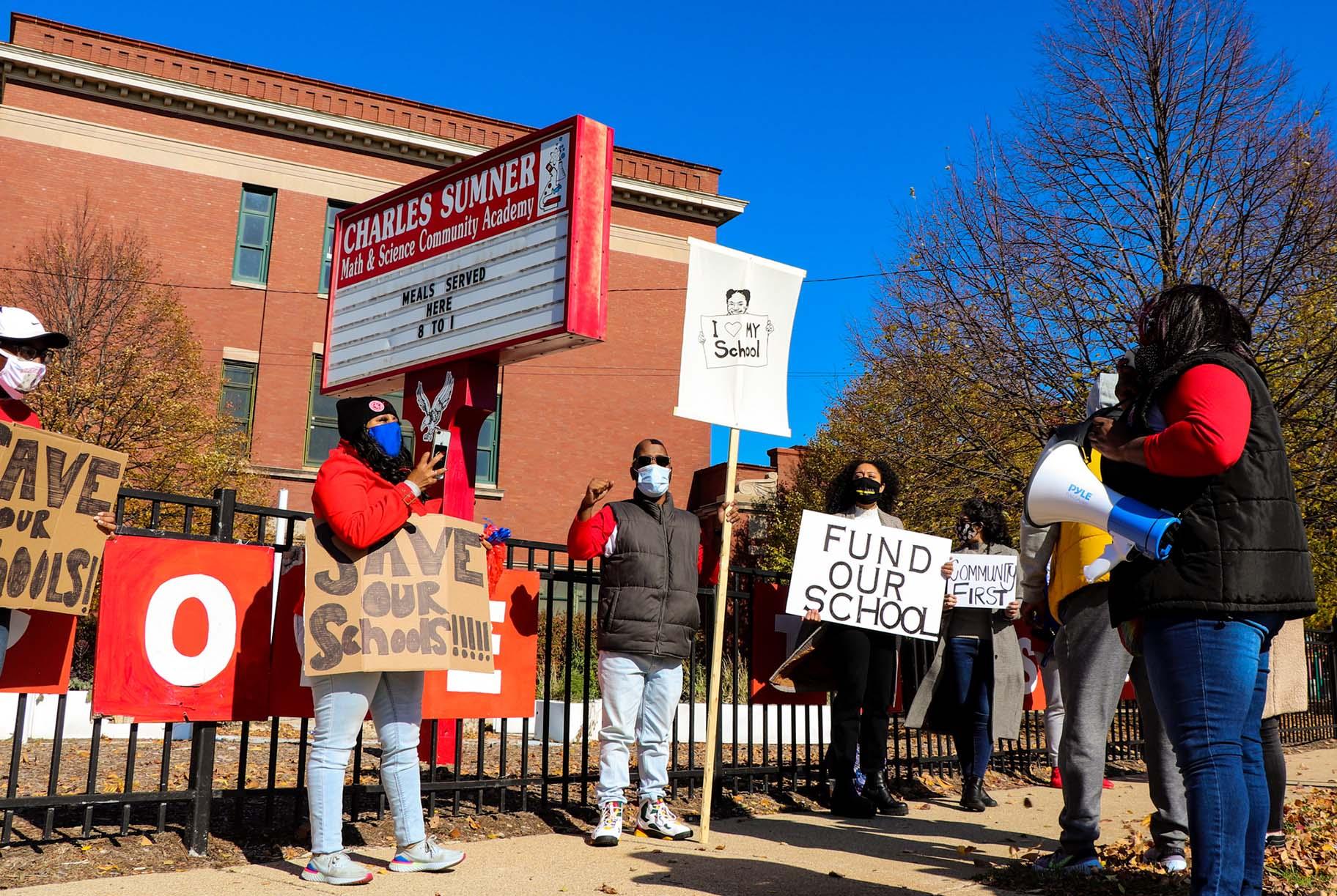 Protesters stand outside Charles Sumner Math and Science Community Academy on Saturday, Oct. 31, 2020. (Grace Del Vecchio / WTTW News)
Community members in North Lawndale are at odds over the future of three local elementary schools.
At a rally Saturday, members of the North Lawndale Parent and Community Coalition (NLPCC) along with state Rep. Lakesia Collins and Chicago Teachers Union Vice President Stacy Davis Gates gathered outside of Charles Sumner Math and Science Community Academy to voice their concerns over a proposal to close three schools with dwindling enrollment and replace them with a new, state-of-the-art facility.
The proposal from the North Lawndale Community Coordinating Council (NLCCC) would close three Chicago Public Schools — Sumner, Crown Community Academy of Fine Arts and Lawndale Community Academy — and create the North Lawndale STEAM Partnership Academy. (STEAM stands for Science, Technology, Engineering, Arts and Math.)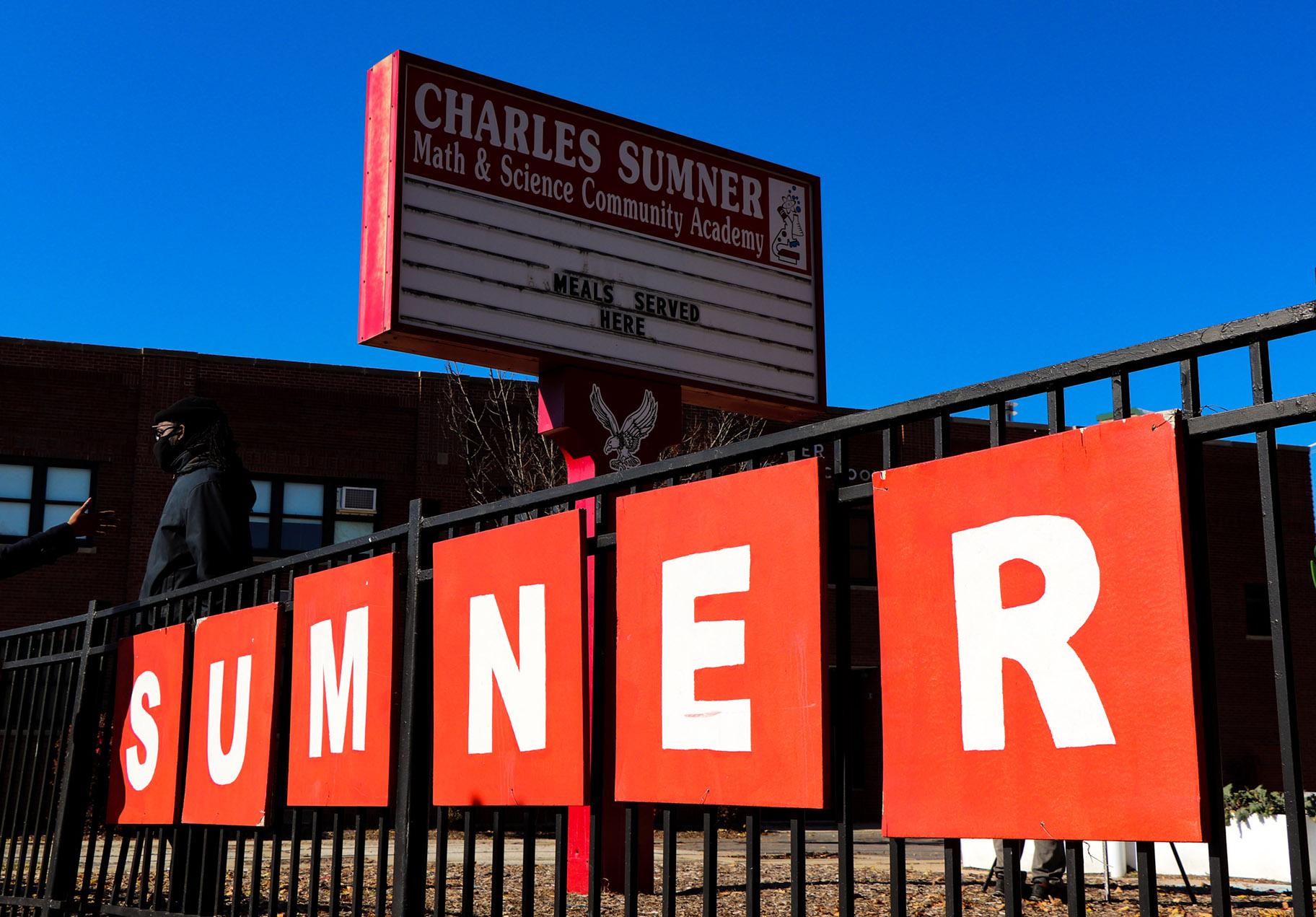 Charles Sumner Math and Science Community Academy (Grace Del Vecchio / WTTW News)
According to a presentation by the NLCCC and the North Lawndale Community Action Council (CAC), "This is a community led initiative to provide greater educational opportunities, options and enrichment activities for the students in North Lawndale."
But others in the community say the plan is a hurtful reminder of the 2013 closure of 50 "underutilized" Chicago Public Schools and the 2019 closure of Frazier Preparatory Academy, a CPS charter school in the area.
Shavon Coleman, the parent of two CPS students and a pre-K teaching assistant at Lawndale Community Academy, says the district's move to close dozens of schools in 2013 "didn't fix our problems and it didn't yield the results that they promised." The NLPCC is trying save its schools and protect the lives of Black and Brown children in North Lawndale, she said.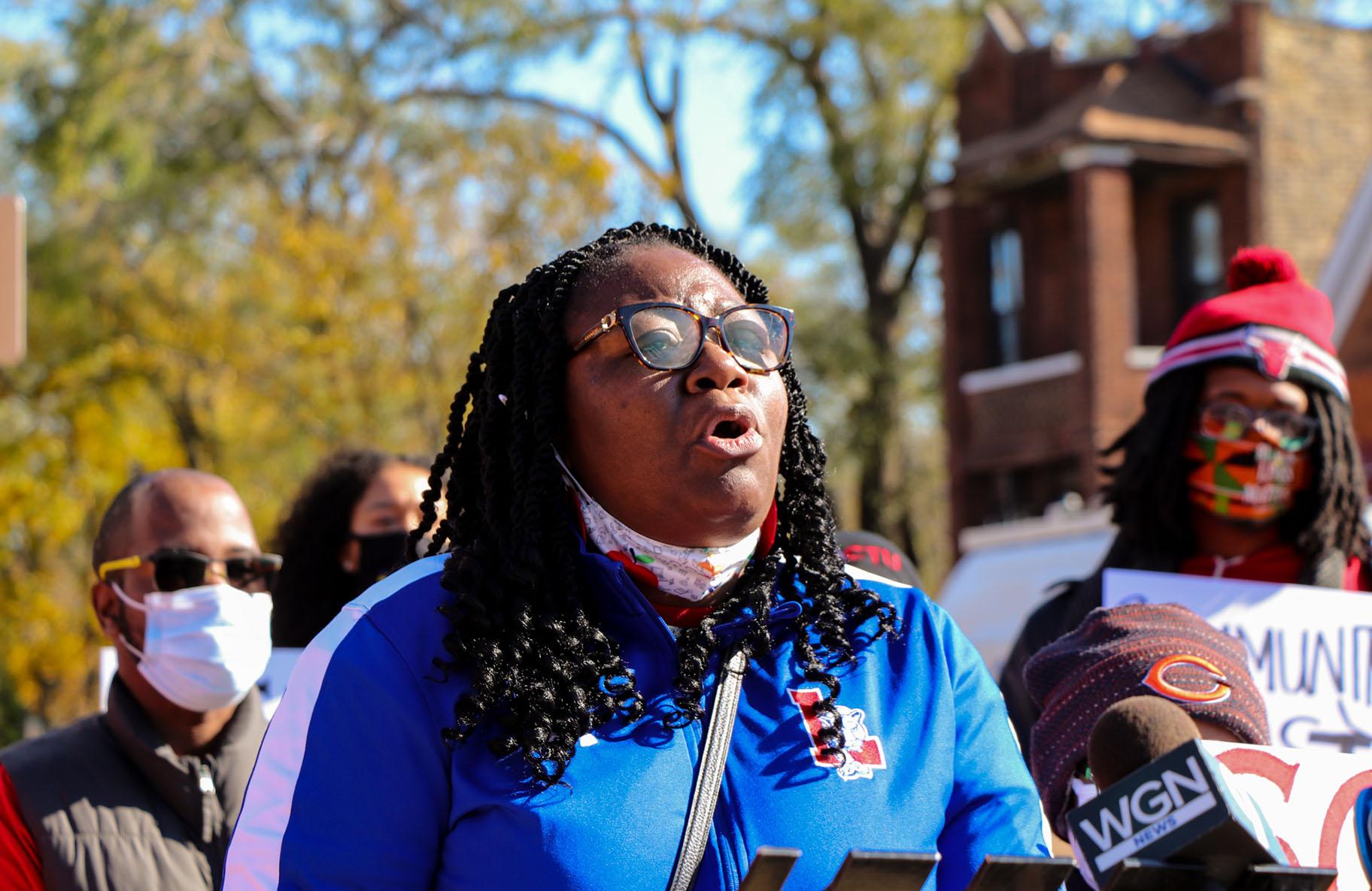 Shavon Coleman speaks out against a proposal to consolidate three schools in North Lawndale on Saturday, Oct. 31, 2020. (Grace Del Vecchio / WTTW News)
"Their [CPS] plan didn't work, school closings and consolidations are nothing new," Coleman said. "There are still many vacant schools that may have been underutilized but they were underutilized due to disinvestment."
Further, Coleman said, the new STEAM school "doesn't address the failed policies which have led to disinvestment, it doesn't address the charter school expansion, violence, the lack of jobs and affordable housing resulting in low enrollment in our schools."
CPS has yet to take a position on the proposal.
In an email to parents and guardians dated Oct. 8, CPS officials stated that, "At this time, CPS neither endorses nor opposes this community-driven proposal. If the community group is able to secure sufficient support from your school community and build a vision for an educational model that aligns with a need that is not being met, CPS will more deeply consider the feasibility of the proposal." 
But community members on Saturday said they were not made aware of the proposal, and many said they are not in favor of it.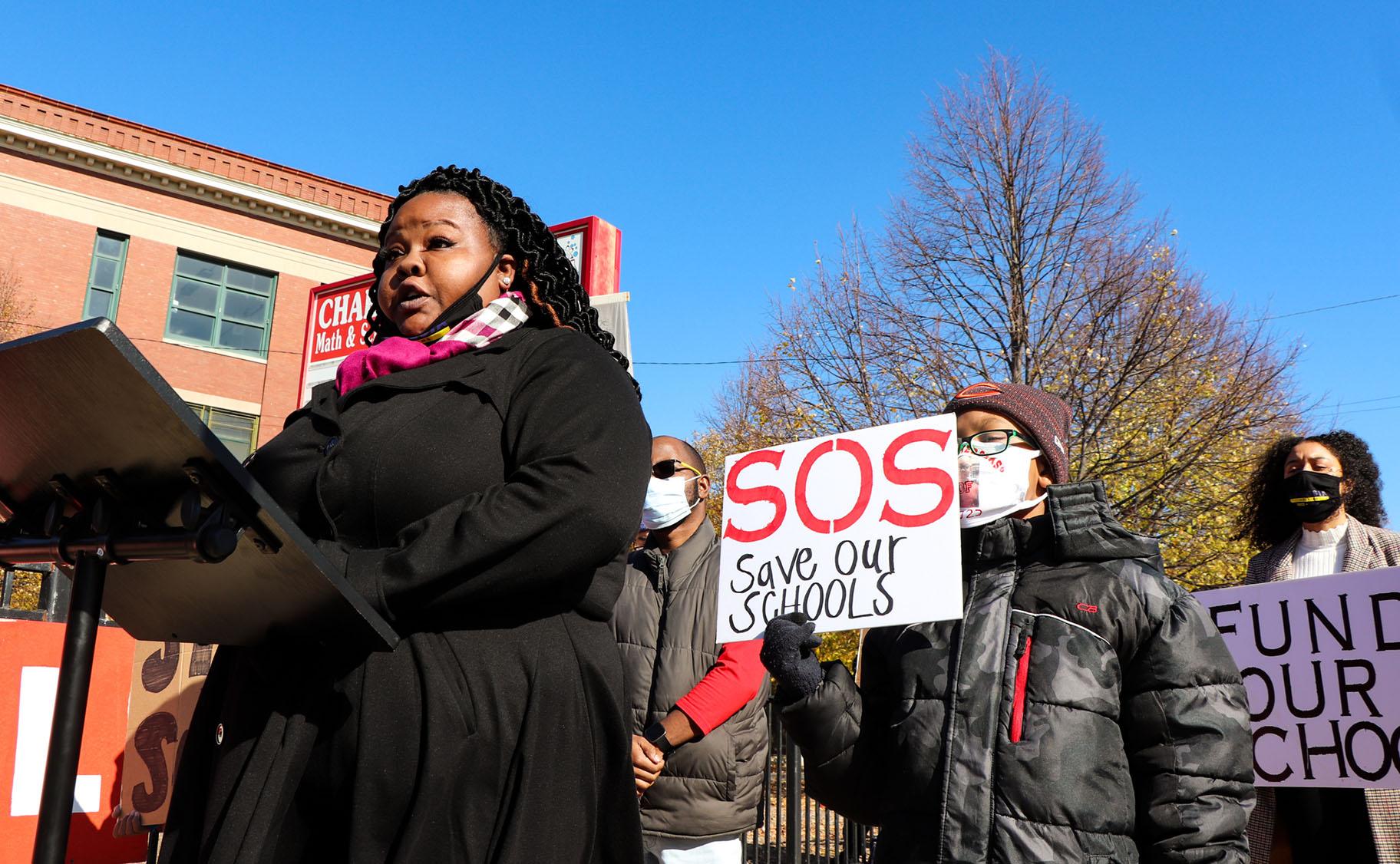 State Rep. Lakesia Collins speaks on Saturday, Oct. 31, 2020. (Grace Del Vecchio / WTTW News)
Collins, a legislator and parent, experienced school consolidation firsthand during the 2018 merger of two Near North Side schools, Jenner Elementary Academy of the Arts and Ogden International Elementary School. 
Advocates of that plan cited overcrowding at the Ogden East campus and an underutilized building at Jenner Elementary. They said a merger would help both schools while integrating the student bodies.
"When Ogden and Jenner were merged, we were told that it would add diversity and that it would end the segregation of two schools that told the tale of two different cities," Collins said. "What I was told as a parent is that our teachers would have more resources and that we would have more investment in the school and that our kids would have a quality education and that did not happen." 
Instead, what she saw as a parent were more disciplinary actions being taken against Black students. 
"Let's be clear: closing three schools without addressing what parents and teachers truly feel isn't investment, it's not a down payment for future success, it's really a repacking of what got us here in the first place," Collins said.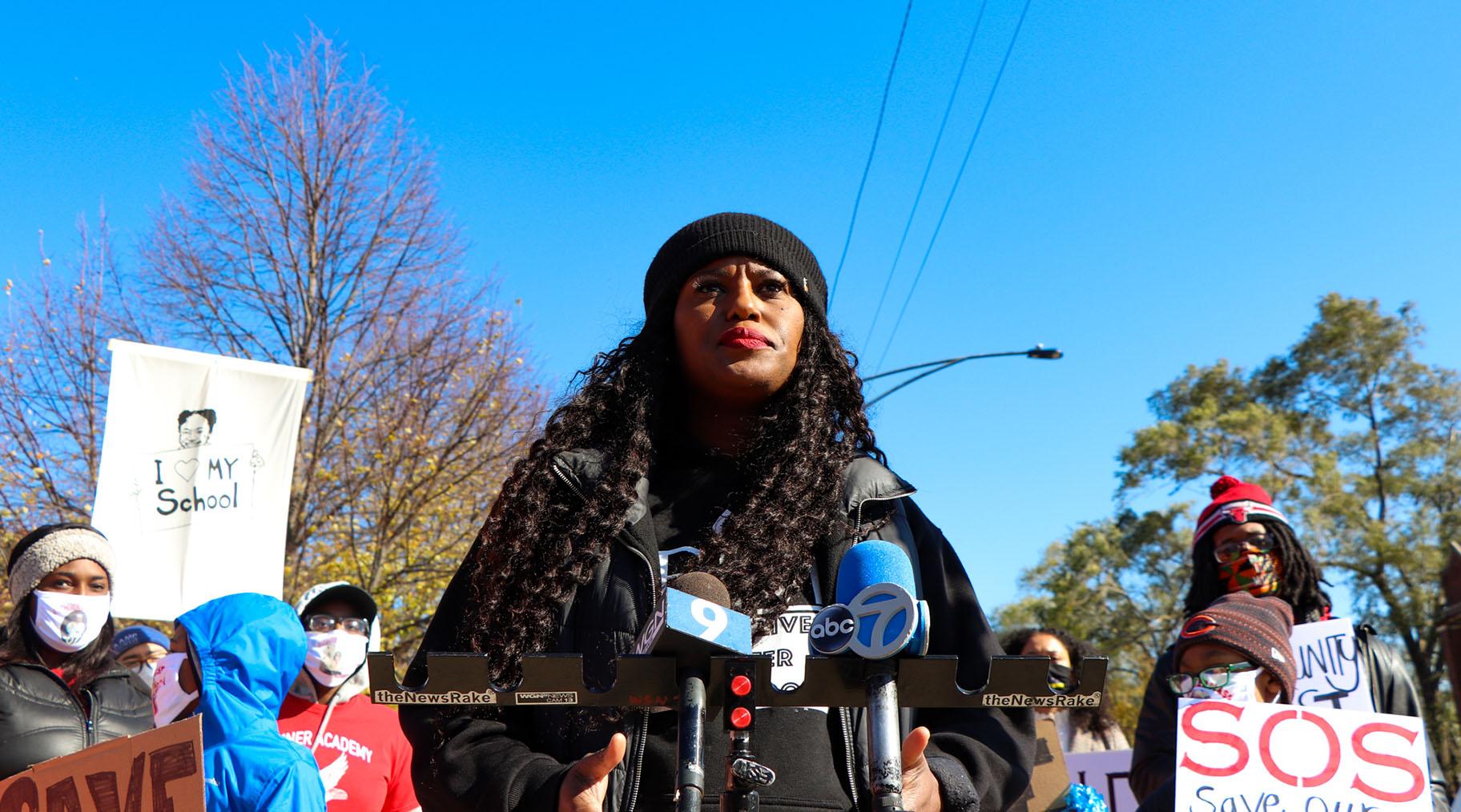 Chicago Teachers Union Vice President Stacy Davis Gates at the rally Saturday, Oct. 31, 2020. (Grace Del Vecchio / WTTW News)
CTU Vice President Davis Gates said that when schools were closed in 2013, they were promised an increase in resources and school quality, neither of which happened. 
"There were no savings, no discernible academic impacts that would justify the trauma of shutting down schools in communities that actually need a better deal: greater investment," Davis Gates said. "We know that with every interaction of schools closings, it has caused more blight."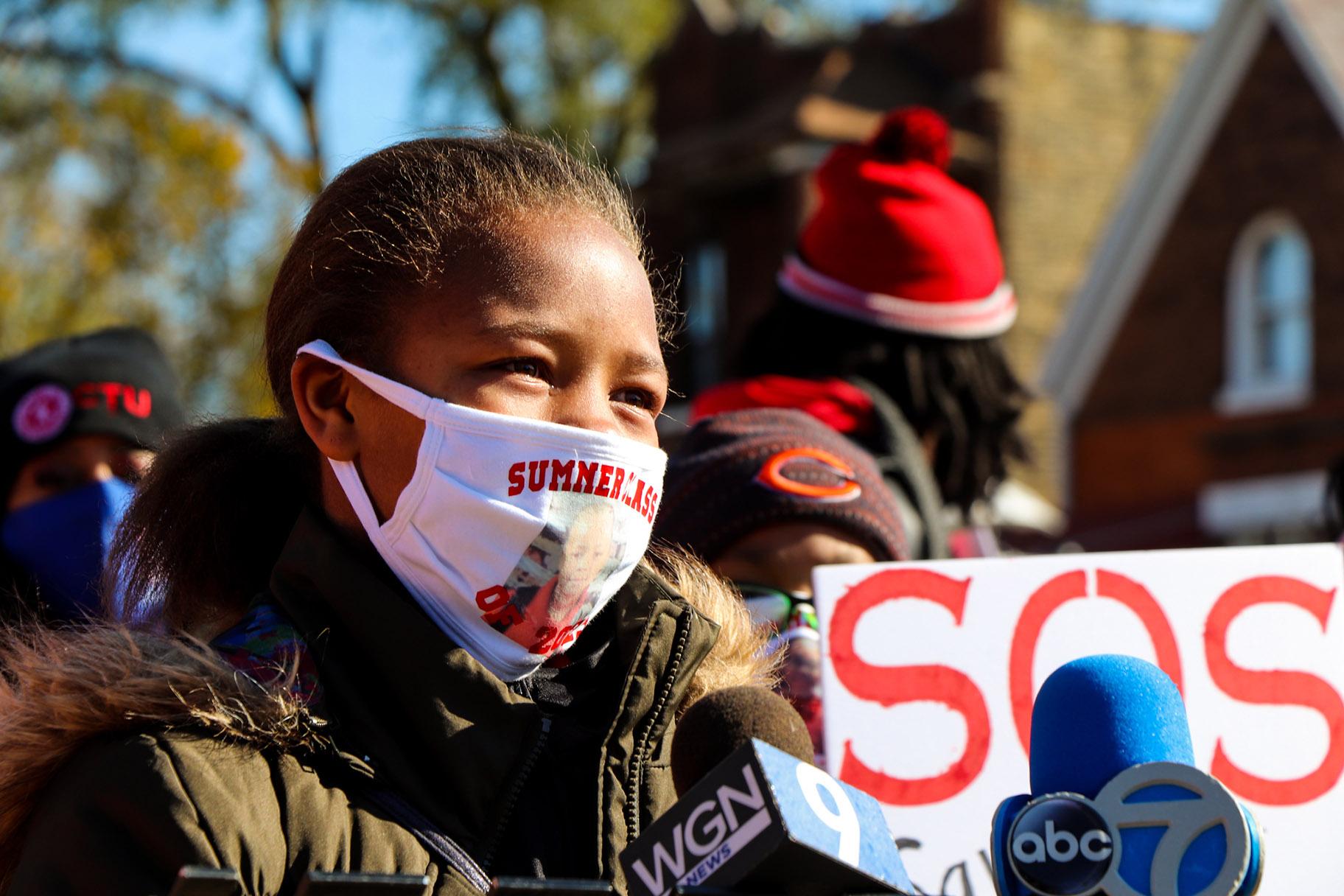 Latajah Wilson (Grace Del Vecchio / WTTW News)
Latajah Wilson, a fifth grader at Sumner, also took the mic Saturday to talk about the important role her teachers have played in her life. "I only went to this school three years and I've learned so much about these teachers and they care so much about us. They make us feel so good about ourselves every day and it's sad that y'all wanna close our school down," she said.
Grace Del Vecchio is a freelance contributor to WTTW News: @delvecchiograce
---