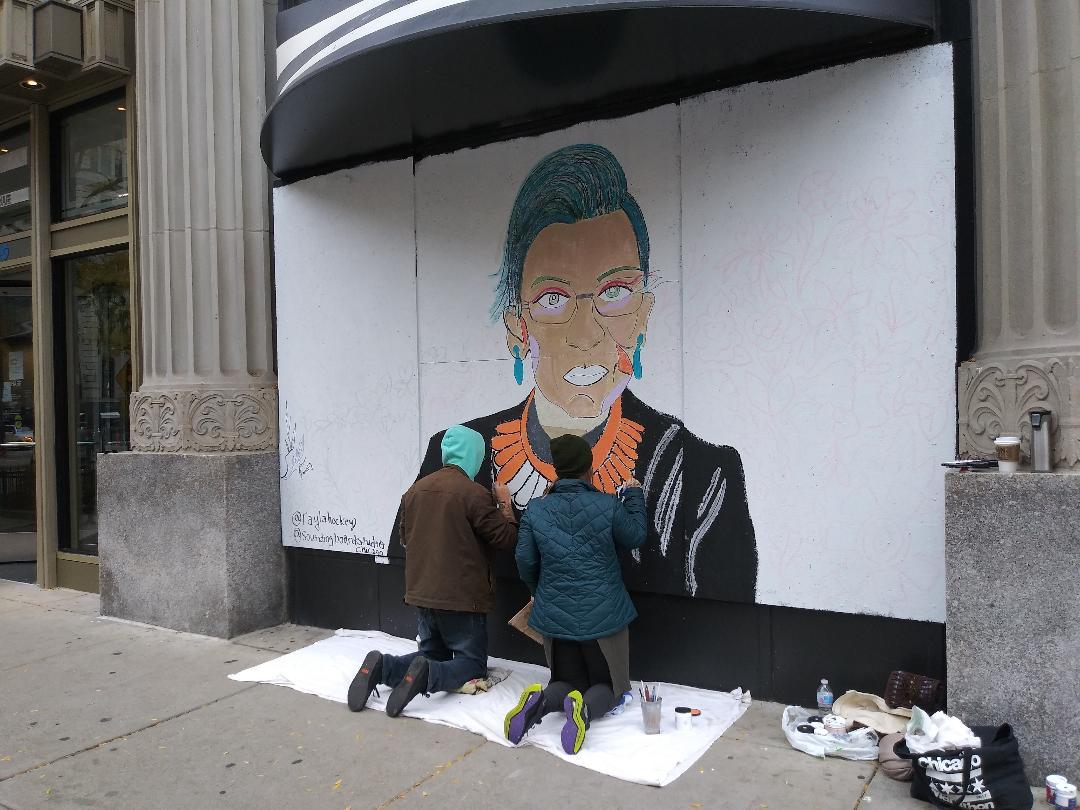 Artists Rachel Lechocki, right, and Andrew Rehs work on a mural of Ruth Bader Ginsburg on Michigan Avenue on Sunday, Oct. 25, 2020. (Annemarie Mannion / WTTW News)
A vibrant mural taking shape on North Michigan Avenue honors former Supreme Court Justice Ruth Bader Ginsburg and her pioneering support of gender equality.
Artists are painting a portrait of Ginsburg, who died last month at age 87, on boarded-up windows at the Sephora store, 605 N. Michigan Avenue.
Set against a floral background to represent Ginsburg's signature lace collar, the mural depicts a portrait of the justice known affectionately as the Notorious RBG, along with another panel featuring a widely recognized comment attributed to her: 
"Women belong in all places where decisions are being made."
"I think the quote highlights how really important it is to have other perspectives and experiences so that everyone is represented," said artist Cristina Vanko, of Chicago, as she painted the quote Sunday afternoon on part of the mural she designed.
Artist Cristina Vanko hand-letters a Ruth Bader Ginsburg quote on a mural Sunday, Oct. 25, 2020. (Annemarie Mannion / WTTW News)
The artwork is a project of Sounding Boards, a nonprofit founded in June that advocates for and amplifies voices of color through the power of art.
Christina Brown and Camille Hunter, who both work in the field of architecture/interior design, started the organization following widespread protests over police brutality and amid the growing Black Lives Matter movement.
"I was walking around my neighborhood and seeing the plywood (boarding up businesses) and was wondering how long it would be up and what our street would look like," said Brown, who lives in Avondale.
With the idea to use boarded-up buildings as canvases for minority voices and to express the power of art, she and Hunter moved quickly to rally businesses that agreed to have their boarded-up windows painted and artists who wanted to paint them.
They signed up 15 artists and within 72 hours had painted 20 murals, most along a stretch of Milwaukee Avenue in Wicker Park and Bucktown.
The organization has now completed 28 murals, including the two panels of the Ginsburg mural on Michigan Avenue.
Brown said the murals send messages of positivity, hope and unity and often feature the uplifting words of such leaders as Martin Luther King Jr. and Ida B. Wells.
She said the artworks can help beautify neighborhoods, spread positive messages, spur economic development and raise awareness of important issues.
Brown hopes the Ginsburg mural will spur discussion.
"People are voting," she said. "The legacy of Ruth Bader Ginsburg might be replaced with someone who might not support everything she cared about. I hope people will take pictures of it and remind elected officials and everyone of what her legacy was."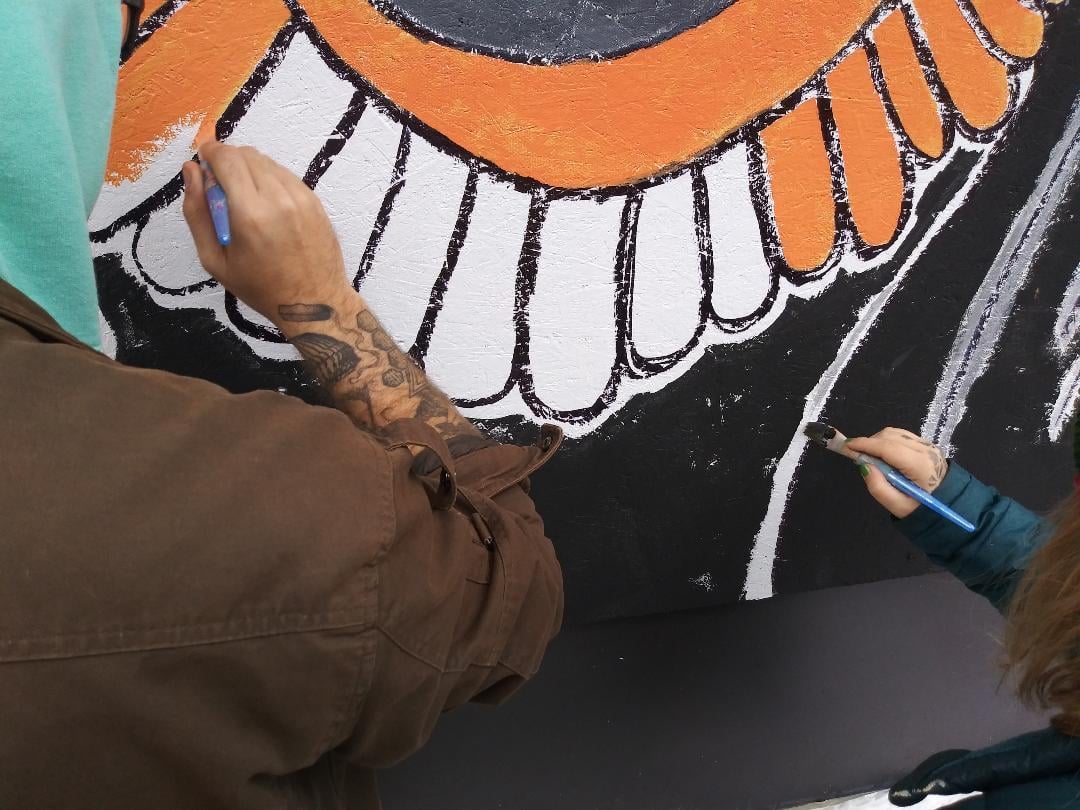 (Annemarie Mannion / WTTW News)
The colorful portrait of Ginsburg was designed by artist Rachel Lechocki, of Chicago. It shows Ginsburg with blue hair, green earrings and an orange collar against a dark robe. Lechocki said the vibrant colors give the portrait a modern feeling.
"A lot of my art is female-focused," she said. "I keep the focus on simple lines and color. I want to make it powerful and compelling without telling people what to think about it."
Stopping to watch the work in progress on Sunday afternoon, Candice Ly, of Darien, liked what she saw.
"The phrase is good," she said. "Hopefully, people will reflect on her words."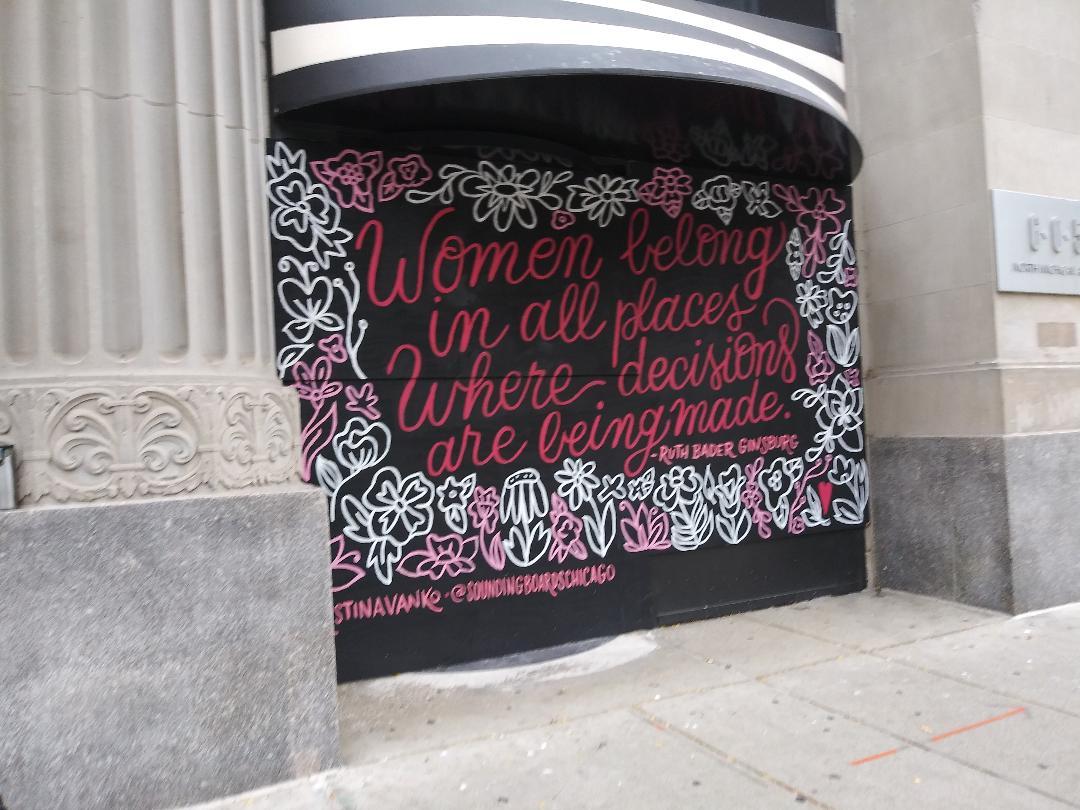 (Annemarie Mannion / WTTW News)
Brown said the murals are painted on plywood and are temporary. Some in other spots have already been removed and are being stored in the hopes of exhibiting them again in public places rather than in a museum or a gallery.
"We want them to end up in public spaces — schools or parks where you don't have to buy a ticket to see them and everyone can enjoy them," Brown said.
Angela Blaser, of Green Bay, also stopped to watch the artists work and said Ginsburg's words are worth remembering.
"I think it's important that this message gets out into the world and that it is seen by everyone every day," she said.
Annemarie Mannion is a freelance contributor to WTTW News. 
---