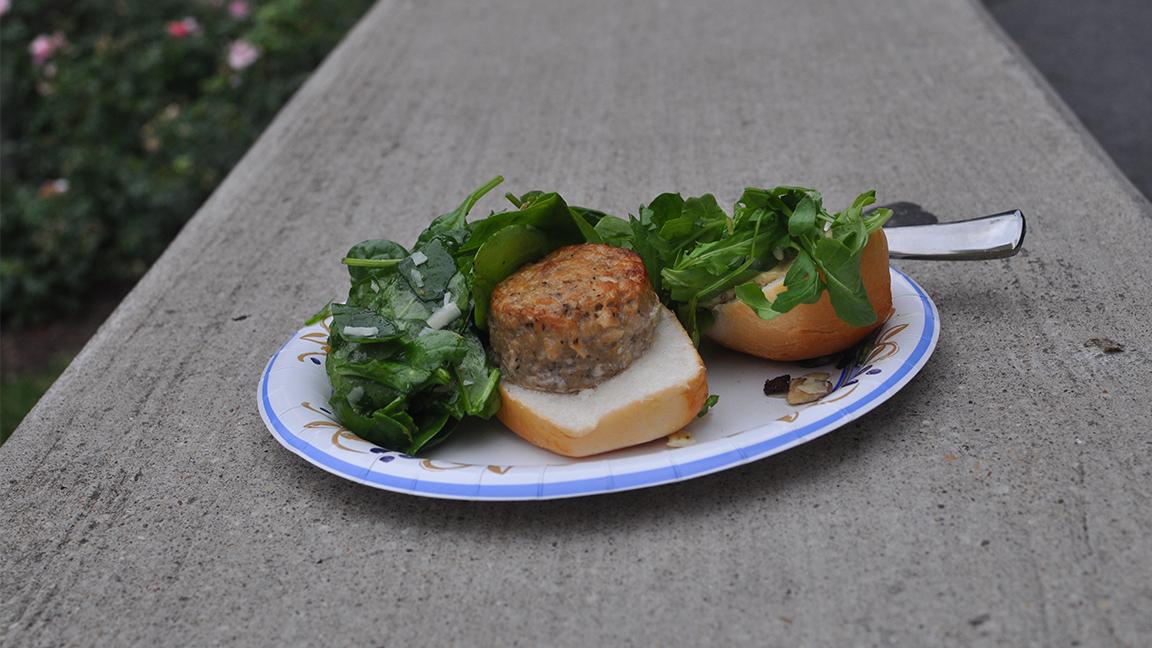 An Asian carp burger prepared at last year's Asian Carp Grill event. (Margaret Frisbie)
Adventurous eaters concerned about Asian carp entering the Great Lakes will have a chance to devour the invasive fish at a special event held along the Chicago River next week.
Asian carp burgers and sausages are on the menu at the second annual Asian Carp Grill, set for Aug. 24 along the riverwalk in front of the McCormick Bridgehouse and Chicago River Museum.
The part-educational, part-culinary event is organized by the environmental nonprofit Friends of the Chicago River. 
"It's a really tasty, fun way of looking at solving this problem of Asian carp," said Margaret Frisbie, executive director of Friends of the Chicago River. "We had over 70 people last year. They really enjoyed it and learned a lot."
The Asian carp is supplied and prepared by Dirk Fucik, owner of Dirk's Fish and Gourmet Shop in Lincoln Park.
Dirk Fucik serves up an Asian carp burger at the 2015 event. (Margaret Frisbie)
Fucik has been selling Asian carp for several years. Every Saturday afternoon at his store, he gives out free samples of Asian carp burgers. Because it's a bony fish, he found grinding up the meat and smaller bones into patties was the best way to prepare it.
"Flavor-wise, it's kind of a neutral flavor, which makes it really nice because you can add different seasonings to take it different ways, like Mediterranean style, Asian style or Mexican style," Fucik said. "People are pleasantly surprised when they eat it. They're amazed that it's carp."
Despite the presence of electric barriers in the Chicago Sanitary and Ship Canal to deter the movement of Asian carp into Lake Michigan, Fucik believes the fish will still make it into the Great Lakes somehow.
"I think it's inevitable that they'll get there eventually – one way or another," he said. "But it's a cheap protein that we're not utilizing enough of. If you can't beat 'em, eat 'em, right?"
While attendees snack on the invasive species at next week's event, Frisbie and her colleague John Quail, the nonprofit's director of watershed planning, will discuss the current status of the voracious Asian carp, which outcompete native fish for food and have already established themselves in the Mississippi and Illinois rivers.
Tickets are $15 or $25 for two at the BYOB event and can be purchased on the Friends of the Chicago River website or by calling Holly Prindle at 312-939-0490, ext. 12. The event begins at 5:30 p.m.
Follow Evan Garcia on Twitter: @EvanRGarcia
---
Related stories:
Alligator Gar Not Effective Weapon Against Asian Carp, Says Biologist
August 3: Despite a spate of recent reports, the Illinois Department of Natural Resources says that reintroducing alligator gar into Illinois' waterways will not prevent Asian carp from reaching Lake Michigan.
---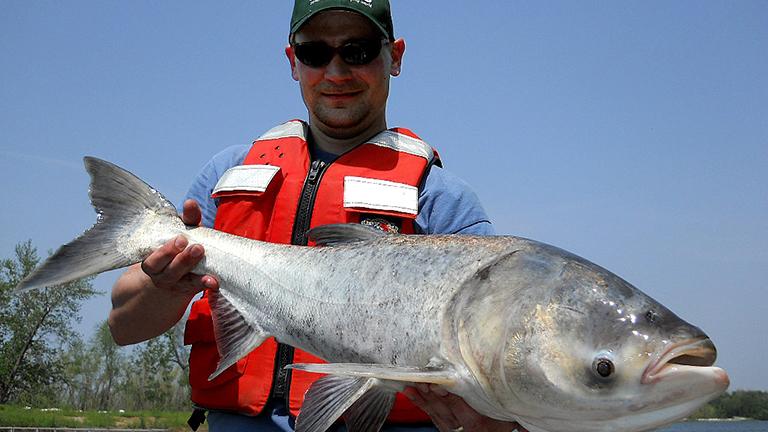 Study: Carbon Dioxide Could Keep Asian Carp out of Great Lakes
June 15: A process similar to making soda water may be an effective strategy in warding off an Asian carp invasion that's threatening the health of the Great Lakes, including Lake Michigan.
---
December 18, 2014: The Army Corps of Engineers moves ahead on its plan to control Asian carp and other invasive species.
---