On May 30, Don Flesch raced from his home in Skokie to his South Loop camera store after receiving an alert from his alarm system.
Flesch, the third-generation owner of Central Camera, saw a chaotic scene when he arrived: looters emerging with stolen merchandise from his 121-year-old store.
"I passed the police, they tell me, 'You better go back and save your car,'" Flesch said. "I say, 'I gotta go and try to save my camera store.'"
The fire started in the basement, officials told him, and it took firefighters more than six hours to put out the blaze. 
It wasn't the only case of looting that night. May 30 saw unrest in Chicago and around the country as people protested the death of George Floyd in Minneapolis police custody just days earlier. Some of the protests turned violent and included property damage like that at Flesch's store, where the vast majority of his inventory was either stolen or destroyed by fire and water.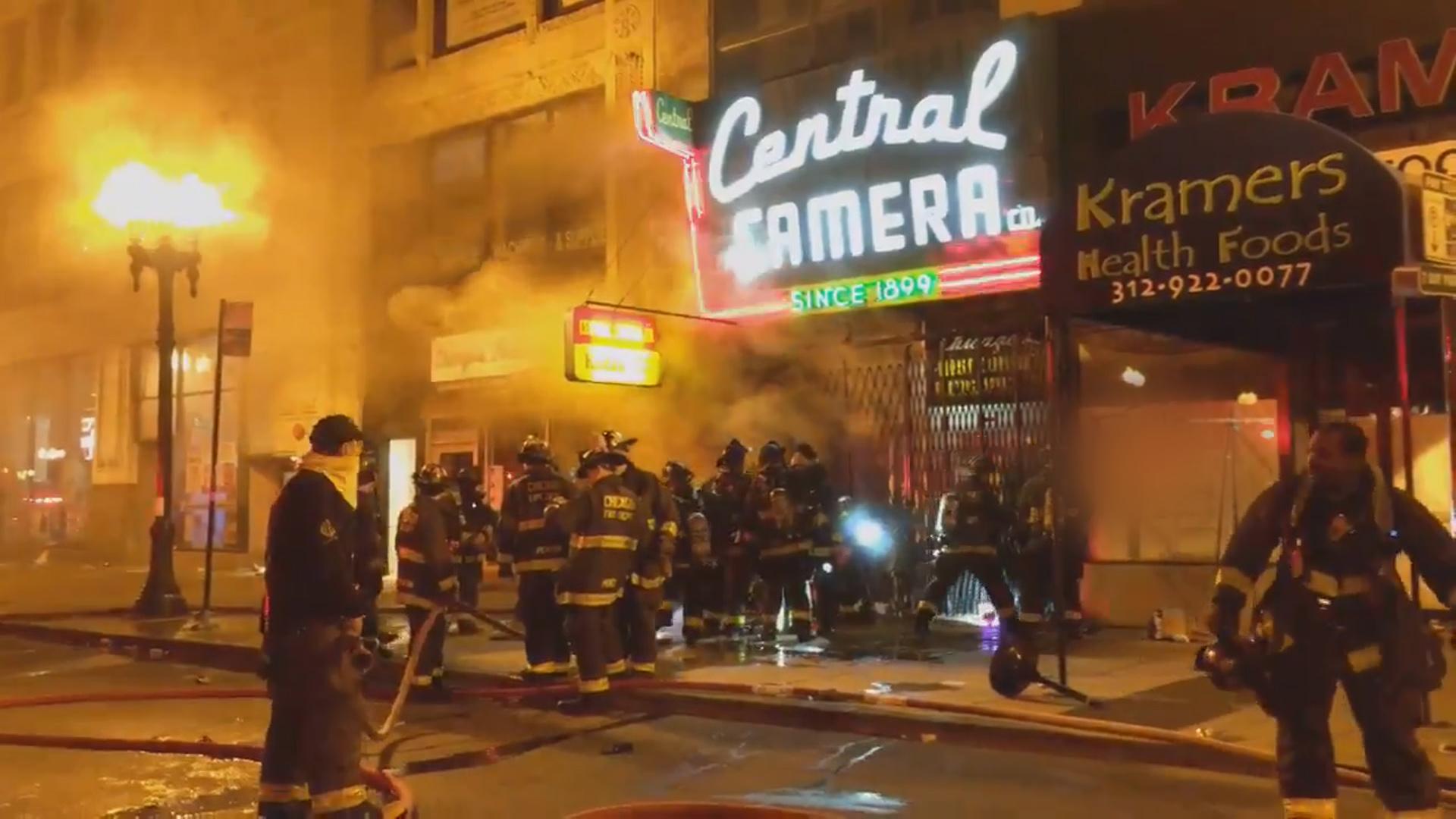 Firefighters battle the blaze inside Central Camera, a 121-year-old Chicago business, on May 30, 2020. (Courtesy Dominic Gwinn)
"Ninety-six to 97% of all the major equipment, camera lenses and flashes, new and used, were stolen," Flesch said. "The rest of it was on the floor – I don't know if it works."
The store's destruction didn't stop Flesch, 72, from plowing ahead and rebuilding.
"It's done – it's over, there's nothing I can do," Flesch said. "We're gonna go forward, we're gonna rebuild and that's what we're doing."
By early June, Flesch and his employees were serving customers in front of the vacant storefront next-door.
The current operation is temporary and scaled-down – employee Tim Shaver said they're mostly selling smaller items, like film, SD cards and batteries, along with services like developing film and converting VHS tapes to DVDs.
"This is mainly, you might say a goodwill gesture to help the photo community, to help our customers," Shaver said. "We're not really making any money doing this – very little."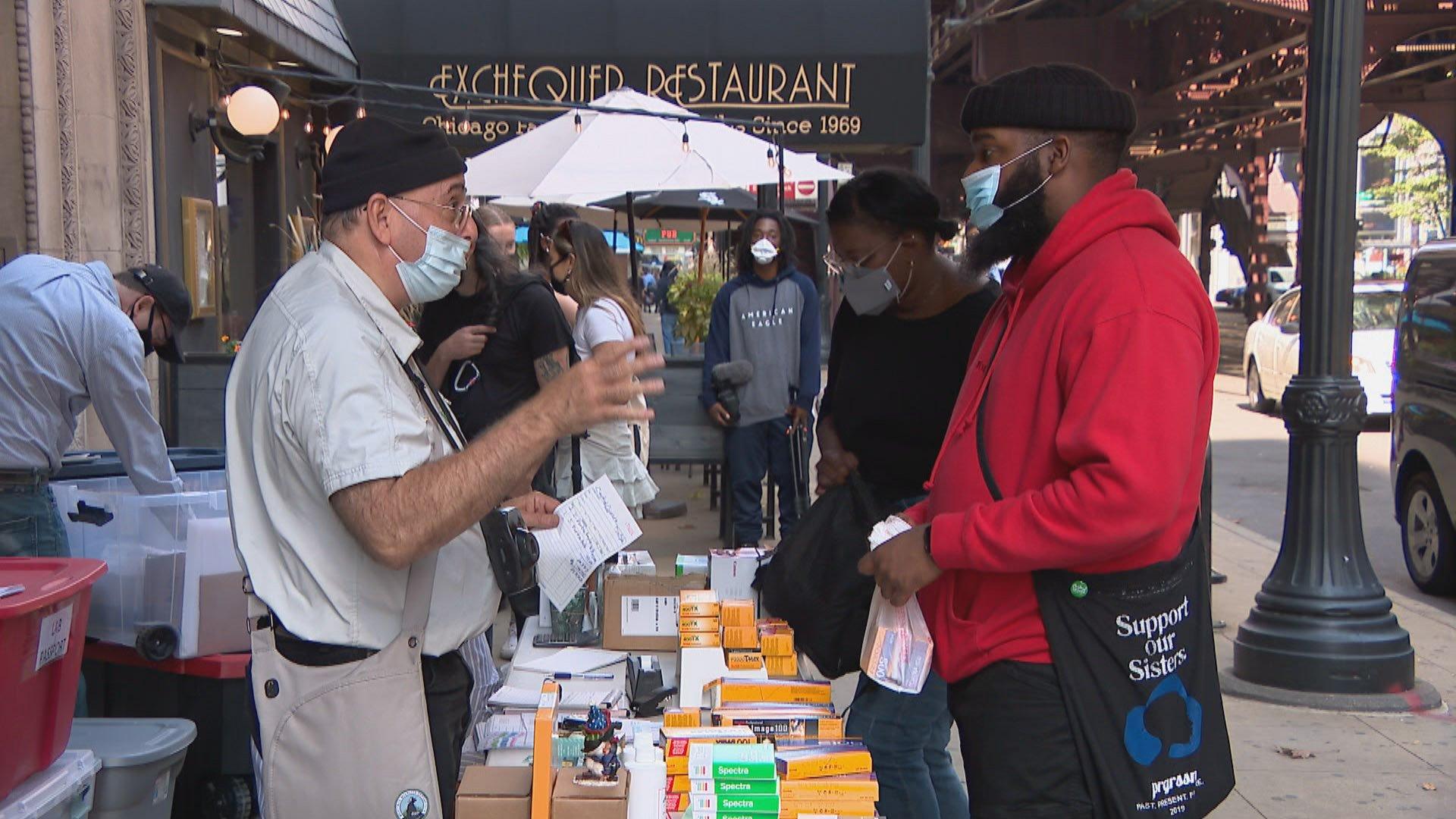 Central Camera owner Don Flesch, left, speaks with a customer at his store's temporary outdoor operation on Oct. 9, 2020. (WTTW News)
As remaining inventory is tested and cleaned, Flesch is buying new and used gear as well as accepting donations. A GoFundMe campaign started the day after the fire has already raised more than $220,000.
Flesch said within a week or two, he plans to move Central Camera inside the temporary space next-door at 230 S. Wabash Ave. He hopes to reopen the original store by next April or May.
Flesch said he has no plans to retire from the store his grandfather founded in 1899.
"No, retiring is death," Flesch said. "Most of my friends and people you read about – and I don't read the obituaries in the paper – everybody gets fat and sick and goodbye. No."
Follow Evan Garcia on Twitter: @EvanRGarcia
---