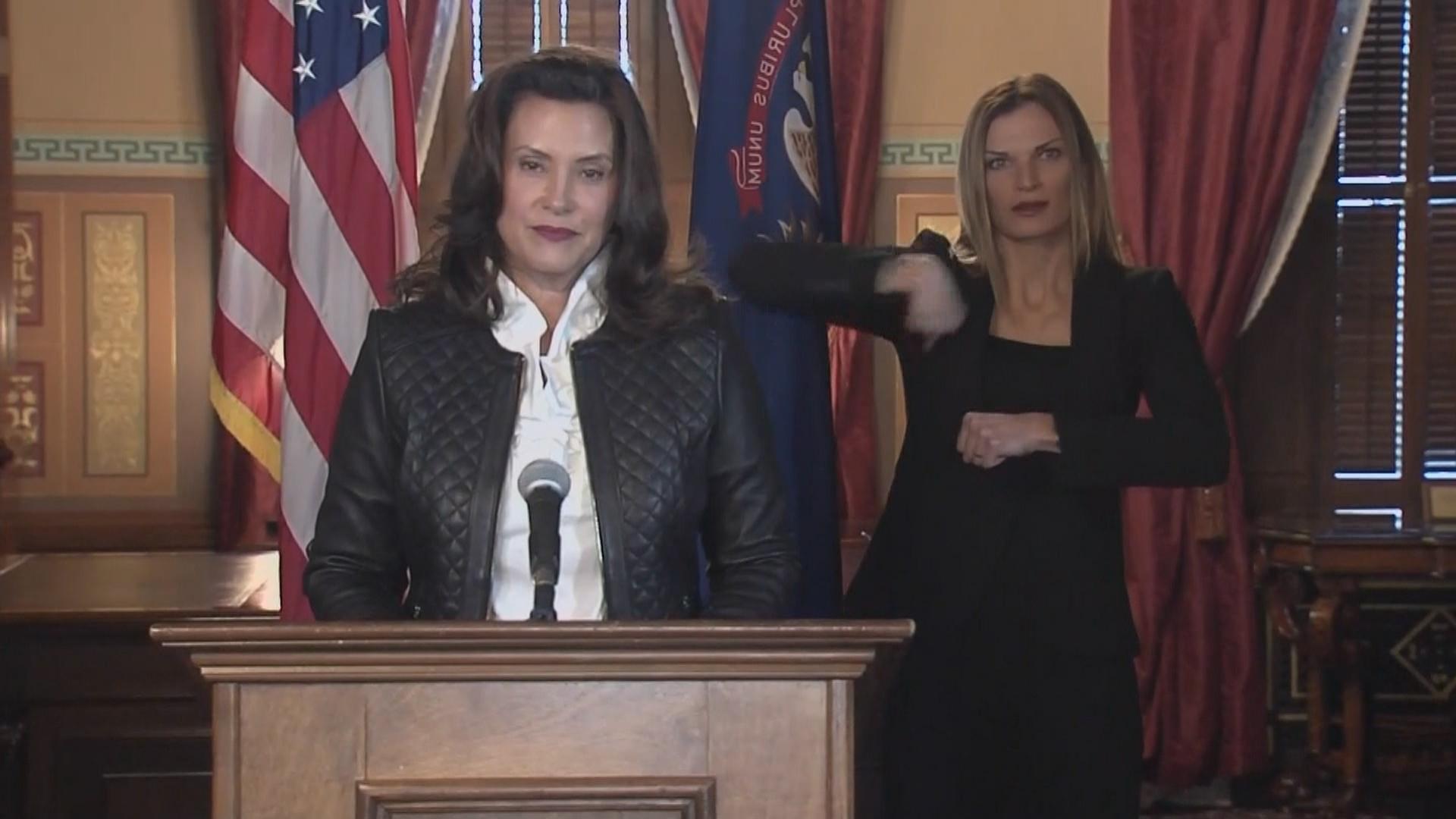 Michigan Gov. Gretchen Whitmer speaks Thursday, Oct. 8, 2020. (WTTW News via CNN)
Mayor Lori Lightfoot said Thursday that President Donald Trump bears at least a measure of responsibility for inspiring anti-government groups to plot to kidnap Michigan Gov. Gretchen Whitmer.
Federal and state officials in Michigan charged 13 men with terrorism, conspiracy and weapons charges, alleging that six of members of an anti-government group conspired to kidnap Whitmer after Trump blasted her for imposing restrictions designed to stop the spread of the coronavirus. Seven men face state charges.
"All roads lead back to Donald Trump," Lightfoot said, calling the initial reports of the plot "chilling."
Trump encouraged those upset with Whitmer to protest, tweeting "LIBERATE MICHIGAN!" on April 17.
After many people with guns and some with pro-Nazi signs and anti-government slogans protested at the Michigan capitol, Trump targeted Whitmer again on May 1, tweeting "The Governor of Michigan should give a little, and put out the fire. These are very good people, but they are angry. They want their lives back again, safely! See them, talk to them, make a deal."
Whitmer directly criticized Trump for "stoking distrust" and "giving comfort to those who spread fear and division" during a news conference after the charges were announced.
White House Press Secretary Kayleigh McEnany called Whitmer's remarks "outlandish allegations" and accused her of "sowing division."
Lightfoot drew a direct line between the president's tweets and the plot.
"Unfortunately, every single time he attacks a public official, and I know this personally, there are those who take that as license to come after us," Lightfoot said, adding that "the level of hatred that has been spewed toward me every time the president or his spokesman uses my name in public, not just attacking the city, but me personally," rises exponentially.
Trump has "emboldened and empowered" a group of Americans who are "racist, misogynist, xenophobic violent people" and some of those people have threatened Lightfoot and her family, the mayor said.
"While Donald Trump's name may not be in the charging documents, he has a measure of responsibility for this plot," Lightfoot said. "Words matter."
Lightfoot said her family has received "serious and significant threats," including harassment and threats.
"There is a real cause and effect when the president names me in a disparaging way," Lightfoot said, adding that there have been repeated threatening calls made to her Logan Square home. "He seems to have a particular obsession with female [mayors] and mayors of color."
On Aug. 20, Lightfoot defended the Chicago Police Department's ban on protests on her Logan Square block, citing a significant number of threats against her, her wife and 12-year-old daughter amid anti-police brutality protests that have turned violent.
Four days later, six people were arrested for violating the ban.
"They didn't show up to bring us cookies and welcome us," Lightfoot said. "They showed up to try to threaten our safety."
Lightfoot urged the news media to report on the threats and precautions soberly, and not to imply that the threats are not real. Everyone should work to reduce division, she added.
"We do need to remember that our children are watching," Lightfoot said. "It makes the job of parenting that much harder."
Contact Heather Cherone: @HeatherCherone | (773) 569-1863 | [email protected]
---