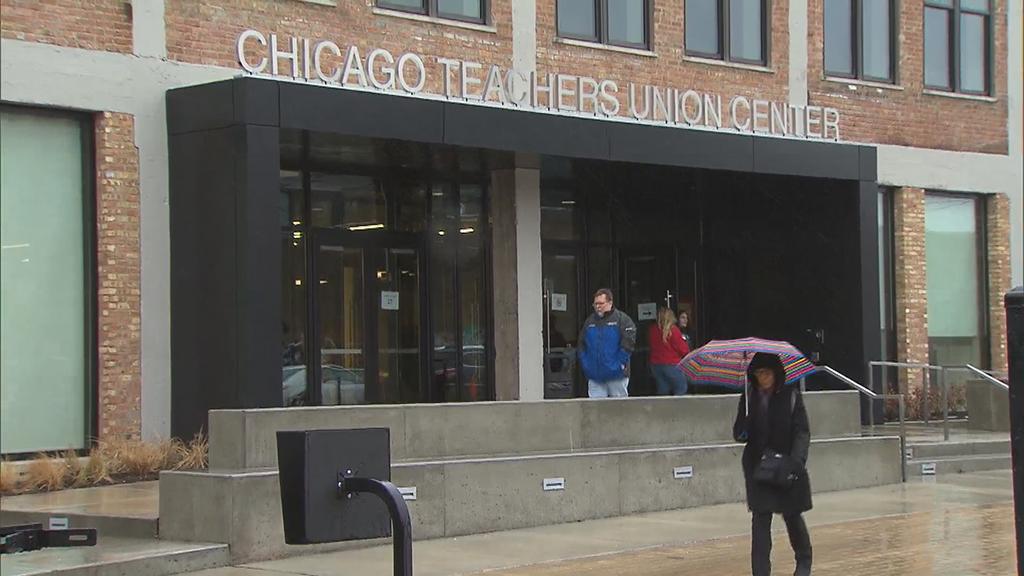 (WTTW News)
The head of the board handling the Chicago Teachers Union's pension fund disclosed a toxic culture among trustees of "misogyny, fear-mongering, blatant racism, (and) sexism," and claimed some union members had been pushing to hire former staffers of Illinois House Speaker Michael Madigan.
Jeffrey Blackwell, board of trustees president for the Chicago Teachers Pension Fund, began the board's Aug. 20 meeting decrying what he called "some of the most abhorrent, disturbing and despicable actions by former and current trustees on this board" he had seen over the past 18 months.
"There is a culture of intimidation, intentional misinformation, discrimination, slander, misogyny, fear-mongering, blatant racism, sexism and retaliatory actions from trustees towards staff and vendors," he said, according to the board's meeting minutes. "I cannot and will not be silent anymore. My silence will no longer be used as complicity to enable unethical and terrible behavior from Trustees."
Blackwell said he's aware of at least a dozen active complaints filed against various current trustees, including a case of "documented harassment and targeted bullying" by one current and one former trustee toward a vendor who represents the CTPF in Springfield.
He went on to state that board trustees had been approached by CTU members who "want us as trustees to hire former Madigan staffers who are now contract lobbyists."
"Let me be clear," Blackwell said. "We are not in the business as fiduciaries of hiding Madigan lobbyists at the fund under the guise of an RFP."
Though these comments were made months ago, it does not appear they had been reported until sometime last week.
The longtime House speaker has come under fire due to his entanglement in Commonwealth Edison's bribery scandal. 
Madigan has not been indicted or accused of any legal wrongdoing, but he is labeled in a formal deal between federal prosecutors and electric utility ComEd as the "public official A" whom former ComEd executives spent nearly a decade trying to cozy up to via a bribery scheme.
In a statement Monday, the CTU said: "Our union has never exercised any undue influence on trustees. The Fund manages the pensions of our members, and as such, we are extremely respectful of its work."
Blackwell went on to detail some of the alleged harassment he's become aware of, which includes "inappropriate comments, insensitive behavior and mental intimidation" predominantly targeted at women of color.
In one instance, Blackwell said a board trustee "refuses to engage or legitimize" a female person of color in her area of expertise without first corroborating her claims with her white subordinate.
"This is the type of behavior that we as teachers would never tolerate and fight against in our own grievances, mediations and arbitrations," Blackwell said. "As an African American president, I have even been on the receiving end of gamesmanship that has stalled, delayed, and disrupted our meetings."
Blackwell said he was taking the "unprecedented, but ultimately necessary" move of compiling all grievances, complaints, and harassment claims and submitting them to the Public Access Bureau of the Attorney General's Office, the Illinois Labor Relations Board, the Equal Employment Opportunity Commission, the Illinois Legislative Inspector General and the Mayor Lori Lightfoot's office.
In a statement sent Monday afternoon, CTPF Executive Director Charles Burbridge acknowledged Blackwell's "personal statement" which "identified a series of his concerns related to individual actions by members of the Board of Trustees."
"We understand that the Board will be looking into the governance issues Mr. Blackwell raised," Burbridge said. "The questions raised by President Blackwell do not impact the day-to-day operations of the Fund. CTPF business continues uninterrupted."
Contact Matt Masterson: @ByMattMasterson | [email protected] | (773) 509-5431
---