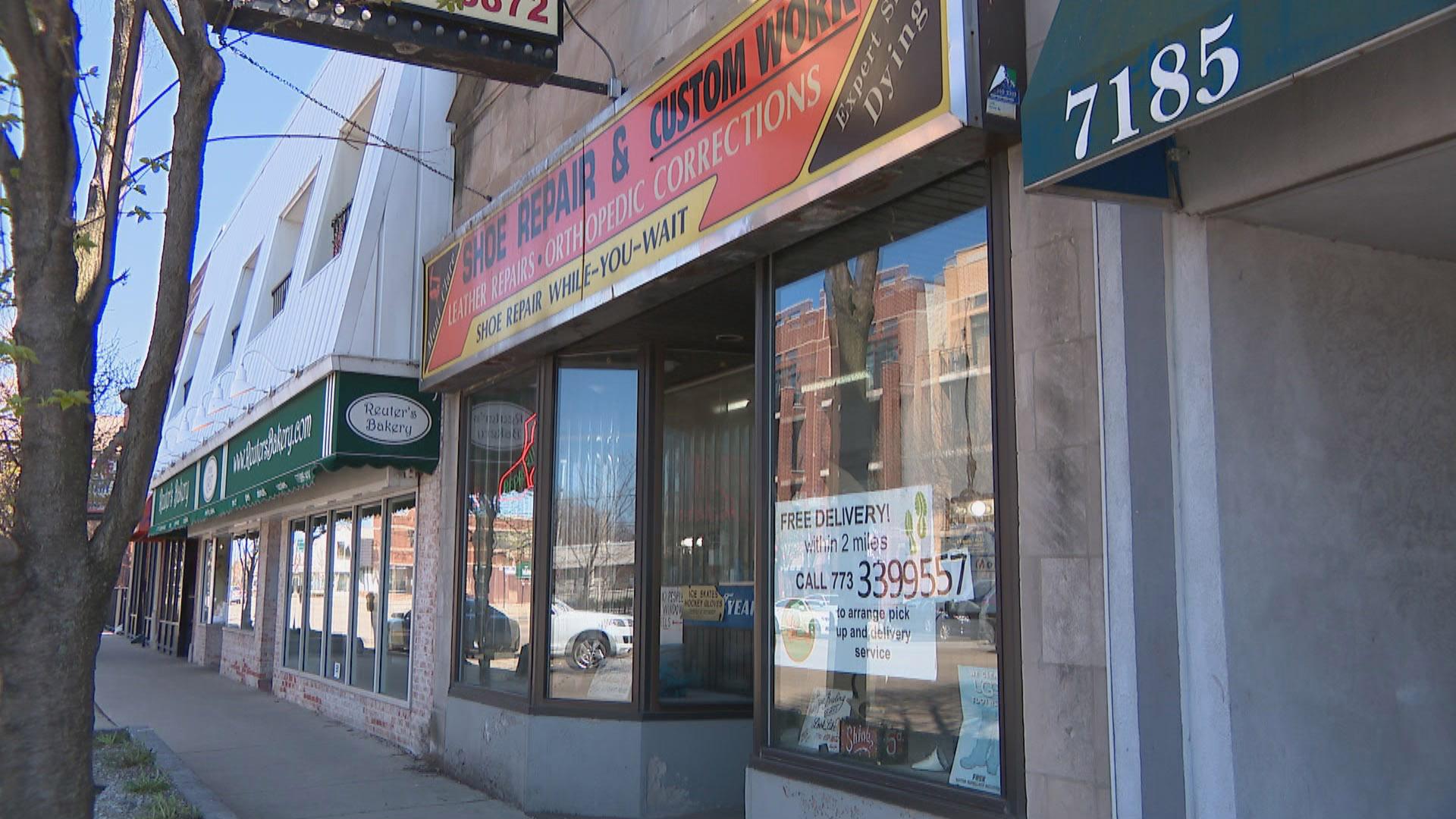 A strip of businesses in Chicago's Montclare neighborhood on the Northwest Side. (WTTW News)
Efforts to transform a Northwest Side tax program created in the 1980s amid the racist panic that greeted the election of Chicago's first Black mayor are stalled — nearly two years after new leadership and close attention from aldermen promised a fresh start.
The Northwest Home Equity Assurance Program has an equity account flush with $9.5 million, Executive Director Ivy Ellis told members of the City Council's Finance Committee on Monday. 
Aldermen advanced four appointments made by Mayor Lori Lightfoot to the board overseeing the fund. The full City Council is expected to confirm them Wednesday.
That sum is essentially unchanged since 2016, when state officials changed the law for the program to allow the program to make low-interest home repair loans to help property owners on the Far Northwest Side. 
Formed in 1989 with the support of former Mayor Richard M. Daley and House Speaker Michael Madigan (D-Chicago), the program levied an additional tax on approximately 48,000 homes in Belmont Central, Belmont Heights, Belmont Cragin, Portage Park, Jefferson Park, Old Irving Park, Dunning, Montclare and Galewood to create a kind of insurance fund.
Homeowners who decided to sell their homes could file a claim for the difference between a fair-market appraisal of their property and the final sale price. After Washington's election, some families feared the value of their property would drop as white Chicagoans fled the city.  
But those fears never materialized, as property values rose. Since 1989, the program has paid seven claims totaling $186,500, Ellis said. Several of those neighborhoods have large Latino populations, according to the latest census data.
Ald. Gilbert Villegas, whose 36th Ward is part of the program, said its creators lost their "bet against diversity."
Ald. Pat Dowell (3rd Ward) said seven claims in more than 30 years "was not very many."
To be eligible to file a claim, homeowners who live in the district must pay a one-time fee of less than $225 to enroll in the program. Twenty-five people have enrolled since March 2019, Ellis said.
Three loans are going through the approval process, Ellis told aldermen.
"I'm wondering about the need for the program," Dowell said. "It is clear that it needs to pivot in the right direction."
Villegas said he was pleased with Ellis' leadership of the program, saying that comparing the program under her leadership to her predecessor is "night and day," adding that he used to drive by its offices to see if its lights were on and make sure the previous executive director was "still alive."
But Villegas said the program must start to work better for the Northwest Side property owners who pay, on average, less than $3 annually into the fund.
The program missed an opportunity during the stay-at-home order designed to stop the spread of the coronavirus pandemic to reach out to homeowners who found themselves with the time to complete long-postponed home improvement projects, Villegas said.
Villegas asked Finance Committee Chair Ald. Scott Waguespack (32nd Ward) to hold hearings on the program to "make sure it is actually working for people."
Waguespack agreed to hold those hearings at a future date.
Contact Heather Cherone: @HeatherCherone | (773) 569-1863 | [email protected]
---