What triggers the internal prompt that tells a tree "Oh hey, winter's coming"? It's a mystery to researchers. (Patty Wetli / WTTW News)
People have been calling the Morton Arboretum for weeks now, asking when trees will reach peak fall color.
Christy Rollison, forest ecologist with the arboretum's Center for Tree Science, doesn't have a ready answer.
"Predicting peak color at the moment is a lot of, let's call it 'expert elicitation' — a lot of people going by their gut feeling and the weather report," Rollinson said. "This is something that is a hot topic for researchers, including my lab, where we are trying to better model and predict fall color both for people that like the color as well as understanding the science behind it. But we're not there yet."
Here's what scientists do know about fall color: It's an adaptation that trees developed to deal with the stress of winter's "inhospitable conditions," Rollinson said.
As trees in essence "winterize" themselves, they stop producing chlorophyll, the green pigment that absorbs energy from the sun and makes sugars.
"Chlorophyll requires a lot of nitrogen — it fuels the green," she said. "Because nitrogen is not abundant in nature, trees try to get that investment back as much as they can before their leaves fall off. The process of changing color is trees getting the nutrients back out of their leaves."
Other pigments in the leaves that were always present but were masked by the profusion of green are then revealed, namely all those shades of yellow and orange (technically carotenoids). Reds (anthocyanins) are a slightly different matter, produced specifically in the fall.
"Red kind of acts like a sunscreen for the compounds in the leaf, so they don't get broken apart by the sunlight and the tree can reabsorb them," Rollinson said. 
How does a tree knows it's time to start this process? What triggers the internal prompt that tells a tree, "Oh hey, winter's coming"? That's what researchers don't fully understand, she said.
"Color can vary from tree to tree, it can vary from branch to branch. There's a tree in my neighborhood that is so bizarre because it has this big red stripe through it. The rest of it is green, but that branch is bright, bright red. We don't really know why that happens," Rollinson said. "You know, trees are like people, everyone's a weirdo. We are all different because of the conditions we grew up in and our genetic makeup, and trees are exactly the same in that regard."
Temperature plays a role, as does sunlight. Soil moisture is a question mark. But for now, there's no explanation for how a tree decides it's time to power down.
This year, for example, many of the area's birches and maples started dropping their leaves in late summer. Rollinson hypothesized that May's record wet weather stimulated major growth spurts that trees couldn't sustain during the drought of July and August. So they cut their losses. But why just some trees, and not all?
Trees all have their own unique strategies for dealing with stress, and that's what makes predicting trees' fall behavior far more difficult than spring habits, said Rollinson.
If you were to look at a satellite view of Chicago in spring, she said, you'd see the entire region go green within a matter of days. Compare that with the National Oceanic and Atmospheric Administration's weekly fall color Twitter posts, which show, via satellite images, the patchy progression of color across the Great Lakes.
"Fall is much more idiosyncratic," Rollinson said. "There's no telling when a tree has had enough."
An extreme exception would be the kind of weather-related mass "leaf extinction" that took place in 2019, when an uncommonly warm fall saw trees hanging onto their green longer than normal. A sudden plunge of temperatures into the teens caused trees to drop their leaves before the color turned, meaning, Rollinson said, that trees weren't able to recoup their energy investment. 
"A tree can deal with a bad year, it can deal with losing its leaves one year, maybe even two years, but when it becomes a really regular thing then we become concerned," she said. 
To survive in Chicago, trees need to be able to produce leaves after the last spring frost and turn color and lose their leaves before the first hard frost in fall. The gazillion-dollar question Rollinson and her team are attempting to answer is how trees will react when their environmental cues go haywire or stressors multiply. 
According to the arboretum's historic records, trees are now producing leaves one to two weeks earlier than when the institution was founded in 1922, but the date of the last spring freeze hasn't shifted proportionately, so trees are more vulnerable.
What happens is that trees pour energy into creating new leaves in the spring, a frost hits, and the cells of the leaf explode, Rollinson said.
"The tree can't repair it, so the only thing it can do is try again. And as you might imagine, that's really expensive for a tree to do," she said.
In 2020, trees in the Chicago area experienced a late freeze, a summer drought and a bizarre derecho storm that felled thousands of trees and damaged untold more. 
"For trees that lost branches during the derecho, that's another stress factor that's going to kind of compound onto everything else it's dealing with," said Rollinson.
There's no telling how the combination of all these issues will affect fall color in the short term or the overall health of the region's trees in the long term should the weather events of 2020 begin to prove the norm.  
"That is the question that drives me," Rollinson said. "I suspect it does have an impact, but we don't have the scientific evidence or data to say for sure yet."
COOL TEMPS + SUNNY DAYS = PEAK COLOR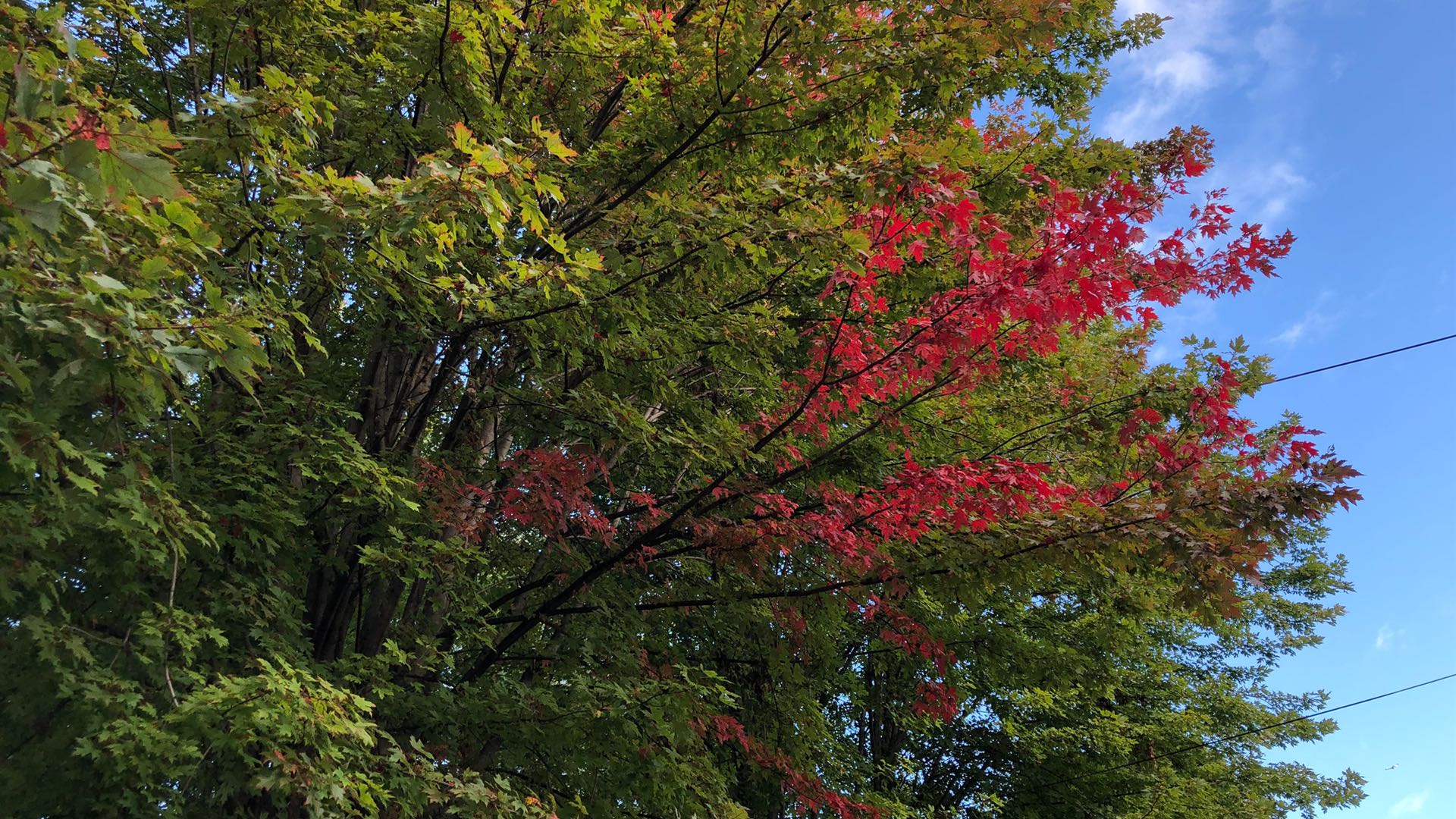 Fall color varies from tree to tree, and even branch to branch. (Patty Wetli / WTTW News)
When it comes to "peak" fall color, the term can refer to two separate things.
"Peak" timing is one matter — as in, when will most of an area's trees have turned from green to orange, yellow or red. In the Chicago area, peak usually occurs in mid-to-late October, said Christy Rollinson, forest ecologist with the Morton Arboretum's Center for Tree Science.
Or "peak" can be a question of how brilliant the colors will be in any given year.
Vibrancy is particularly susceptible to weather conditions, Rollinson said.
"It can be heavily influenced day-to-day," she said. "It really has to do with cold temperatures and bright, sunny days."
One thing is certain: Thanks to the wide range of tree species found in the Chicago area, regardless of when peak happens or how richly hued the leaves appear, residents will be treated to a show of colors across the fall spectrum.
For bright yellow, look for honey locust trees, ginkgos, hickory and basswoods (aka, linden). 
Maples are the poster children for red, but Rollinson said sumac shrubs also turn a blazing red, as do poison ivy and the Virginia creeper vine.
Purplish leaves could mean you've spotted a surviving ash tree — appreciate it while you can.
---
Contact Patty Wetli: @pattywetli | (773) 509-5623 |  [email protected]