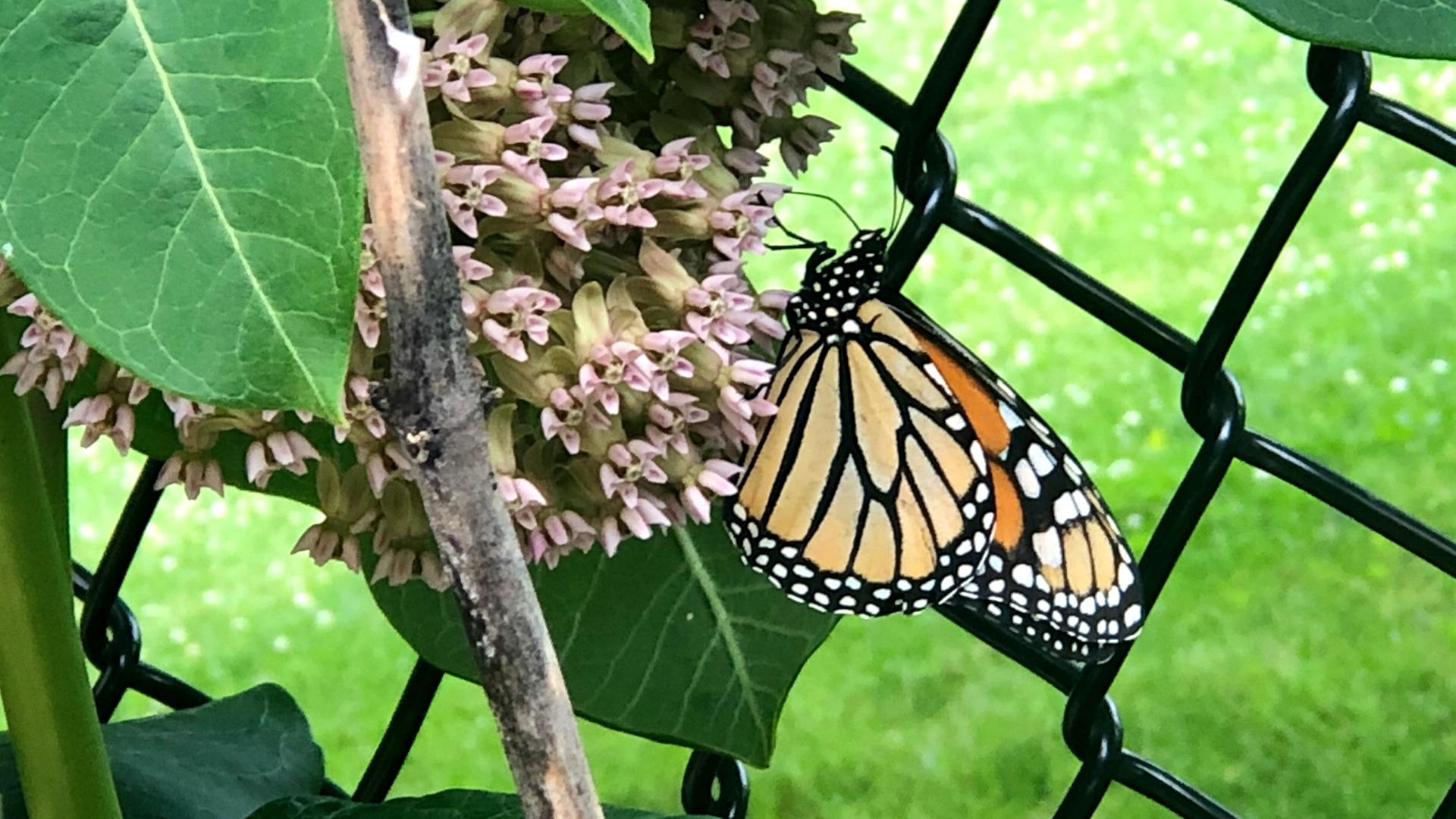 Monarch butterflies have started their 2,000-mile migration south to Mexico. (Patty Wetli / WTTW News)
Monarch butterflies are on the move, making their way south to Mexico. These are peak days for the migration in the Chicago area, where several roosting sites have recently been reported as the creatures rest up in clusters on their 2,000-mile journey, many having already flown from as far as southern Canada.
The butterflies have been spotted taking a collective breather in trees at Lurie Garden and the Shedd Aquarium, among other locations, which makes sense, according to Doug Taron, curator of biology and vice president of research and conservation at the Peggy Notebaert Nature Museum. 
"The lake funnels them," Taron said, noting that the way the Shedd juts out into the water makes it a prime landing point.
The Shedd's horticulture team counted at least 150 monarchs, according to a spokesman, and suspected many more were camouflaged in fall-colored leaves. The aquarium's grounds have been landscaped with monarchs in mind, planted with beneficial milkweed and nectar-rich native perennials.
Tens of millions of monarchs will eventually wind up in Mexico for the winter. Where they roost en route varies from year to year, but Taron said he's seen them in Lincoln Park near the Nature Museum on numerous occasions.
Look for them in the lower branches of trees or in shrubs, he said. They'll typically choose a roosting spot late in the day and spend the night before taking off in the morning. 
Taron, founder of the Illinois Butterfly Monitoring Network, has been tracking the butterflies' movement this fall and actually expected them to reach Chicago en masse a week ago, based on when the horde arrived in Madison, Wisconsin. But last weekend's cold, wet weather caused a flight delay. 
The cold-blooded monarchs "just perch and don't really move" when temperatures drop, he explained.
The Nature Museum will be celebrating monarchs during Saturday's "Flutter Into Fall From Home" virtual event. Staff will demonstrate butterfly tagging, which is used to identify monarchs when they arrive in Mexico.
The numbered adhesive tags, about the size of a chad, provide a record of the date and location where the butterfly originated.
"When the tags are recovered in Mexico, it's bomb-proof evidence that the same butterfly goes all the way to Mexico," Taron said.
Then in early- to mid-March, these same monarchs will begin to fly north to start the cycle all over again. They'll lay eggs and die along the way, and six months and multiple generations of monarchs later, their descendants will somehow find their way back to the exact same place in Mexico. 
"It's an amazing process, and there's a lot we still don't know," said Taron. 
---
Contact Patty Wetli: @pattywetli | (773) 509-5623 |  [email protected]