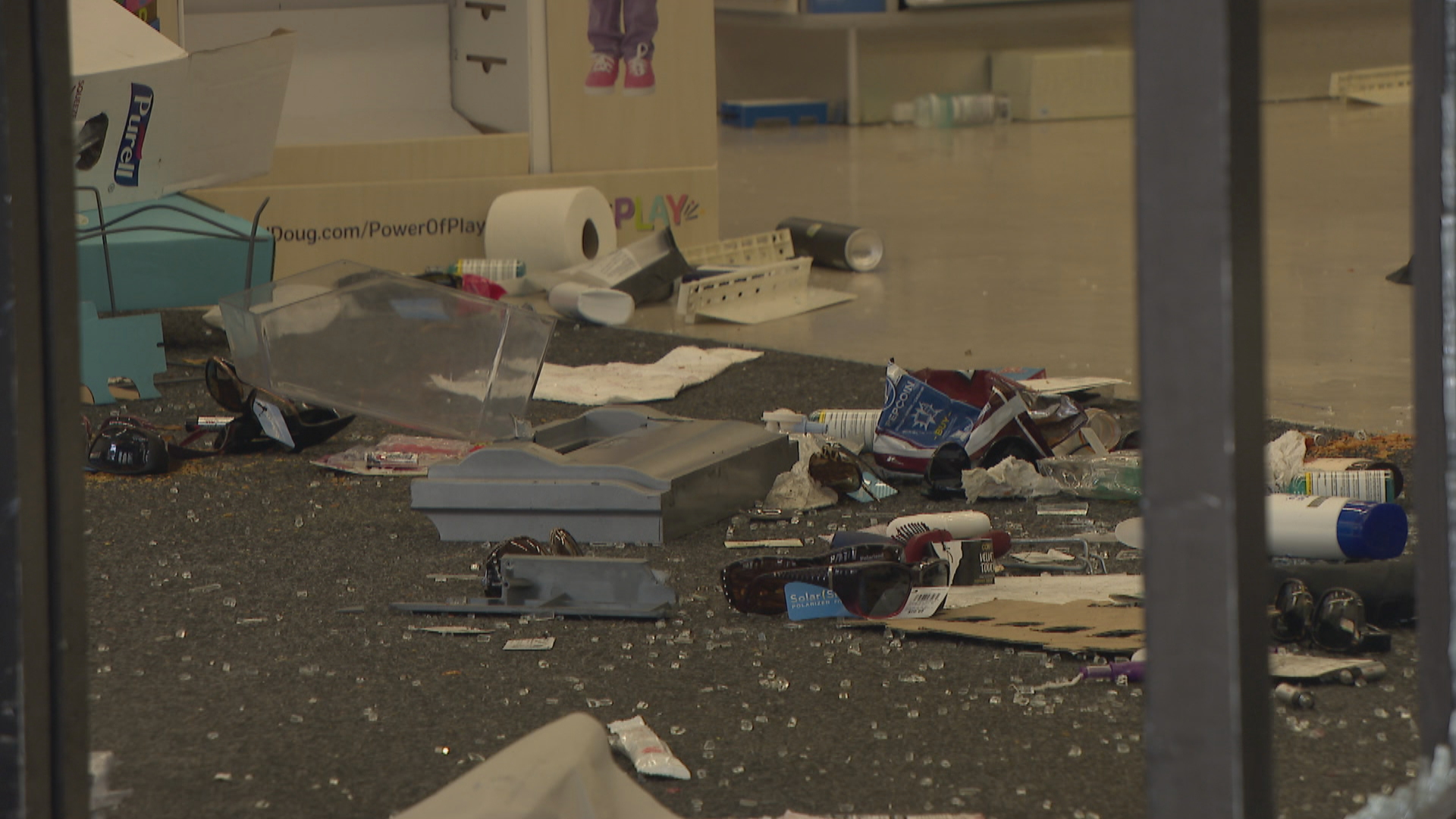 (WTTW News)
Chicago police on Thursday conducted a pair of public safety training drills on the South and Northwest sides, playing out hypothetical looting scenarios in order to practice their response and prevent "vandalism and violence."
Police Superintendent David Brown said the so-called "tabletop exercises" involved officers responding to hypothetical looting reports to test the effectiveness and quickness of their response.
"Practice makes perfect," Brown said repeatedly during a media briefing at 47th and State streets on the South Side. "As much as you can drill and practice your strategies and critique some of the outcomes of your tabletop exercises, I think speaks to us being better and better and better, quicker, more agile, more flexible in our response, and more comfortable and confident in our training as we practice some of the things we want our officers to do."
Thursday's exercises included not only the CPD, but members of the Office of Emergency Management and Communications, Fire Department, Department of Water Management, CTA, Department of Streets & Sanitation and others as part of an "all-hands-on-deck" approach.
Supt. David Brown @ChiefDavidBrown presides at Public Safety Training Drill in the @ChicagoCAPS02.This drill will be one of two conducted today as part of an all-hands-on-deck public safety strategy aimed to protect residents and neighborhood businesses citywide #ChicagoPolice pic.twitter.com/a4JXDug5Ha

— Tom Ahern (@TomAhernCPD) September 10, 2020
---
But the superintendent declined to get into the specifics of what exactly these drills entailed, saying secrecy was necessary in order to avoid making police tactics known to potential criminals.
"When we are drilling for these type of scenarios related to looting, we don't want to give away our tactics to the criminal element who might be monitoring local media to see what we would do given the situation," Brown said. "It is a chess game with criminals and so we don't want to give away our moves to the criminal element so they can defeat what we're drilling for."
The exercises come as Chicago has faced months of protesting, both peaceful and otherwise, following the police killing of George Floyd in Minneapolis in May. Brown said the department has deployed an additional 500 officers to city neighborhoods in order to both prevent looting and arrest those who do take part.
The superintendent on Thursday disputed the notion that officers were not responsive to initial looting during unrest in May and June, saying police were under attack and forced to regroup before they could respond to violent outbursts.
But many members of the public have criticized the way police handled those protests. Dozens of people alleged they'd been beaten and pepper sprayed by officers without provocation at these protests during public hearings held last month by consent decree Independent Monitor Maggie Hickey and federal Judge Robert Dow.
Contact Matt Masterson: @ByMattMasterson | (773) 509-5431 | [email protected] 
---