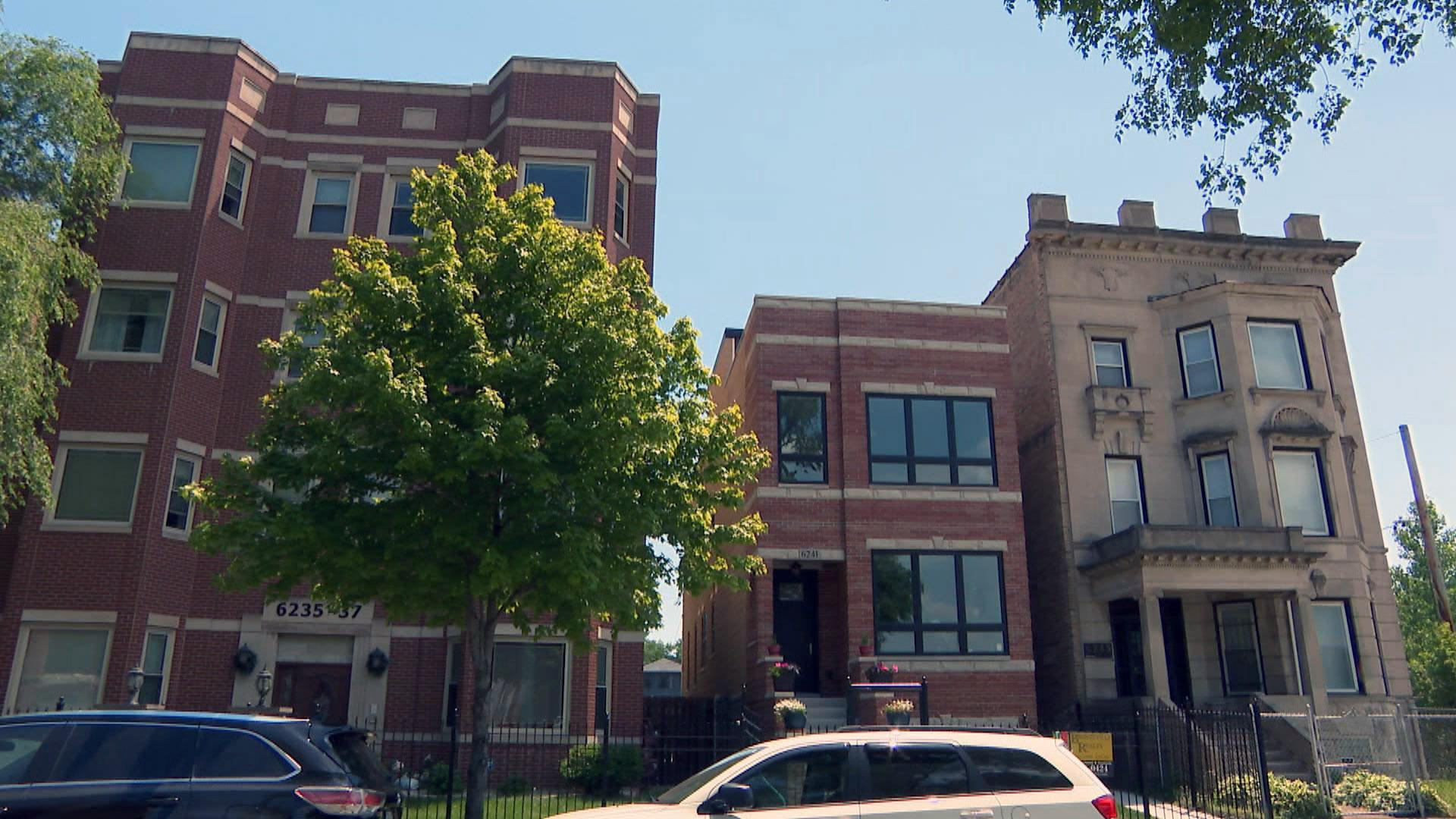 Chicago's Woodlawn community. (WTTW News)
A yearslong fight over fears that the planned Obama Presidential Center in Jackson Park would push longtime South Side residents out of their homes ended Wednesday with a unanimous vote of the City Council to approve a $4.5 million package designed to prevent the $500 million project from supercharging gentrification in Woodlawn.
Aldermen backed the compromise hammered out by Mayor Lori Lightfoot, Ald. Leslie Hairston (5th Ward) and Ald. Jeanette Taylor (20th Ward) with the support of a coalition of activist groups that staged a daylong sit-in outside the mayor's office in February and built a tent city in a vacant lot in Woodlawn in June.
Just before the vote, Lightfoot acknowledged that the package was the result of a "robust and challenging process" and was pleased "that we got to the right place."
Taylor, who told WTTW News that the package would not protect the poorest residents in Woodlawn who need the most help and protection, said Wednesday that the measure was "a step in the right direction."
Hairston said the measure would address the systemic disinvestment that has left South Side neighborhoods like Woodlawn pockmarked with empty lots and few stores.
"This has been a long time coming," Hairston said.
The plan sets aside $4.5 million from the city's affordable housing fund to combat displacement fueled by gentrification. Two-thirds of those funds are earmarked to help Woodlawn residents buy homes — or stay in the homes they already own.
After Taylor objected to a plan introduced by Lightfoot in February, it was revised to require 30% of units in any new residential development on 52 vacant lots owned by the city to be set aside for Chicagoans earning between 30% and 50% of the area's median income, which is $44,600 for a family of four. The city owns 208 vacant lots in Woodlawn.
The city will also expand its Preservation of Existing Affordable Rentals program, which offers landlords financial assistance from the city to purchase or refinance multifamily residential buildings in exchange for keeping the units affordable for 30 years.
The program, known as PEAR, would get an additional $1.5 million from the Affordable Housing Opportunity Fund, which is fueled by the fees paid by developers under the Affordable Requirements Ordinance.
In addition, properties that participate in that program must keep 10% of units affordable to renters who earn no more than 30% of the area's median income, and another 10% affordable to tenants earning no more than 50% of the area's median income.
The plan calls for new owner-occupied homes to be built on half of those city-owned lots, with rental units built on the other half, officials said.
Even though the Obama Presidential Center has yet to receive final approval from the federal government to break ground, Woodlawn's real estate market is already bubbling, with the median sale price rising 106% from 2016 to 2020.
Chicagoans who have owned their home for five years or more and earn no more than 120% of the area's median income could apply for $20,000 grants from a new $1 million fund to repair their homes, according to the plan.
The measure also earmarks $500,000 for Renew Woodlawn, a program designed to help Chicagoans with low to moderate incomes purchase homes.
In addition, the plan adds $1.5 million to the Woodlawn Loan Fund, a program that funds the purchase and rehabilitation of vacant units to create new affordable housing units.
The city's commitment to the loan fund is expected to attract $5 million from private investors, said Marisa Novara, the commissioner of the city's Housing Department.
The package also expands efforts to help owners earning between 60% and 80% of the area's median income stay in their homes, Novara said.
The plan also gives residents of apartment complexes a chance to buy their building before their landlord puts it up for sale under a pilot program modeled on the city's ordinance designed to protect single-room occupancy hotels.
The owner of a building with 10 or more units would be required to notify tenants 30 days before listing the property for sale. It then allows a 90-day window for tenants to make a valid offer for the property, according to the proposal.
Federal officials have yet to approve the construction of the Obama Presidential Center in Jackson Park. A review found the center will have an "adverse impact" on Jackson Park, the Midway Plaisance and the city's Park Boulevard System, all of which are listed on the National Register of Historic Places.
The Obama Foundation must propose and win approval for a plan to address those issues before crews can break ground on the center, which will include a four-building campus, underground parking facility, plaza, play areas, pedestrian and bicycle paths and landscaped open space. 
Supporters say it will transform the South Side by attracting tourists — wallets at the ready — and creating hundreds of jobs.
In other action, the City Council also voted unanimously to tighten Chicago's home-sharing rules and ban short-term rentals that last only one night in an effort to block huge parties that have become a regular nuisance in some neighborhoods.
Lincoln Park Ald. Michele Smith (43rd Ward), whose Lakefront ward is a magnet for home-sharing platforms, called the revised law "not perfect" but a "compromise" she supports.
The City Council also agreed to pay $6.65 million to settle four police misconduct lawsuits, including two lawsuits prompted by the deaths of two Black men shot by Chicago police officers.
Aldermen voted to pay $2.2 million to settle the lawsuit brought by the family of Paul O'Neal Jr., 18, who died after officers shot him in the back in July 2016 while they investigated a report of a stolen car.
Another $3.8 million will be paid to end a lawsuit filed by former Chicago police Officer Laura Kubiak, who alleged she was retaliated against for complaining about former Officer Veejay Zala, who she said had been verbally abusive and threatening in 2012 while the two worked in the News Affairs office. Ald. Jim Gardiner (45th Ward) cast the lone vote against that settlement, but did not explain his vote.
Aldermen also voted unanimously to approve a new contract for Chicago firefighters that gives them $95 million in back pay, but puts off fraught negotiations over how fire stations should be staffed.
In addition, aldermen voted to ease rules that have long prevented fully topless performances in Chicago's bars and clubs that sell liquor in order to settle a lawsuit brought by a Chicago performer who alleged the ban was discriminatory because it applied only to women.
Contact Heather Cherone: @HeatherCherone | (773) 569-1863 | [email protected]
---