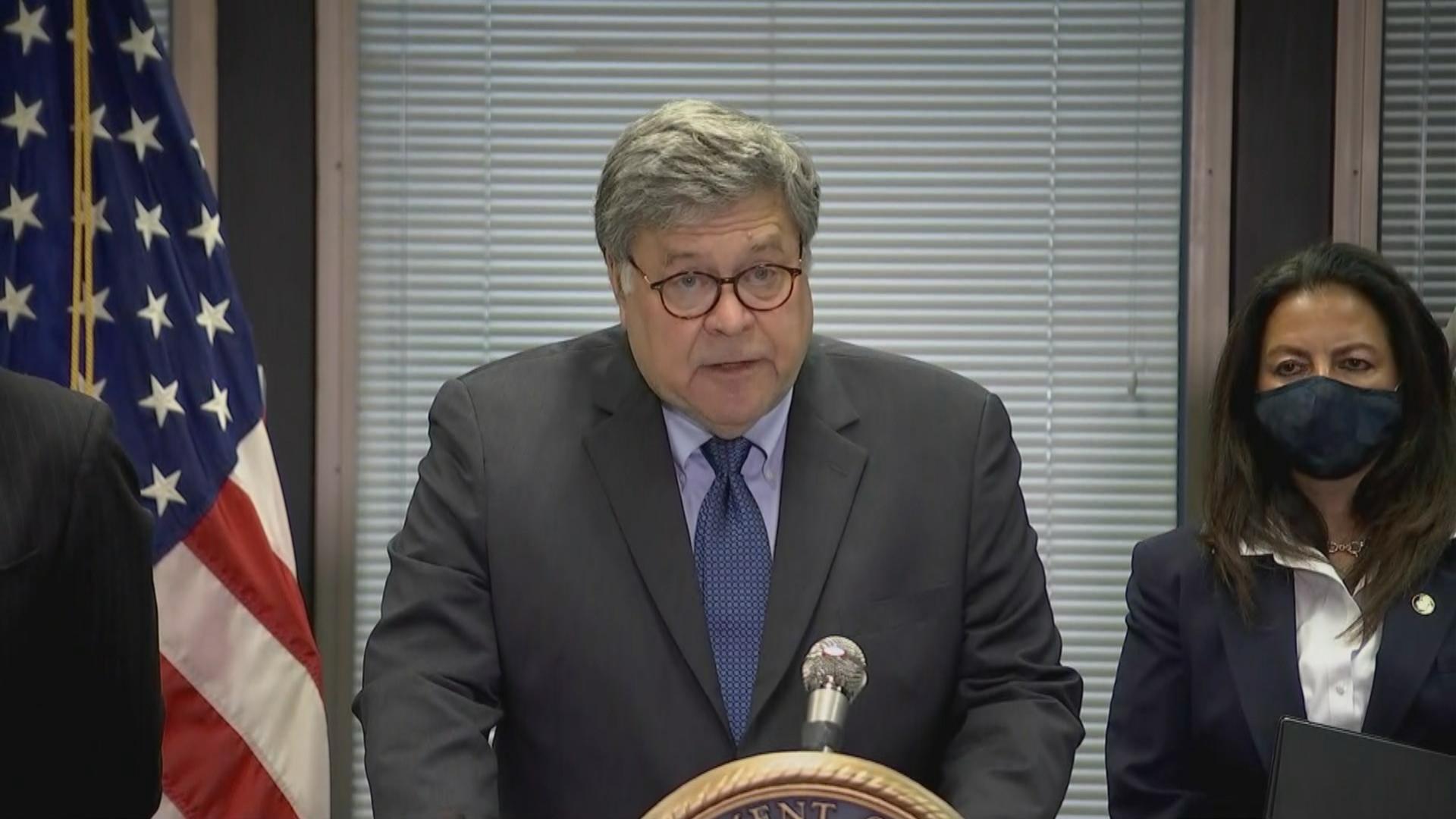 U.S. Attorney General William Barr speaks about Operation Legend in Chicago on Wednesday, Sept. 9, 2020. (Pool camera)
U.S. Attorney General William Barr said a federal operation targeting violent crime has led to a significant decline in homicides in Chicago since its inception in July. But Chicago Police Department data shows the city thus far in 2020 has still seen 50% more killings than in the same period last year.
Speaking at the Dirksen Federal Building on Wednesday, Barr said there's been 500 arrests and 124 defendants charged in federal court since last month in connection with Operation Legend, a multi-city initiative between federal and local law enforcement agencies aimed at combating violent crime.
"Operation Legend's success is perhaps most dramatic here in Chicago," Barr said. "When the operation was announced on July 22, homicides in the city were up 51% over 2019. … Together, federal, state and local law enforcement working in Chicago as part of Operation Legend and our joint task forces have reversed that dangerous spike in violence."
The operation is currently underway in nine different cities, and includes the deployment of 1,000 federal agents to those areas. In the five weeks since the operation launched in Chicago, Barr said homicides in Chicago had dropped by 50% over the previous five weeks.
"The bottom line is that Operation Legend has played a critical role in cutting Chicago's murder rate roughly in half since before the operation," he said.
While the number of homicides did decline in Chicago by 45% from July to August, CPD data shows that as of Sunday, the number of both homicides and shootings are still up 52% year-to-date over the same period in 2019.
The 105 homicides in July was the highest single-month total in Chicago since September 1992. It also marked the deadliest July in at least 50 years. And even with that month-over-month decline, last month still had more homicides (63) than any other August since 2016 and the third-highest total for any August in the city since 2000.
As of July 19, days before the Operation Legend launch and the subsequent drop in total homicides, Chicago had recorded 51% more homicides year-to-date over 2019.
John Lausch, Jr., the U.S. Attorney in the Northern District of Illinois, later clarified that Chicago's homicide rate had gone up "month after month after month" leading into July, but then decreased from July into August.
"Very clearly Operation Legend helped," he said.
The CPD has also taken credit for that decline from July into August, pointing to the launch of two new citywide teams – the Community Safety Team and the Critical Incident Response Team – which were announced just a day after Operation Legend was launched in Chicago.
No CPD officials were present during Barr's press conference. The attorney general said department leaders were invited to attend, but apparently chose not to.
"One of the odd things about our program in this city are, you know, some of the politics involved," he said. "I'm sure that was an element of it."
Barr added he did expect to meet with CPD Superintendent David Brown later on Wednesday, but noted the police department has not credited the federal deployment with any decline in the city's violent crime.
Mayor Lori Lightfoot said late last month that it was still too early to determine what impact Operation Legend had actually had in Chicago. On Wednesday she called Barr's comments "factually inaccurate," and claimed there was a decline in homicides before federal agents began showing up in Chicago.
"Nobody should be taking a victory lap," Lightfoot said. "We are absolutely making progress … but the cause-and-effect Attorney General Barr tried to make today, I think the facts don't bear that out."
Barr declined to say if there was a "disconnect" between the feds and local police, but Lausch strongly disputed that notion.
"We work together all the time, they are very supportive of all of our efforts and we are thrilled to help them fight violent crime," Lausch said. "Law enforcement to law enforcement level, things are going very well, I can assure you that."
Of the 124 federal cases charged in Chicago, 90 include defendants facing firearm-related charges and 30 others include drug trafficking charges, according to Barr.
As part of Operation Legend, some 400 federal agents from the FBI, U.S. Marshals Service, Drug Enforcement Agency and the Bureau of Alcohol, Tobacco, Firearms and Explosives have been sent into Chicago.
Barr spoke repeatedly about the threats and attacks faced by police officers across the country this year, saying he believed there is no more noble job than serving in law enforcement.
He declined to speak about the drivers of violence in Chicago specifically, but he claimed criminals feel more emboldened now to carry firearms and commit violent crimes because they don't believe they'll face serious punishments in local justice systems.
"I think that's the case here in Illinois, the system of state justice is going back to a revolving door system that we had earlier," Barr said, adding that "hoodlums" carry guns "out on the street" with impunity because they believe they'll be "in the front door and out the back door" of the local courts.
Contact Matt Masterson: @ByMattMasterson | [email protected] | (773) 509-5431
---