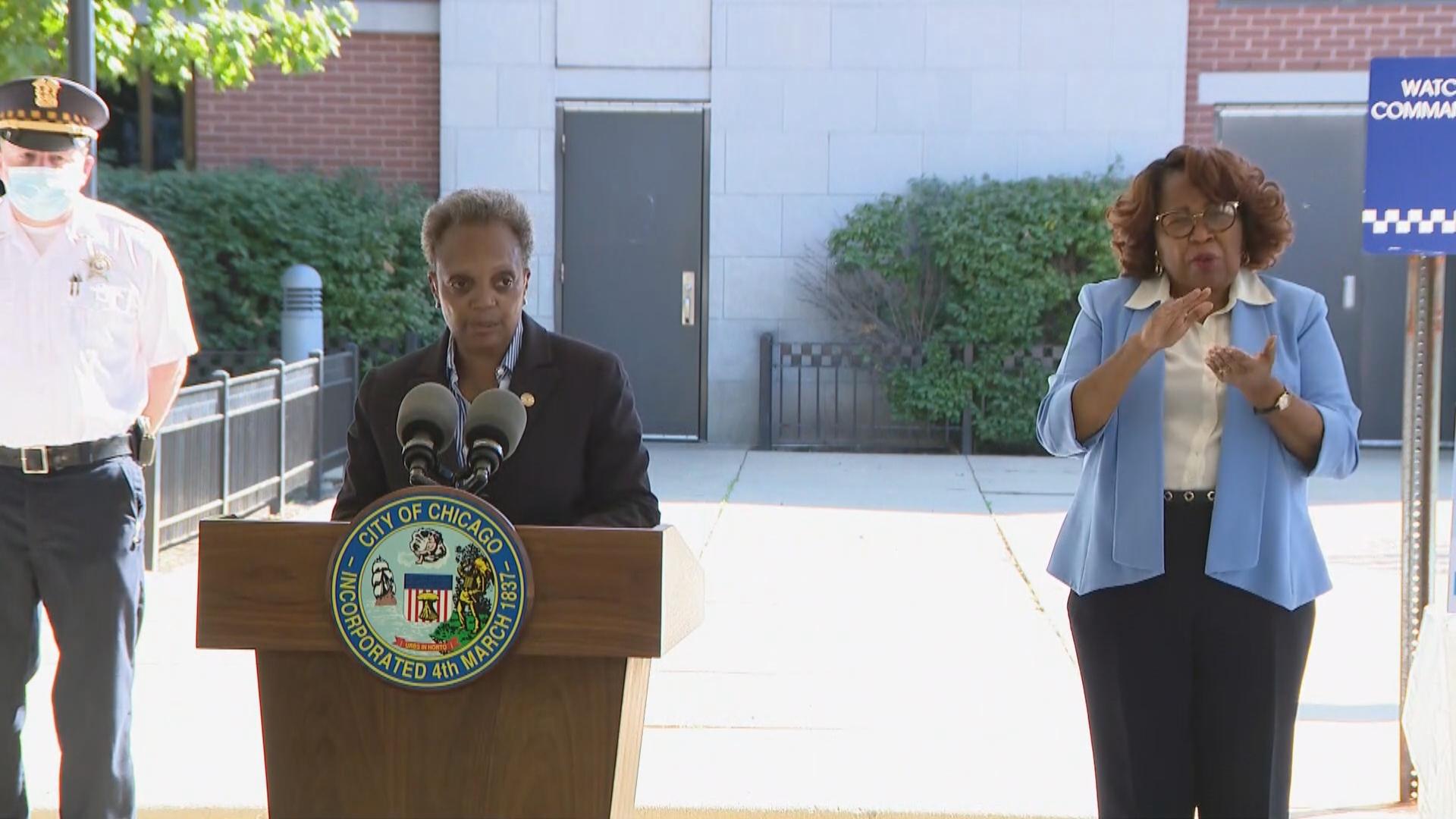 Mayor Lori Lightfoot speaks Thursday, Aug. 20, 2020 at a press conference about the Chicago Police Department expanding its community policing initiative. (WTTW News)
Mayor Lori Lightfoot said Thursday it was too soon to evaluate whether President Donald Trump's decision to send more than 100 federal agents to Chicago had begun to pay dividends in the ongoing effort to crack down on surging violent crime and gun violence.
Sixty-one people arrested in Chicago in the past four weeks have been charged with federal offenses as part of the Department of Justice's Operation Legend, according to an announcement from John Lausch, the U.S. attorney for the Northern District of Illinois.
The first agents from the FBI, U.S. Marshals Service, Drug Enforcement Agency and the Bureau of Alcohol, Tobacco, Firearms and Explosives arrived in Chicago on Aug. 3, Lightfoot said.
A majority of the 49 cases detailed by Lausch's office on Wednesday have been in the works for some time, but were stalled by court closures ordered by officials working to stop the spread of the coronavirus pandemic, Lightfoot said.
"We'll evaluate when we have seen enough to know whether or not there has been an impact," Lightfoot said. "It is still early days."
In the cases detailed by federal prosecutors, more than 30 defendants face firearms-related charges, while 25 others were charged with drug trafficking, according to the U.S. Attorney's office.
Those facing federal charges include a man charged with possessing ammunition loaded in a "ghost gun" that he manufactured; a man charged with purchasing guns in Indiana that he planned to sell in Chicago; and a man arrested after he was found with a gun, ammunition, 17.5 kilograms of marijuana and $1,400 in cash in a downtown hotel room, federal officials said.
"We will continue to use these additional resources to investigate and prosecute trigger-pullers, drug traffickers, carjackers, and those who illegally traffic, use, and possess firearms," Lausch said in a statement.
Trump's July 22 announcement triggered widespread concern that the president's order would deploy a paramilitary strike force to patrol the city, as happened in Portland, Oregon in June and July where unidentified federal agents used tear gas and other weapons to disperse protesters near a federal courthouse and arrested demonstrators without clear probable cause.
However, that type of deployment has not materialized, and Lightfoot said again Thursday that additional federal agents have often been sent to Chicago amid spikes in crime and violence.
Lightfoot warned Trump in a letter sent July 20 that a decision to send troops or agents to Chicago under the authority of the Department of Homeland Security would "foment a massive wave of opposition" and would face a court challenge from the city.
Operation Legend, named after a 4-year-old boy who was killed in Kansas City, has resulted in more than 1,000 arrests in Chicago, Kansas City, Albuquerque, Cleveland, Detroit, Milwaukee, St. Louis and Memphis. The operation expanded to include Indianapolis on Friday, federal officials said.
Contact Heather Cherone: @HeatherCherone | (773) 569-1863 | [email protected]
---