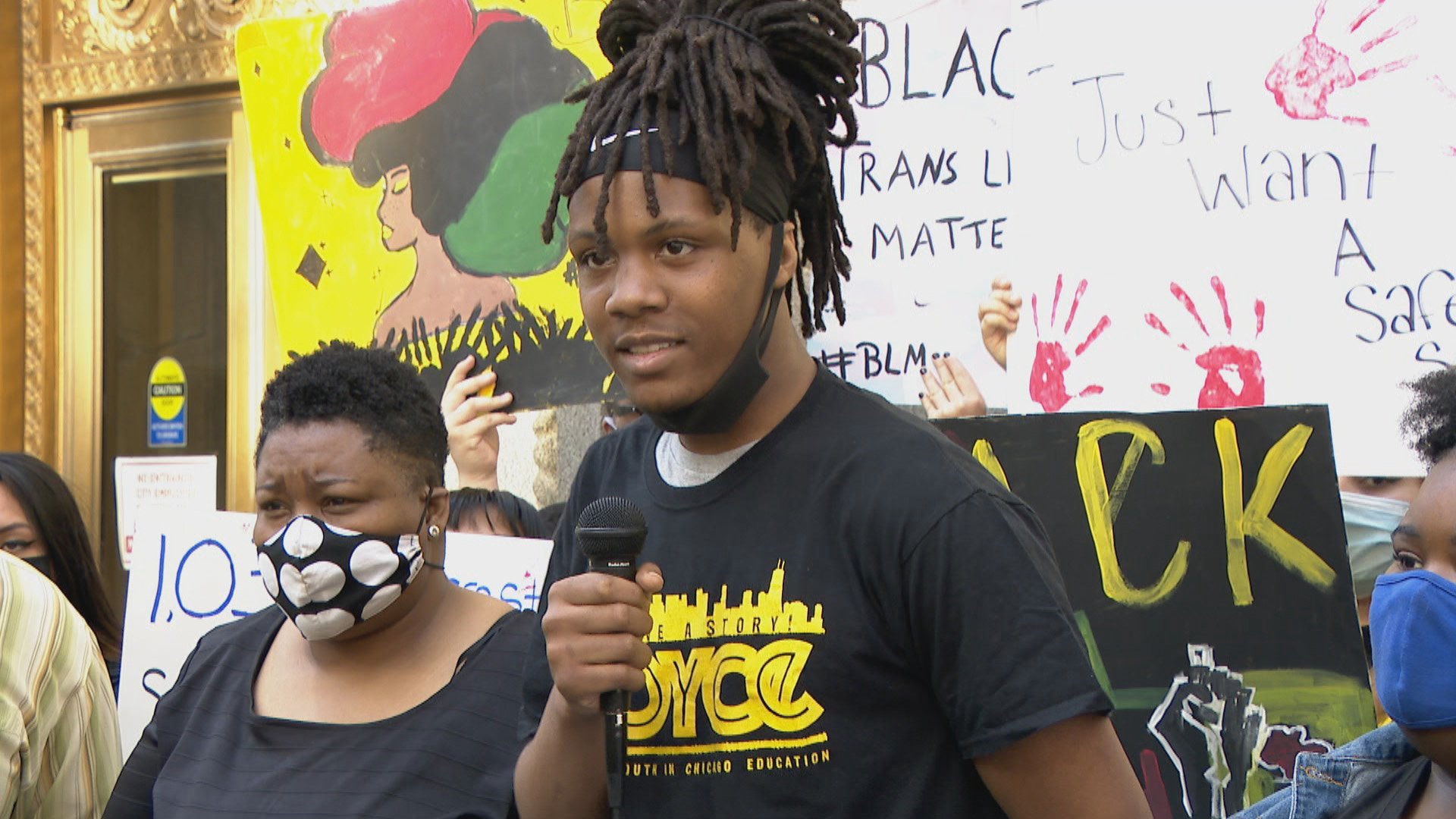 Caleb Reed, a student at Mather High School on the city's North Side, speaks about his experiences with school resources officers at an event Tuesday, June 16, 2020. Reed, 17, died over the weekend after being shot last week. (WTTW News)
Caleb Reed, the 17-year old activist who was a public voice for the removal of police officers from Chicago Public Schools, was allegedly shot and killed by one of his own friends, who authorities say had opened fire on a passing vehicle when he accidentally struck Reed in the head.
Genove Martin, 18, was charged Tuesday with first-degree murder in Reed's death and has been ordered held on $300,000 bond following his initial court appearance. Cook County Judge John Fitzgerald Lyke Jr. called this case a "tragedy with a capital T," lamenting both Reed's death and the wasted opportunities Martin had after graduating high school and enrolling in college this fall.
"What I've just heard is a tragedy on so many levels," the judge said.
Cook County Assistant State's Attorney James Murphy detailed the July 31 shooting during Tuesday's hearing. He said Martin and Reed were walking together with two other friends in the 1900 block of West Granville at around 12:50 a.m.
As they were walking, the group was passed by a gray Chevy Malibu moving slowly in the opposite direction, which stopped a few houses past them.
The vehicle pulled over nearby before Martin allegedly pulled a gun from his pants and began firing multiple shots as Reed and the two others stood behind him. Reed can be seen on video ducking and running from the vehicle behind Martin, who was still shooting in their direction, Murphy said.
Martin then fired one last bullet, Murphy said, by holding the gun over his shoulder with both hands. That shot allegedly hit Reed directly in the forehead, and he fell to the ground. Murphy said that return fire can be seen coming from the Malibu toward the group, but the prosecutor claimed these shots all came after Reed had already been shot.
Family and friends of teen activist Caleb Reed gather outside Mather High School Tuesday, Aug. 4, 2020. Reed, 17, died Sunday after he was shot days earlier. (Matt Masterson / WTTW News)
Chicago police officers arrived on the scene and Reed was transported to St. Francis Hospital, where he was pronounced dead on Aug. 2. Reed's girlfriend identified Martin in surveillance footage of the shooting and made contact with him over Facebook, according to Murphy.
The two messaged back and forth, with Martin asking about Reed's condition and where he had been struck by the bullet. Martin allegedly told her he was "standing right next to" Reed during the shooting, but said he'd rather talk about what happened in person.
According to Murphy, Reed's girlfriend did see Martin in person twice: at a memorial outside Mather High School, where Reed had attended as a rising senior, and at Reed's funeral. But they did not speak about the shooting.
Martin was arrested Sunday morning in the 7000 block of South State Street. He allegedly identified himself in the surveillance footage to investigators, but he denied having a gun and had "no response" when shown video of the shooting.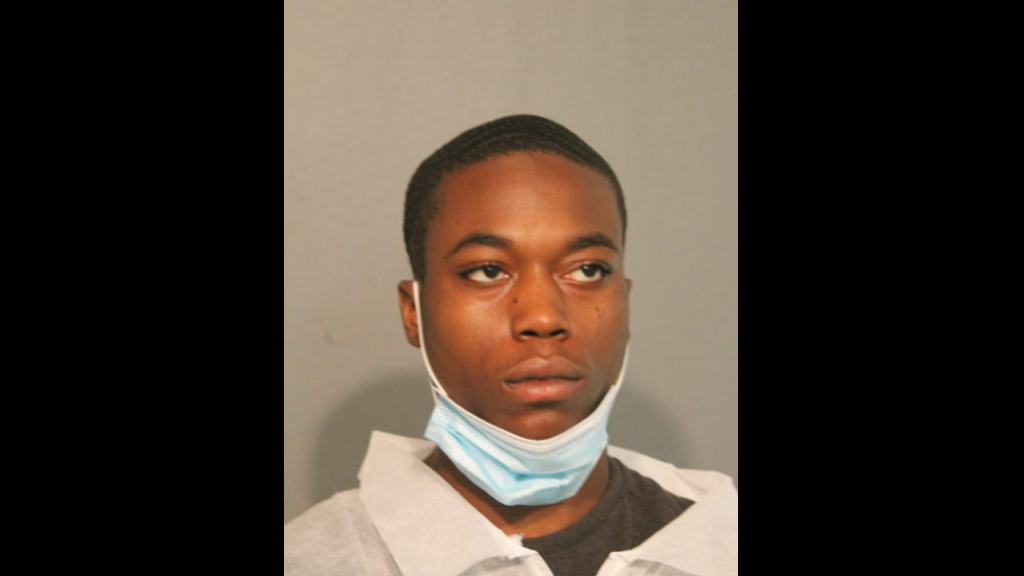 Genove Martin (Chicago Police Department)
Reed worked as a youth leader with Voices of Youth in Chicago Education (VOYCE). As the push to remove school resource officers from CPS grew in recent months, Reed became one of the leading voices of the movement.
He had publicly recounted the pain and anger he felt when, as a sophomore, he was detained at a high school basketball game by a school police officer because he did not have his student ID on him.
VOYCE published a statement Tuesday after the charges were announced, saying "the amount of pain in losing our beloved Caleb Reed is unimaginable."
"He fearlessly fought to end the cycle of violence," the group said. "But what Caleb fought for was not just to end violence. He was also working tirelessly to get help for young people who need to heal from the trauma they experience as a result of that violence."
During Tuesday's hearing, Martin's attorney told Judge Lyke her client graduated from Chicago Vocational High School this year. He participated in band and worked in the Becoming A Man mentoring program, and had enrolled in college classes for the fall.
Martin had also played both football and basketball until he was a junior, when he himself was shot in November 2019.
"I typically don't get young men like this charged with this type of offense in front of me," Lyke said. "I'm just stunned."
Contact Matt Masterson: @ByMattMasterson | (773) 509-5431 | [email protected] 
---