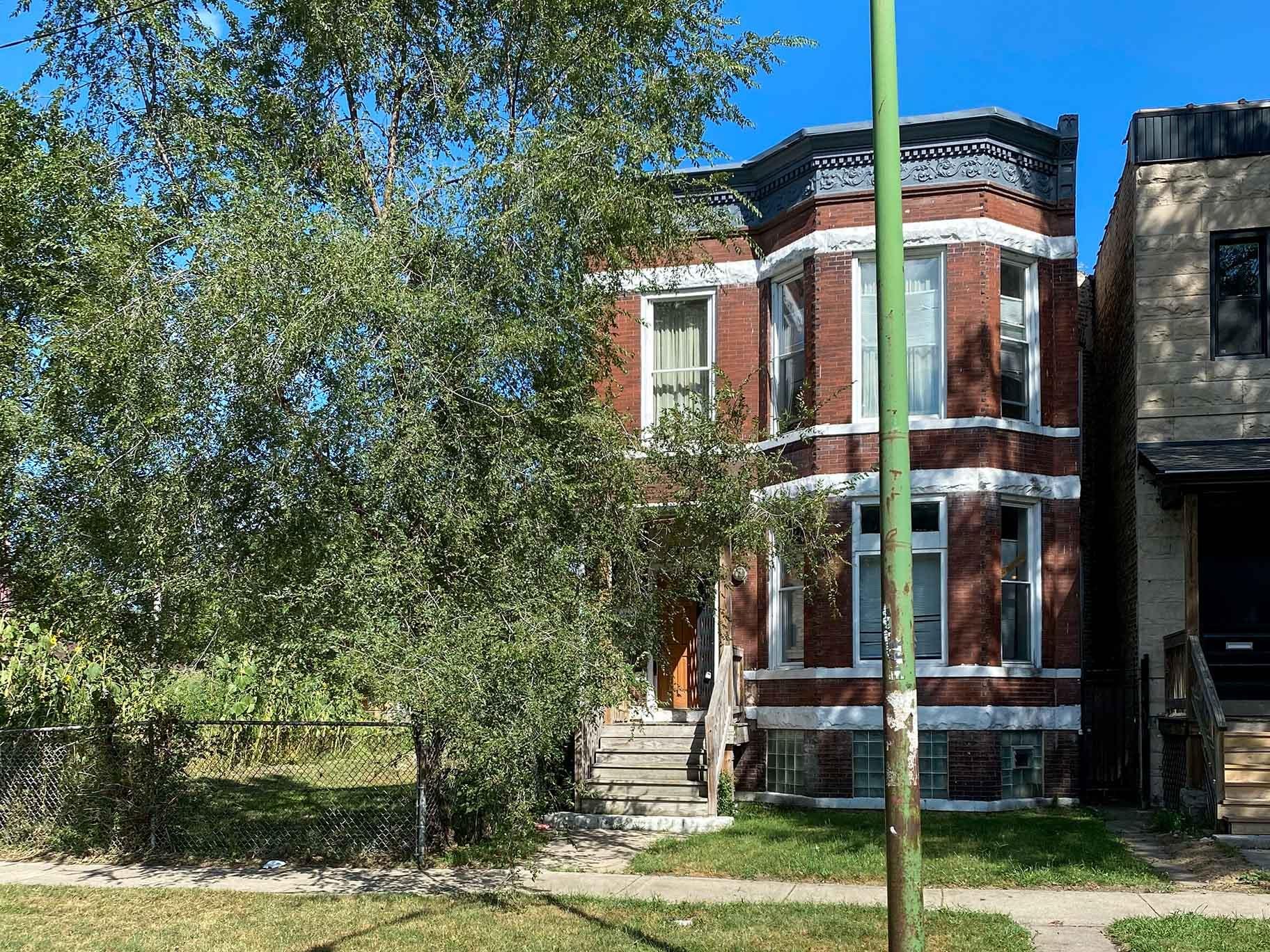 The former home of Emmett Till and his mother, Mamie Till-Mobley, at 6427 S. St. Lawrence Ave. in Chicago's Woodlawn community. (Credit: Jonathan Solomon)
Exactly 65 years after the brutal killing and shocking open-casket funeral of Emmett Till, a 14-year-old Black Chicagoan who was lynched while visiting family in Mississippi, the red brick two-flat where Till lived with his mother in the West Woodlawn neighborhood is on the path to an official city landmark designation.
The effort, led by a coalition of historic preservationists, Woodlawn-based community groups and elected leaders, could get an initial hearing and vote as early as Thursday, when the Commission on Chicago Landmarks next meets, said Ward Miller of Preservation Chicago.
"It's one of the only direct links to Emmett Till in Chicago that still exists," Miller said of the multiunit home in which Till lived with his mother between 1951 until his death in 1955. "With everyone from the alderman, to the family of Emmett Till, to the community, to the owner of the building all in agreement, the ideal outcome would be giving [the home] the honor of landmark designation that it deserves."
Miller adds that the latest push for landmarking the Till home has been an ongoing effort over the last several years. But the commemoration of Till's life and the civil rights activism of his mother, Mamie Till-Mobley, doesn't stop with a decorative plaque and city designation.
"I want that home to be a museum for young people in the community where we can talk about Black history, Emmett Till's life and legacy, and in a perfect world, even talk about policing and the injustices that happen in our community," Ald. Jeanette Taylor (20th Ward) told WTTW News. "Normally, historic preservation doesn't happen too often in our communities because we're not viewed as worth being preserved. It was never about [the home] not being preserved, but we wanted the family to be a part of [the decision]."
Taylor says the home can serve as a very real connection to, and reminder of, the brutal realities of racism — a theme that even 65 years after Till's murder remains a recurring theme in national headlines.
READ: Emmett Till's Cousin: '65 Years Later and Nothing Really Has Changed'
State Sen. Mattie Hunter is willing to put some state dollars to work to help bring the dream of a museum and community center to life.
"Last year, we passed a capital budget, and I hope to take some of the dollars from the capital budget and put it back into the community," Hunter said. "If they want a museum, then so be it. Whatever the family's wishes are, I want to support them."
But overhyping the idea of the proposed museum and community investment could come with unintended effects such as gentrification and displacement, says stakeholder Naomi Davis of the organization Blacks in Green, a multidisciplinary group which seeks to foster economic growth in Black communities by connecting ecology, economy, community, heritage and art.
"As a community that is under siege for commercial profit, we're vulnerable to being erased," Davis said. "Nobody wants to be invaded and displaced. Whites move into areas out of choice, where displaced Black people move wherever they can, and it's usually almost always a step down from where they live currently, losing the sense of cultural ties and sense of place in communities."
Woodlawn, which historically played the role as a key landing spot for Black families moving from the Jim Crow south during the Great Migration, has more recently been the source of speculative investment and development, thanks in part to major proposals such as the Obama Presidential Center and an overhaul of the Jackson Park Golf Course.
However, when it comes to landmarking the Till home, Davis has not heard any pushback. It's more about the process itself, and whether it remains in the direct control and interest of community members.
"A hammer is a tool and you can use it without parallel to drive a nail, but you can also use it to crack someone's skull in," Davis said. "You want to preserve properties that reflect people's history, but Black people and Brown people have had the hammer crack our skull — any tool that can be used against us has been, and that's a fact."
AJ LaTrace is a freelance contributor to WTTW News: @ajlatrace
---