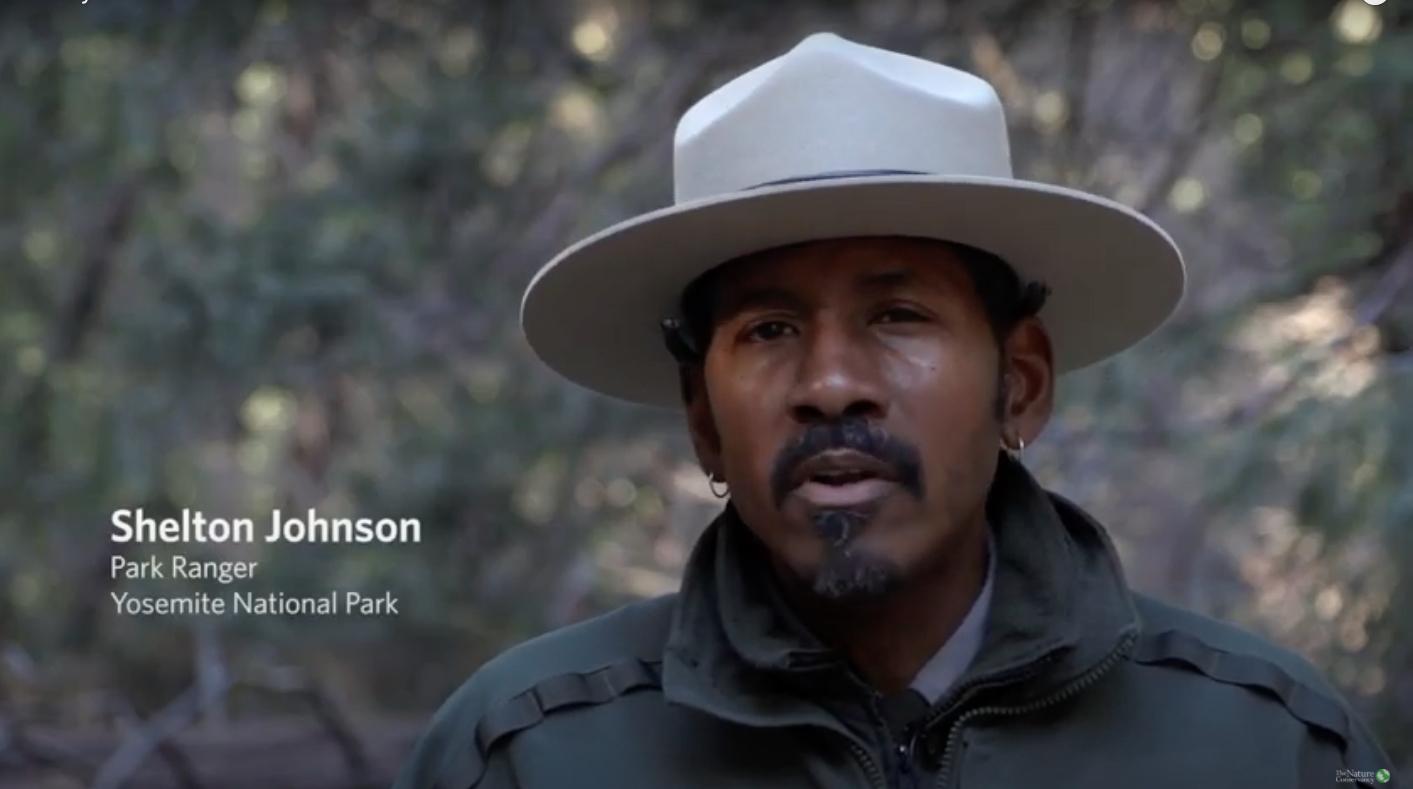 Yosemite park ranger Shelton Johnson makes a strong case for representation and inclusivity. (The Nature Conservancy / YouTube)
Back in May, an incident of racism against birdwatcher Christian Cooper led to the creation of Black Birders Week, a social media campaign aimed in part at claiming nature for everyone.
That same message of inclusivity is behind Black in National Parks Week, which runs through Saturday and coincides with the 104th anniversary of the creation of the National Park Service on Aug. 25.
The event is being organized by environmental educator Nicole Jackson, an Ohioan who serves as a member of the Next Generation Advisory Council of the National Parks Conservation Association.
Jackson shared an Instagram post kicking off the week, saying part of her goal is "to see more people that look like me visiting (National Parks) and sharing their joy of those experiences." She also wants to lift up the role Black people have played in the parks' history, as well as to encourage Black people to take an active role in their conservation.
UPDATE!!! Here are the hashtags for #BlackinNationalParksWeek

Please be sure to amplify and highlight Black voices, history and narratives during the week.

1/2 pic.twitter.com/0eoEf2Qno9

— Black In National Parks Week (@BlackInNPsWeek) August 22, 2020
Each day features a different theme, launching with #1stNationalParkVisit and #NPSFamilyAffair, an opportunity for people to share stories, photos or video on Twitter and Instagram. Friday's theme #WhenTheySeeUs asks people to post pictures of themselves working, interning or volunteering at a national park.
Yosemite park ranger Shelton Johnson, a memorable participant in Ken Burns' 2009 documentary series on America's national parks, spoke to the Nature Conservancy in 2019 about the importance of representation, particularly when it comes to Black children visiting the parks.
"When they see me and they say, 'Wow, that's a brother, and he's a ranger. I didn't know we did that,' then you might start wondering, 'Well what else do we do that I've never heard that we do?'" Johnson said.
Johnson will be among the panelists taking part in an online discussion, "Anti-Racism in Our National Parks," from 7-8 p.m. Tuesday. (Click here for more information on how to register for the free event.) The forum will put into context statistics that show Black Americans are the least likely of all racial or ethnic groups to visit U.S. national parks.
James Edward Mills, author of "The Adventure Gap," which addresses the racial disparity in outdoorsmanship, will lead the conversation. Mills also recently penned a history of Black people in U.S. national parks for National Geographic.  
Distance has often been a barrier to accessing national parks, with many of the preserves located in remote reaches of the West. But with the 2019 designation of Indiana Dunes as a national park, Chicagoans now can claim to have one of the nation's outdoor jewels within short driving distance, as well as the Pullman National Monument.
---
---
Contact Patty Wetli: @pattywetli | (773) 509-5623 |  [email protected]