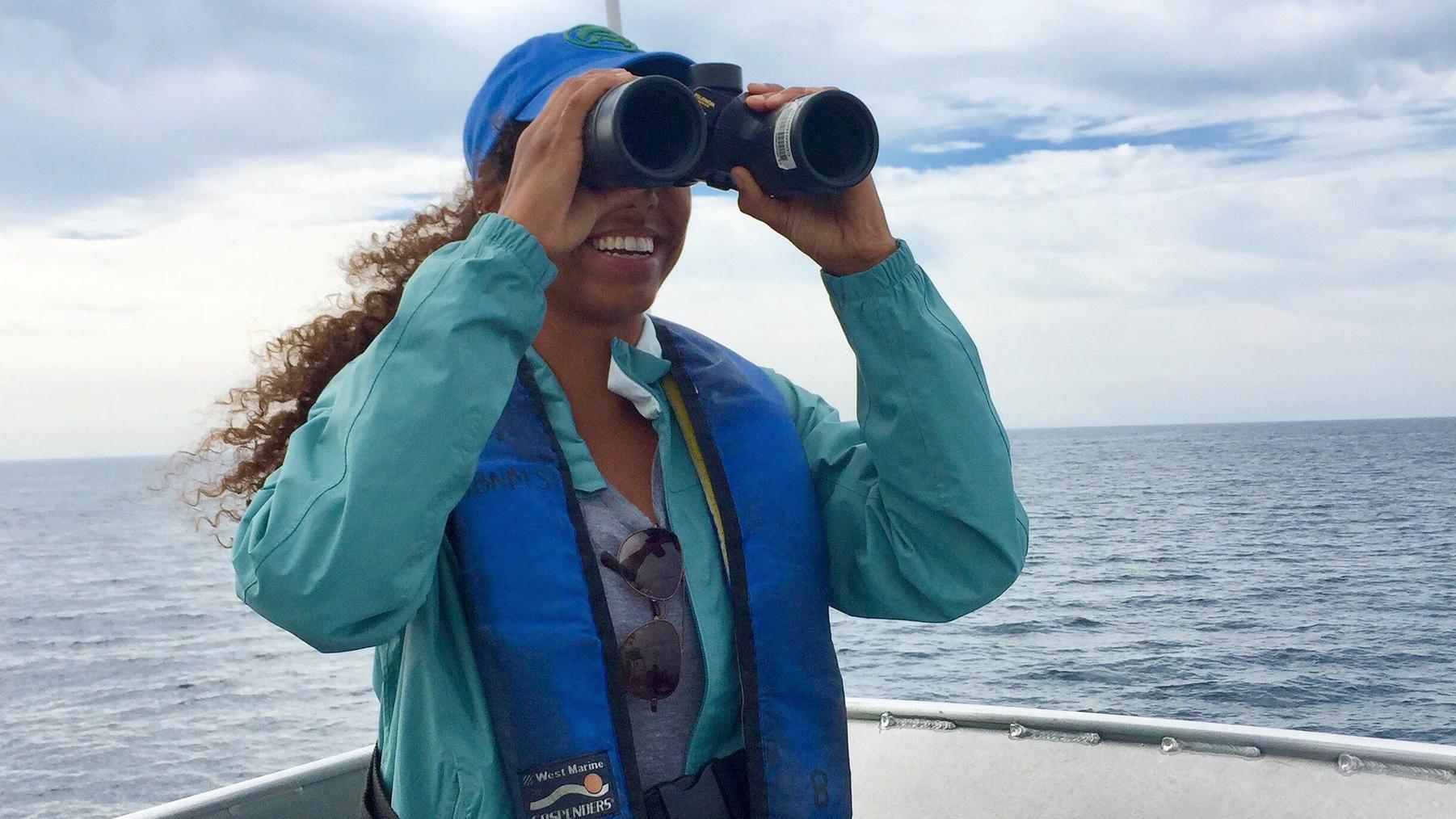 Biologist Amber Wendler is among those taking part in #BlackBirdersWeek. (@amberwendler / Twitter)
Social media too often is the place where civility goes to die, but this week, there's a space on Twitter that's brimming with goodwill.
A group of more than 30 African American birders, scientists and others created the inaugural #BlackBirdersWeek as a response to the racism encountered by birder Christian Cooper in New York City's Central Park. The weeklong campaign is designed to encourage birding and other outdoor activities among people of color, to increase representation in science professions by amplifying the profile of participating naturalists, and to claim nature as a place for everyone.
In a video kicking off the week's activities on Sunday, co-founder Corina Newsome said: "For far too long, black people in the United States have been shown that outdoor exploration activities such as birding are not for us, whether it be because of the way the media chooses to present who is the 'outdoorsy' type or the racism experienced by black people when we do explore the outdoors, as we saw recently in Central Park. Well we've decided to change that narrative. Help us to show the world, especially the next generation of young black birders and nature enthusiasts, that we exist, that they are welcome, and that this space belongs to them too."
MAJOR ANNOUNCEMENT!!!!!

We at @BlackAFinSTEM are starting the inagural #BlackBirdersWeek to celebrate Black Birders and nature explorers, beginning 5/31!!!!!

Follow the whole group of us here: https://t.co/I23zoT3fFh

Take a look at the thread for the schedule of events! pic.twitter.com/yDsAtwR8te

— Corina Newsome (@hood_naturalist) May 29, 2020
---
Contributions to the Twitter feed have been rolling in from around the world, with people posting photos aligned with the week's daily assigned hashtags. Sunday's #BlackInNature tag prompted images of people hiking, camping and kayaking, and scientists —  geologists, marine biologists, zoologists, paleontologists and ecologists — shared pictures from their fieldwork. 
Monday's #PostABird tag drew spectacular photos of people's favorite birds.
Tuesday evening, birders will respond to questions submitted via #AskABlackBirder. Thursday will feature a livestream discussion of #BirdingWhileBlack. And the week wraps up Friday with #BlackWomenWhoBird.
The messages have been supportive and frequently celebratory in tone, while also acknowledging obstacles, with many discovering a community they didn't realize existed. 
"I didn't know there were so many of us. This is tremendous," one person posted. 
For a list of organizers, known collectively as @BlackAFinSTEM, click here.
We've collected a smattering of Tweets below, but be sure to check out the entire thread. 
Today is #PostABird during the #BlackBirdersWeek. I wanted to share the Grey Crowned Crane bird for two reasons. One they're probably on my list of favorite birds to watch and two they are sadly uplisted on the endangered species. pic.twitter.com/4rAoQH3hb7

— Francis Enane (@f_enane) June 1, 2020
The best thing happening on planet Earth right now is #BlackBirdersWeek

— Ologies (@Ologies) June 2, 2020
For those who are unaware, #BlackBirdersWeek is a direct response to the racism a Black birder Christian Cooper experienced from a white woman while birding in Central Park, NYC. Please follow the #. Blacks deserve safe spaces away from racism in nature, libraries & the universe. pic.twitter.com/f4s0RNqlpy

— Tamar Evangelestia-Dougherty (@evangelestia) May 31, 2020
Some of the career opportunities that have developed from my #blackinNature path. Include a Park ranger, An environmental educator, some stents as a Biological Technician, a Bat Biologist, and most recently a Endangered species observer and Graduate student. #BlackBirdersWeek pic.twitter.com/prl9T25fzy

— Al_Troutman (@n8ture_al) May 31, 2020
Day 1 of #BlackBirdersWeek

Here's me #BlackInNature and #BlackAFinSTEM, doing my best to show our youth we belong in these outdoor spaces too. Catching fish, saving turtles and diving in big open bodies of water pic.twitter.com/MVLeXbrVQm

— Megan Gunn (@_TFFP) May 31, 2020
It's Day 1 of #BlackBirdersWeek from @BlackAFinSTEM and they're featuring photos of #BlackInNature.

Here's me out on a trip to Canyonlands National Park in Utah. It gets kinda lonely being the only black geologist in the group but this hashtag is connecting me to my community pic.twitter.com/FOCvxq0POJ

— Kieron Prince, PhD (@kprince868) May 31, 2020
Hi there, it's Day 1 of #BlackBirdersWeek #BlackInNature
Raising awareness of the black birding community. Representation matters. pic.twitter.com/45pz17uRif

— Nasiphi Bitani (@nasiphi_bitani) May 31, 2020
My favorite thing today? Just scrolling and following everyone I see who has tagged themselves as part of #BlackBirdersWeek ... man... I didn't know there were so many of us. This is tremendous. The value is immesurable. Let me add myself to the mix. pic.twitter.com/SQOjaMKNX6

— Jason Hall (@JasonLydellHall) May 31, 2020
i'm a BIPOC and a biologist. I feel fortunate to have had the chance to experience the ecology of places I saw on documentaries as a kid. I shouldn't have to feel fortunate, and neither should others that look like me. normalize #BlackInNature and celebrate #BlackBirdersWeek pic.twitter.com/4fFdBAINNa

— w.s. kamau (@ws_kamau) May 31, 2020
When I was 11 yrs old the parent of a white schoolmate said to me "Blacks don't swim or go camping because you can't afford to."
I had my mom enroll me in swim classes at the Chicago "Y" and joined @4H. I have proved them wrong. #BlackBirdersWeek #BlackinNature @BlackAFinSTEM pic.twitter.com/jGHeuj9Gfk

— Tamar Evangelestia-Dougherty (@evangelestia) May 31, 2020
We can't even organize for one Black trauma before another one happens. #BlackBirdersWeek is in direct response to what happened to Christian Cooper. But it's also in response to the murders of Ahmaud Arbery, Breyonna Taylor, George Floyd, and the countless others.
(1/3)

— BlackAFinSTEM (@BlackAFinSTEM) May 31, 2020
Legit, I've been a hijabi birder for over 20 years and this is the first time I've met a Black hijabi birder. I am so grateful to #BlackBirdersWeek for elevating Black voices and profiles. I just want to go birding with these amazing people. Right. Now. https://t.co/vPjt9g43LT

— Jameela Jafri (@JameelaJafri) June 2, 2020
I am blown away by all the support #BlackBirdersWeek has received and the incredible community of Black birders/scientists/nature enthusiasts. I hope this energy continues after this week is over & that the outdoors and academic spaces can one day be a safe place for everyone. pic.twitter.com/Fkw1Irmfhe

— Amber Wendler (@AmberWendler) June 2, 2020
---
Contact Patty Wetli: @pattywetli | (773) 509-5623 | [email protected]
---