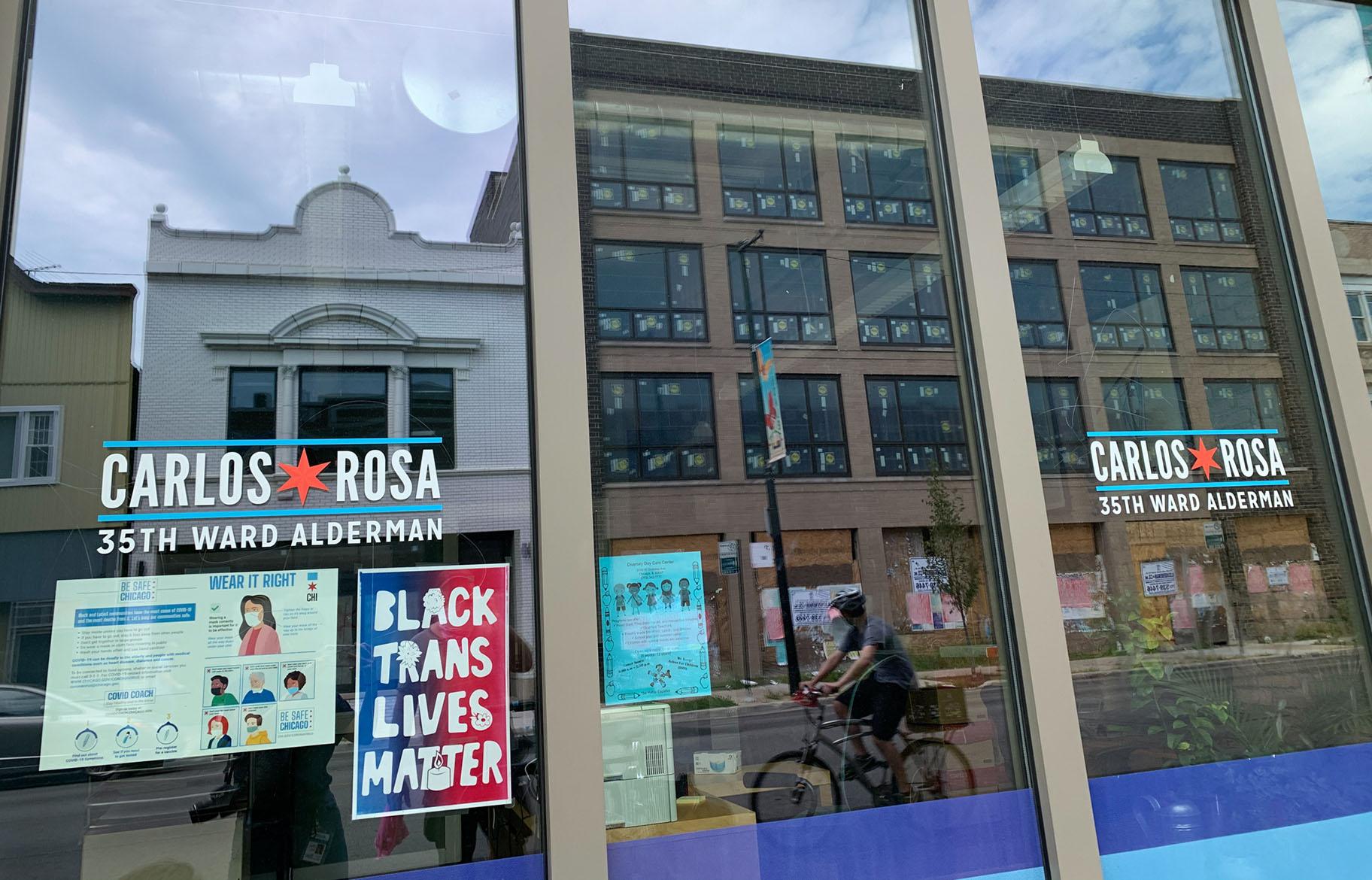 The 35th Ward office of Ald. Carlos Ramirez-Rosa. (Grace Del Vecchio / WTTW News)
About two dozen cyclists were reunited with their bikes Sunday afternoon at the Avondale office of Ald. Carlos Ramirez-Rosa (35th Ward) after police confiscated a total of 76 bikes during a July 17 protest at the Columbus Statue in Grant Park that led to violent altercations between protesters and police, leaving many without their primary mode of transportation.
The effort was led by the alderman's office and the Chicago chapter of the National Lawyers Guild, which worked with the Chicago Police Department and the city's law office to return the bicycles to their owners.
Protesters were advised by the NLG to not contact the CPD directly about their bikes. Instead, they were encouraged to fill out a form provided by the NLG and the grassroots organization Safe Bike, which asked for their names, contact information and detailed descriptions of their bicycles.
Once CPD released photos of the confiscated bikes to the NLG, the advocates worked to match photos with the descriptions written by bike owners. In order for CPD to release the bikes to the NLG, they said the bike owners would need to be identified and have proof of ownership. 
The NLG was able to meet those terms for 39 of the 76 bikes, which sat in the back of the alderman's office Sunday waiting to be retrieved by their owners as lawyers, mechanics and staff stood by. About 26 people stopped by for bikes, according to the alderman's office. Thirteen were taken home, 12 that had been damaged were being repaired and will be picked up later this week. One bike was donated.
Ramirez-Rosa says the unclaimed bikes will remain at his ward office and another pickup event is being planned.
An 'oddly emotional' event
Delany Nichols, who served as a medic at the Grant Park protest, says she set her bike down to help a protester and, when she returned, the bike was gone. She didn't think she would ever see her it again, but she filled out the form at the advice of the NLG and was thrilled when she heard back from them. 
On Sunday, she felt "oddly emotional" about being reunited with her bike. It's like another appendage, she said.
After police took her bike, DD Klionsky was able to borrow one owned by her family. But she said for many people, not having access to a bicycle eliminated a safe mode of transportation — one that limits contact with other people during the COVID-19 pandemic. 
"Bikes are mobility," she said. "They're how you protect yourself."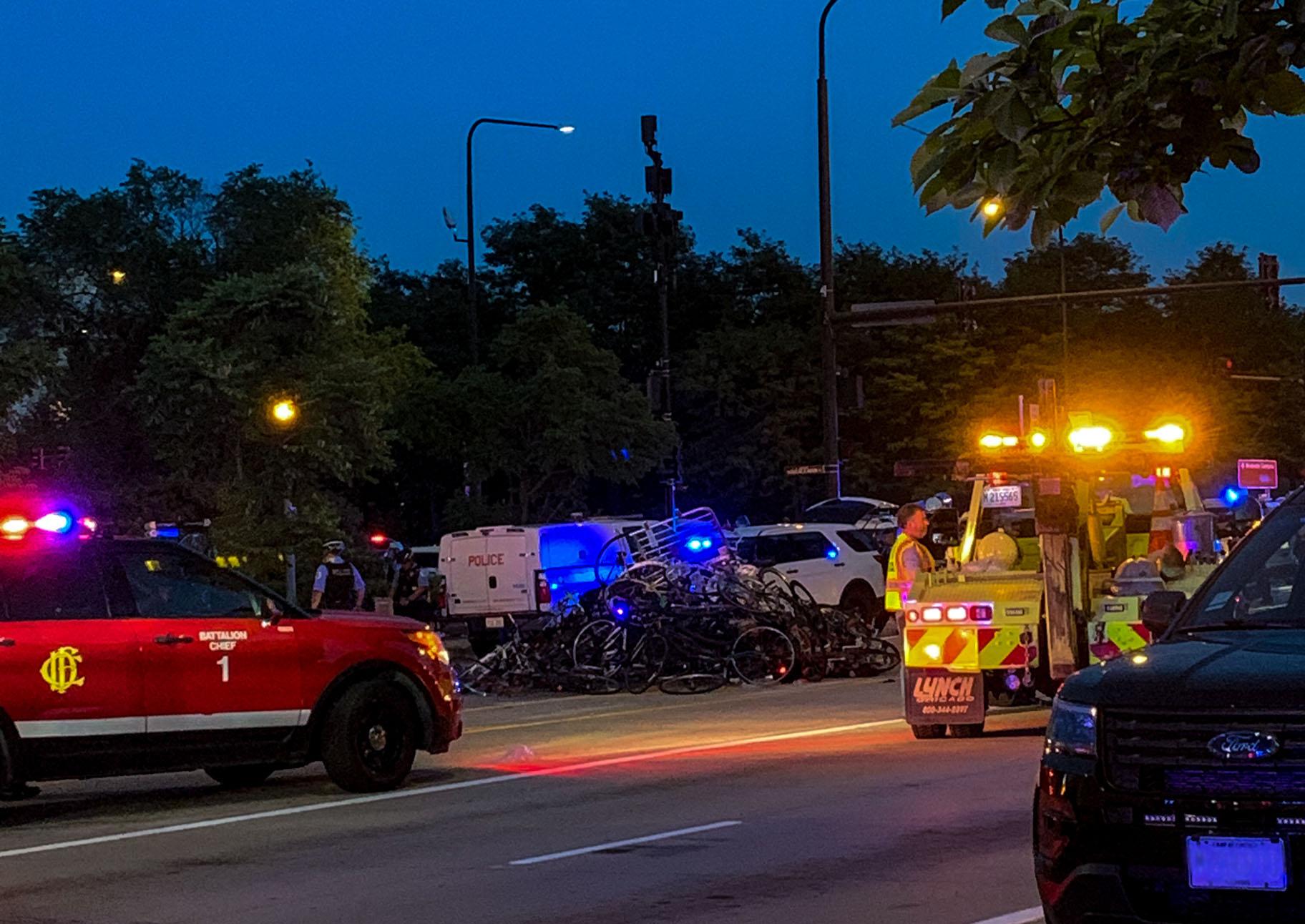 A tangle of bicycles confiscated by Chicago police at a protest on July 17, 2020 in Grant Park. (Grace Del Vecchio / WTTW News)
Klionsky said her bike was taken by police after the violent altercations at the protest, not as they were happening. She also says police refused to allow her to collect her friend's keys and ID, which were attached to the bike and just a few feet away.
She said police told her, "If your bike is here, it's because you used it to attack the cops, so there's no way we're going to give them back to you right now."
Klionsky said she told police she had not used the bike to attack anyone, but was told by another cop: "You shouldn't be at protests anyway." 
To Klionsky, the encounter demonstrated a lack of regard for the constitutional right to assemble. Both she and Nichols said they thought the actions of the police were "uncalled for."
Ramirez-Rosa, along with lawyers and protesters, has questioned the legality of police taking bicycles from protesters. He says he considers this an opportunity to address the police department's policies and hold them accountable. 
"What I witnessed on July 17, as it relates to the police conduct — I felt that they (the police) conducted themselves in violation of our U.S. Constitution, in violation of our city policies and our city's progressive values," Ramirez-Rosa said. "If there had not been a concerted attempt to protect the statue, then there would have been no need for the police officers to get near the protests. The marshals were using their bikes to defend themselves and to defend the protests. Ultimately, the directive should have come from the mayor and from the superintendent to not engage the protesters, who were peacefully assembling."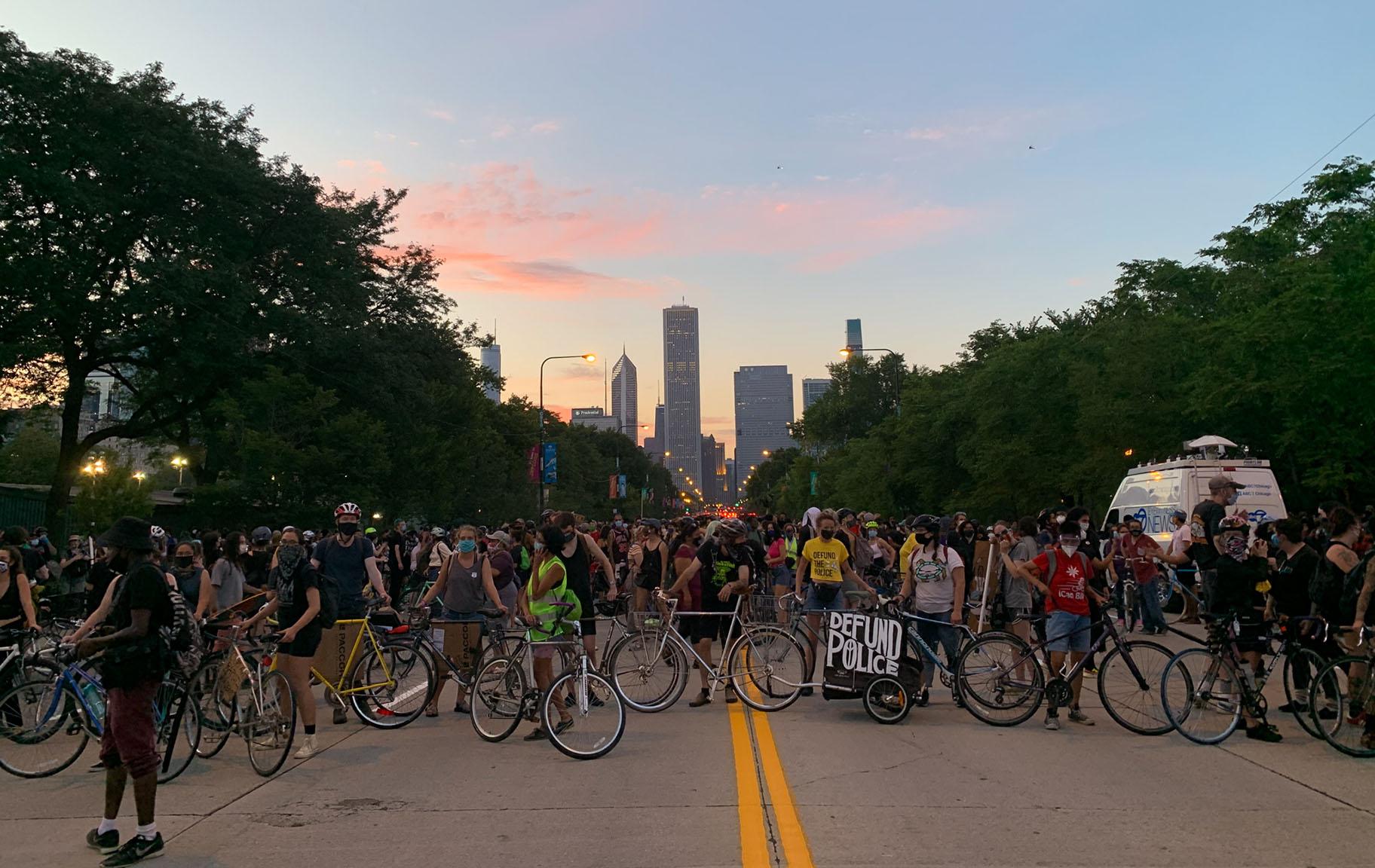 Protesters, many of them with bicycles, at a July 17 demonstration in Grant Park. (Grace Del Vecchio / WTTW News)
Ramirez-Rosa and the NLG will continue their efforts to pair the remaining bicycles with their owners. They're also working to retrieve bicycles confiscated by police at an Aug. 15 protest in the Loop which also turned violent. That incident again raised questions about CPD's response to protesters — including controversial "kettling" tactics.
"Many of these individuals rely upon these bikes for their livelihood to be able to safely get from point A to point B during this pandemic," said Ramirez-Rosa. "I was extremely upset, as we're so many other Chicagoans, to hear about the confiscation of the bikes and so it feels good to know that, you know, I'm able to use my ward office and the elected position that I have towards helping people."
Grace Del Vecchio is a freelance contributor to WTTW News: @delvecchiograce
---