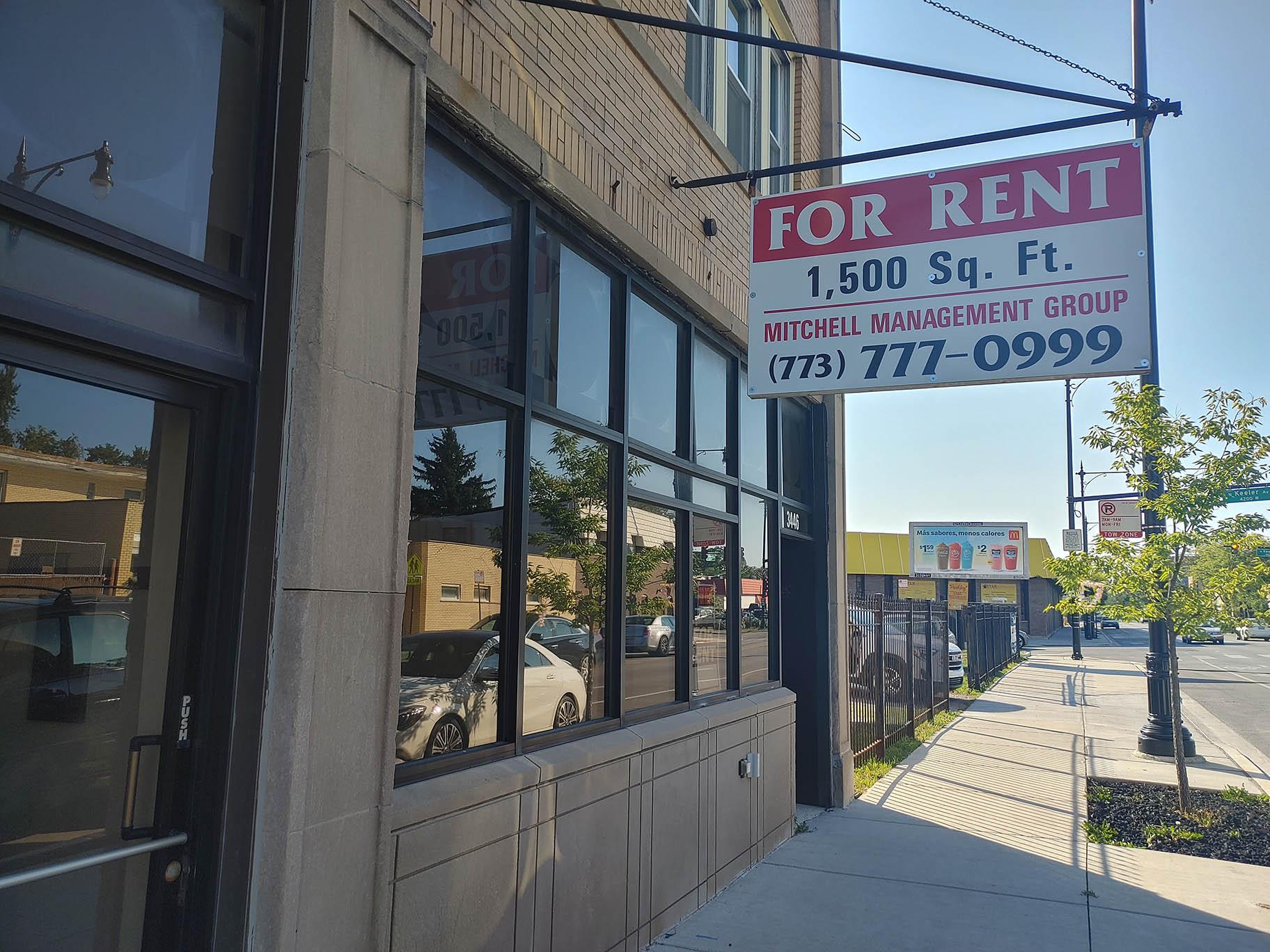 An empty storefront in Avondale marks the spot where Miss Geri's School of Dance operated for decades. (Erica Gunderson / WTTW News)
For 68 years, thousands of students learned to pirouette, tumble, tap and twirl at Miss Geri's School of Dance in Chicago's Avondale neighborhood, where the sound of a clock pealing Christmas songs let them know classes were starting or ending.
The holiday tunes were silenced during the COVID-19 outbreak and now are stilled forever as the studio once marked by a white sign with a black top hat and tails at 3446 N. Milwaukee Ave. closed permanently in July.
"It wasn't that I wanted to close it," said Geri Mroz Panicko, 85, of Glenview, who took over the dance studio in 1952. "It was on account of what's going on in this world, with COVID-19."
Panicko was a 17-year-old high school senior at Carl Schurz High School when the previous owner of the studio got pregnant with twins and asked if Panicko wanted to take it over.
"My Dad said, 'No. She's only a kid.' My mom said, 'Yes. She can do anything,'" recalled Panicko, who took out a $300 loan to buy the business and paid it off in two years.
She had started taking dance lessons at the studio at the age of 8 and was familiar with the business, but looking back now, Panicko says she can't believe how young she was when she seized the opportunity to be known not just by her given name of Geraldine, but as Miss Geri.
The studio started with 42 students and reached its peak in the 1970s and '80s when enrollment was about 175. More recently, students have numbered about 55.
Although the neighborhood changed over the years, Panicko's passion for dance never took her far from her roots.
"I remember going back to visit my high school one time and my homeroom teacher said, 'I thought you'd go to Hollywood' and I said, 'No. I'm just two blocks down. Come and visit me,'" she said.
Her impact on the neighborhood was recognized a few years ago when a portion of Milwaukee Avenue was named in her honor.
When word got out in July that the studio was closing, former students got together to form a car parade past the building where Panicko was holding an indoor yard sale of costumes, decorations and other items in the studio.
"The parade was so fun," said Panicko. "And I've gotten a lot of cards (from former students) who say I was the type of teacher who was like a mom to all the kids."
Her philosophy of teaching was to build students up, not bring them down.
"You never tell a student that a move was terrible," she said. "You tell them, 'We can do that a little better.'"
One of her former students who participated in the car parade is Cheryl Morris, of Bensenville, who started taking dance lessons in the 1970s when she was 3 years old. She remembers that Panicko was strict, but kind, decorated the studio for every holiday and created lifelong bonds with her students.
"She was a teacher. She was a friend. She was a mentor," said Morris. "The kids all looked up to her. It was such a great experience. It's like no matter how old you get you'll always remember going there on Saturday mornings and dancing," Morris said.
Singer Robert Cesario also has fond memories of Panicko. He collaborated with Panicko and her husband, Ed, who passed away a few years ago, on many variety shows to benefit St. Catherine Laboure Parish and School in Glenview.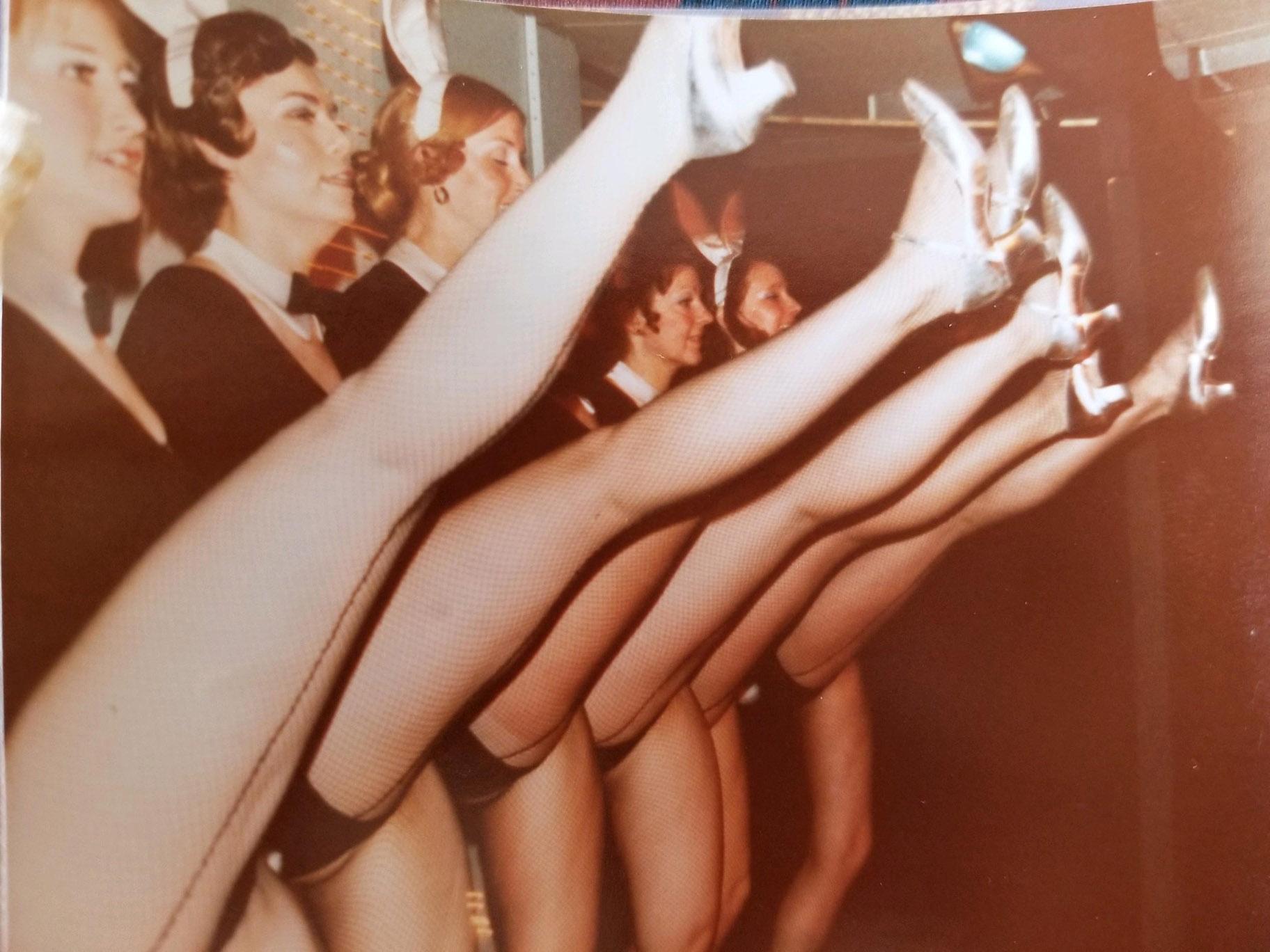 (Courtesy of Robert Cesario)
"She was the ultimate teacher," Cesario said. "She was always concerned with the girls and making sure their steps were right."
While Panicko will always remember the car parade, she is still getting used to the idea that the studio she called "her baby" has closed.
"I always thought I'd die doing a cartwheel or a headstand. I'm still very agile," said Panicko, who, as the mother of two adult sons, seven grandchildren and four great grandchildren, expects to stay busy.
Annemarie Mannion is a freelance contributor to WTTW News.
---