Democrats and Republicans remain "miles apart" on a deal to extend a $600 boost to unemployment checks that expired Friday, says Illinois U.S. Rep. Cheri Bustos.
"I was on a call yesterday with Speaker Pelosi and the rest our leadership team where we are still miles apart on the unemployment insurance," Bustos, a Democrat, told "Chicago Tonight." "(Republicans) want to cut the unemployment insurance by $400 a week … Our families, they cannot survive this way. They cannot pay their bills … There really is a sense of urgency around us."
Bustos, who is also the chair of the Democratic Congressional Campaign Committee, said that House Democrats "got the job done 11 weeks ago" when they passed a second emergency stimulus bill dubbed the the Heroes Act.
But she said Senate Majority Leader Mitch McConnell has so far failed to put a Republican counterproposal on the table.
"In those 11 weeks he's been unable to get anything to put together to make a compromise even that we can send to President Trump to get signed into law," Bustos said.
But according to reports Tuesday, McConnell told Republican colleagues he's open to supporting an extension of the now-lapsed $600 federal unemployment insurance boost — if President Donald Trump backs it.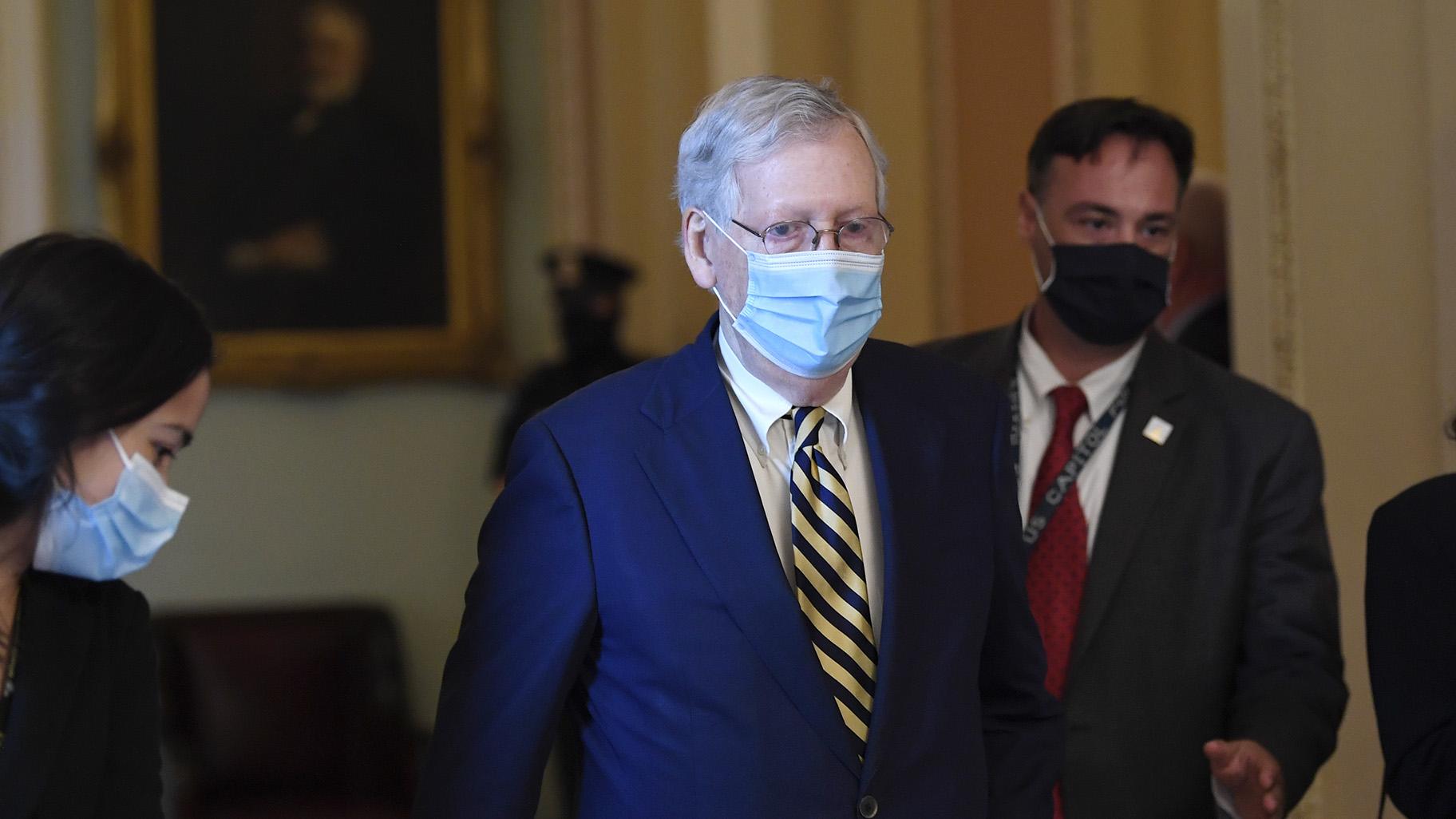 Senate Majority Leader Mitch McConnell of Ky., walks back to his office on Capitol Hill in Washington, Monday, Aug. 3, 2020. (AP Photo / Susan Walsh)
Bustos said Republicans were also refusing to offer any additional money to local governments as they battle to control and mitigate the effects of the coronavirus. States, towns and cities across the nation have seen their revenues fall dramatically as millions of people have lost their jobs and thousands of businesses have been forced to close.
"You can talk to any mayor, any village president, any governor in the country and they will tell you that they are desperate for us to help them so they can pay their firefighters, their policemen, make sure the hospitals they help fund and the clinics they help fund, that they have the resources to do that," Bustos said. "They are not even coming to the table in a way that will lead to something that gets passed sooner rather than later."
Trump, who is lagging behind Democratic presidential candidate Joe Biden, has repeatedly asserted without evidence that widespread mail-in voting will lead to a fraudulent November election, and has cast the legitimacy of the result into doubt. Trump has also floated the idea of delaying the election — an idea dismissed by politicians on both sides of the aisle.
Bustos said the president was simply trying to scare people.
"President Trump is doing what he does best which is sow fear in people, instill doubt in people," she said. "All we have to do is look at states like Oregon, states like Washington, Hawaii and Colorado, who have all done vote-by-mail elections for many, many years. Not to mention our men and women in uniform who have voted by mail for scores of years. It's just his way to add a sense of skepticism to our election process."
But as a record number of Americans are expected to vote by mail in order to avoid in-person voting during the pandemic, Bustos emphasized that Congress needs to do more to support a postal service that is stretched thin.
"What we do have to be concerned about is we have money in our Heroes Act for the U.S. Postal Service to make sure they can manage a huge number of ballots that will be mailed out and that will then be mailed back in," Bustos said.
Postal workers have said that recent changes — including restrictions on overtime — were having the effect of slowing deliveries.
Despite his unspecified distrust in voting by mail, Trump tweeted Tuesday that the practice in Florida would be fine.
"Whether you call it Vote by Mail or Absentee Voting, in Florida the election system is Safe and Secure, Tried and True. Florida's Voting system has been cleaned up (we defeated Democrats attempts at change), so in Florida I encourage all to request a Ballot & Vote by Mail! #MAGA"
Whether you call it Vote by Mail or Absentee Voting, in Florida the election system is Safe and Secure, Tried and True. Florida's Voting system has been cleaned up (we defeated Democrats attempts at change), so in Florida I encourage all to request a Ballot & Vote by Mail! #MAGA

— Donald J. Trump (@realDonaldTrump) August 4, 2020
---