Video: CPS parents Maria Sanchez and Joseph Williams give us their take on the district's reopening plan.
---
In order for schools to move to fully remote instruction this fall, the city of Chicago must hit a rolling average of 400 new COVID-19 cases per day, according to new guidance from Chicago Public Schools.
The school district on Wednesday added a new slide outlining that plan to the presentation it's been using during virtual meetings aimed at gathering community feedback on its proposed school reopening plan.
CPS says it's relying on recommendations from the Chicago Department of Public Health, which states that in order for the district to move to full-time remote learning, the city must hit a rolling seven day average of 400 new cases per day, or 200 cases per day with "concerning epidemiological factors." Those include a rapid spike in the number of cases or inadequate hospital space.
CDPH Commissioner Dr. Allison Arwady mentioned that 400 case mark last week during a sit-down with CPS CEO Janice Jackson.
"That is sort of a point where we might start thinking about, 'Are we at a place where maybe school couldn't be open?'" she said last Tuesday. "There's no one magic number that makes it happen … If we were up sort of more in that range, that's where we'd be having some more conversations and thinking about it."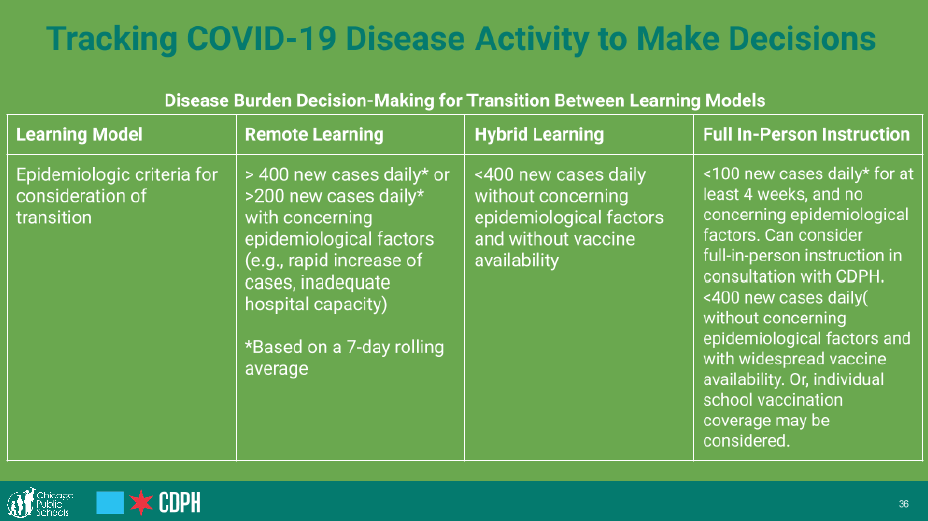 (Chicago Public Schools)
To head in the opposite direction and have students fully return to school for in-person learning, the district says there must be fewer than 100 new cases per day for four straight weeks with none of those concerning epidemiological factors. The CDPH also says schools could open fully if there are fewer than 400 new cases per day and there is widespread vaccine availability.
As of Wednesday, the city's average number of new COVID-19 cases was 246, with a positivity rate of 5.6%.
Classes are set to resume Tuesday, Sept. 8, but in-person learning will only take place if it is safe to do so, given the coronavirus pandemic. CPS has proposed a hybrid learning plan, which would see most students learning from home three days per week and attending classes in person during the other two days. But the plan has not yet been finalized and the district is continuing to gather community feedback at meetings this week.
Many parents and community members have expressed concerns about that plan, and so has the Chicago Teachers Union, which has called for a fully remote learning plan this fall.
CTU President Jesse Sharkey tweeted a response to the district's new guidelines Wednesday, saying they are "not acceptable" and not in line with recommendations from the Centers for Disease Control and Prevention.
"CPS finally announced a criteria for re-opening: 400 cases/day," he wrote in a tweet. "Not acceptable. This 2X higher than the 200 cases/day based on CDC guidelines. And it needs to address positivity rate. Chicago cases fell from 249 to 246, but testing declined by over 4,000."
The district has two more community meetings scheduled this week: Thursday at 4 p.m. and Friday at 9 a.m.
Contact Matt Masterson: @ByMattMasterson | [email protected] | (773) 509-5431
---