Days after announcing a preliminary reopening plan, Chicago Public Schools CEO Janice Jackson said the district is rethinking a requirement that high school juniors and seniors participate in remote learning each day during the upcoming school year.
Speaking Tuesday on the web series "Ask Dr. Arwady," hosted by Chicago Department of Public Health Commissioner Dr. Allison Arwady, Jackson said she's received more feedback on this issue than anything else since the district unveiled its hybrid learning proposal last Friday.
Under that plan, students in grades K-10 would split their class days between remote and in-person instruction. But 11th and 12th graders specifically would learn from home full time.
The reasoning behind that, Jackson said, was that freshmen and sophomores have similar schedules that make it easy for them to stay in a given "pod" – a group of 15 students that will learn together separately from other groups inside schools this fall. But juniors and seniors have more complex scheduling requirements that would make it more difficult for them to stay with a single pod.
"We thought that that was the best approach, it was our best thinking on that day," Jackson said, "but given the overwhelming response that I've been hearing from parents of 11th and 12th graders, that is something that we're going to go back and look at."
"I want people to stay tuned on that," she added.

Attendance models for each grade under CPS' current reopening plan. (Chicago Public Schools)
Classes are set to resume Tuesday, Sept. 8, but in-person learning will only take place if it is safe to do so, given the coronavirus pandemic. Arwady on Tuesday said Chicago's average daily number of new cases is currently 228.
That figure is already high enough for the city to reimpose some restrictions, like prohibiting indoor service at bars. But Arwady said the count would have to approach 400 new cases per day before they'd consider cutting off in-person learning again.
"That is sort of a point where we might start thinking about, 'Are we at a place where maybe school couldn't be open?'" she said. "There's no one magic number that makes it happen … If we were up sort of more in that range, that's where we'd be having some more conversations and thinking about it."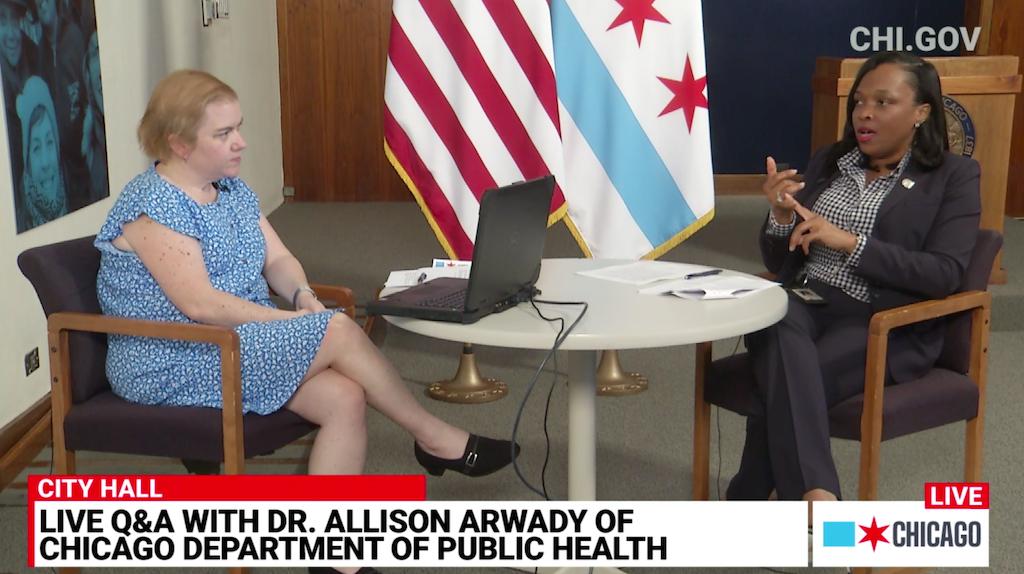 Chicago Department of Public Health Commissioner Dr. Allison Arwady, left, and CPS CEO Janice Jackson talk about reopening schools during Tuesday's episode of the web series "Ask Dr. Arwady." (Chicago Mayor's Office / Facebook)
Jackson touched on several topics during the 45-minute Q&A with Arwady, including plans to improve remote learning, the process students will go through each day when returning to their schools in the fall and what will happen if a teacher in a pod tests positive for COVID-19.
The following is a condensed summary of Jackson's responses:
How is CPS ensuring remote learning will be equitable?
Jackson said when the district first rolled out its remote learning plan in the spring, it did so under emergency conditions. She noted that there is room for improvement, and next week, CPS will be sharing survey results from parents and administrators about their remote learning experience.
Among the improvements being worked on, Jackson said the district is trying to ramp up social and emotional learning support for students. CPS is also going to conduct remote learning through a single Google platform, which Jackson said will allow the district to have visibility over who is assigning and doing classwork, and whether students are getting the supports they need.
"We are working to improve remote learning," Jackson said, "but we are also keenly focused on getting our kids back in front of teachers because that's where the magic happens and we know that our teachers are going to be able to take them to the next level and prepare them."
If a parent opts out of in-person instruction for their children, who will facilitate their remote learning?
The best-case scenario, Jackson said, would be that a student would receive remote instruction from a teacher who works at the school they are enrolled in. But that might not be the case for everyone.
Jackson noted that some teachers will not be able to return to schools in the fall due to underlying health conditions. She said those teachers will be assigned to teach in what she called "virtual academies."
CPS is also "aggressively" recruiting substitute teachers, Jackson said, and may utilize other available staff for remote learning, though she said that would be "a very rare occurrence" in a "few small situations."
How will CPS track student attendance?
Jackson said CPS is waiting for official word from the Illinois State Board of Education, which she said will be updating its guidance on attendance, grading, what counts as a school day and other issues.
She said she does expect "more strict enforcement" around attendance in the fall.
If a teacher tests positive for COVID-19, are all of the students in their class required to quarantine?
Yes. Jackson said the idea behind the pods is safety. Rather than closing down an entire school after a positive test, the district could possibly quarantine a single pod if that teacher has not had exposure to other students or staff.
"If a teacher is teaching in a pod with those 15 students on any given day, those students would be asked to quarantine along with the teacher because they have been in close contact, although they're wearing masks and other proper social distancing mechanisms are in place, those people would be asked to quarantine," Jackson said.
Students will be required to complete a self-health check each school day. What will that look like?
Students will use an app to check in remotely each morning and answer a series of questions about their health status, Jackson said. The idea is to get kids to think about their own social responsibilities before heading to school.
"They're going to ask questions about whether they have COVID or a fever or if they've been exposed to anybody," Jackson said. "And it really is a way to push for people to be reflective prior to them walking out of their home, getting on the bus, the CTA or walking to school and entering the building."
Schools themselves will have staggered start times and different entrances for different grades or pods to promote social distancing. Students will also undergo a temperature check upon entry.
"If students are well, they go to class, they stay in their pods, they remain in that assigned classroom for the majority of the day," she said. "Once they leave at the end of the day, they're gonna leave through those designated doors and so it's gonna be a really tight process."
Jackson said these processes will be taught repeatedly to students in the first weeks of the school year.
Will fire drills still be required at schools?
Arwady said details are still being worked out about how to do this, but she and Jackson both believe that fire drills will be required this fall.
"I would imagine with a fire drill situation, you're going to be doing all the same things with the social distancing, keeping the masks (on), thinking about trying to have children not be in close contact," Arwady said.
Jackson added that "this is a place where we still have some planning and work to do."
---
CPS is holding five virtual meetings this month to gather more feedback on its reopening plan. The district said it will make final decisions on that plan and in-person learning sometime next month.
Contact Matt Masterson: @ByMattMasterson | [email protected] | (773) 509-5431
---