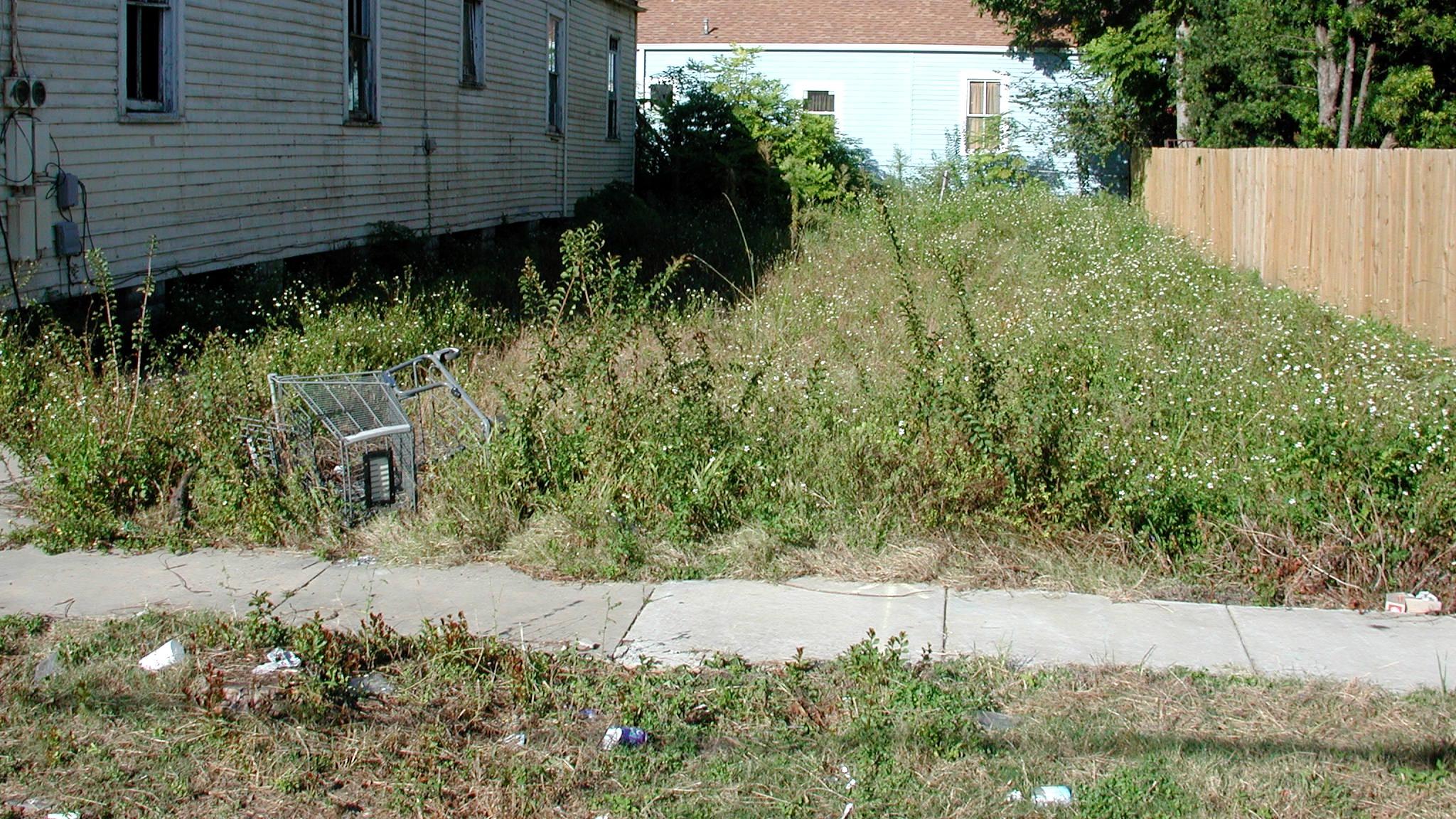 The Office of Inspector General has released a report on Streets & San's weed-cutting performance. (Bart Everson / Flickr)
A report issued Thursday by the Office of Inspector General (OIG) revealed a number of flaws in the Chicago Department of Streets and Sanitation's system for clearing overgrown vacant lots, including a lack of employee knowledge about department goals.
"Because the problem of overgrown weeds disproportionately impacts the West and South Sides of Chicago, DSS' effectiveness in delivering this service substantially impacts efforts to combat blight in these neighborhoods," the report stated.
Streets and Sanitation is responsible for mowing weeds that have grown higher than 10 inches in the public way, as well as vacant lots either owned privately or by the city. The department considers the service important, per the OIG report, because "high weeds can conceal illegal activities, obscure dangerous debris, harbor rodents, and serve as a breeding ground for mosquitos" and can also "reduce real estate values and undermine safety and community improvement efforts."
The OIG audit sought to determine whether the department had met its goals of mowing all city-owned vacant land four times during the growing season (defined as May 1 to Oct. 31) and addressing all weed complaints within six weeks.
The OIG found the department lacks a complete and accurate list of city-owned land to monitor, which poses an obstacle to effectively manage properties. Instead, nearly 88% of work orders for weed cutting were generated by ward superintendents, who compile paper-based lists of lots in need of mowing via visual surveys of their wards, and then pass along addresses to independent contractors. 
"There is no standardized process; each ward superintendent uses their own method to identify properties," the OIG report stated. "These approaches vary widely, due to differences in the ward superintendents' technological capabilities and the number of vacant properties from ward to ward. … Some ward superintendents with a high volume of vacant lots in their wards spend upwards of four hours per day dealing with weed cutting, leaving them little time to fulfill their other responsibilities."
Data provided in the report demonstrates the disparity among wards: In 23 wards, superintendents generated 50 or fewer weed-cutting orders in 2019. Ten wards accounted for 70% of work orders, with nearly 7,000 submitted by the ward superintendent of the 24th Ward.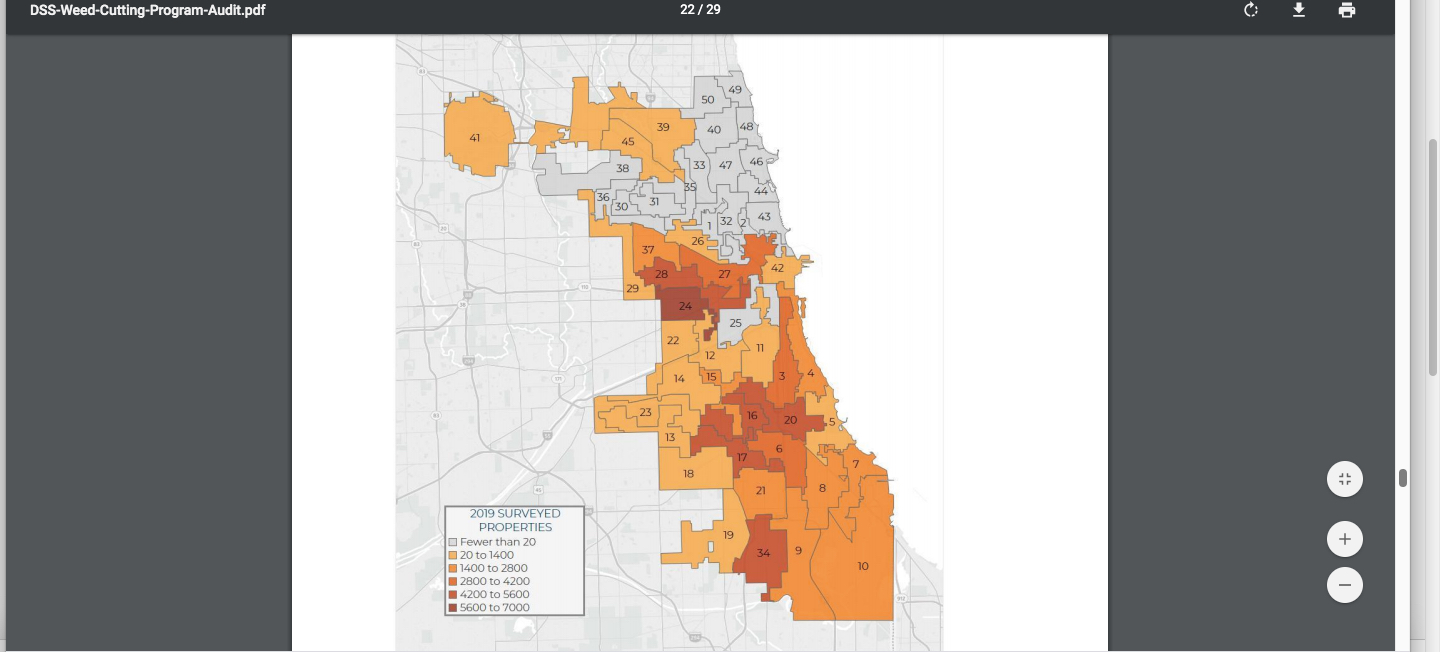 A map illustrating the disparity in work orders for weed cutting. (Office of Inspector General)
In addition to an inconsistent process, the OIG audit discovered the goal of having vacant lots mowed four times per season was an "informal" management expectation not clearly communicated to ward superintendents. "Several DSS staff members stated to OIG that they were unfamiliar with this expectation," according to the report.
Another stumbling block is an "insufficient data system" that makes it difficult to track whether service has been provided or not, the report concluded.
"The problem of vacant lots with overgrown weeds particularly afflicts neighborhoods on the South and West Sides, impacting efforts to combat blight and collaterally contributing to persistent inequities in public safety, public health, and economic vitality, as seen in historically disadvantaged and underserved parts of the City," Inspector General Joe Ferguson said in a statement.
Recommendations for improvement included the creation of a complete and accurate inventory of vacant city-owned properties, better data systems and data-entry procedures, and clearly communicated performance-based goals for complaint response times and management of city-owned lots.
In response to the audit, the Streets and Sanitation department has started taking corrective actions, such as providing its contractor with weekly mowing lists for city-owned lots and shortening its complaint response goal from 42 days to 21 days, the OIG report stated.
While commending the department for those changes, Ferguson cited the lack of a reliable list of city-owned land as a continuing "fundamental barrier" to the program's efficiency and urged the department to work with the Law Department and Department of Planning and Development to fix the list.
Contact Patty Wetli: @pattywetli | (773) 509-5623 |  [email protected]
---