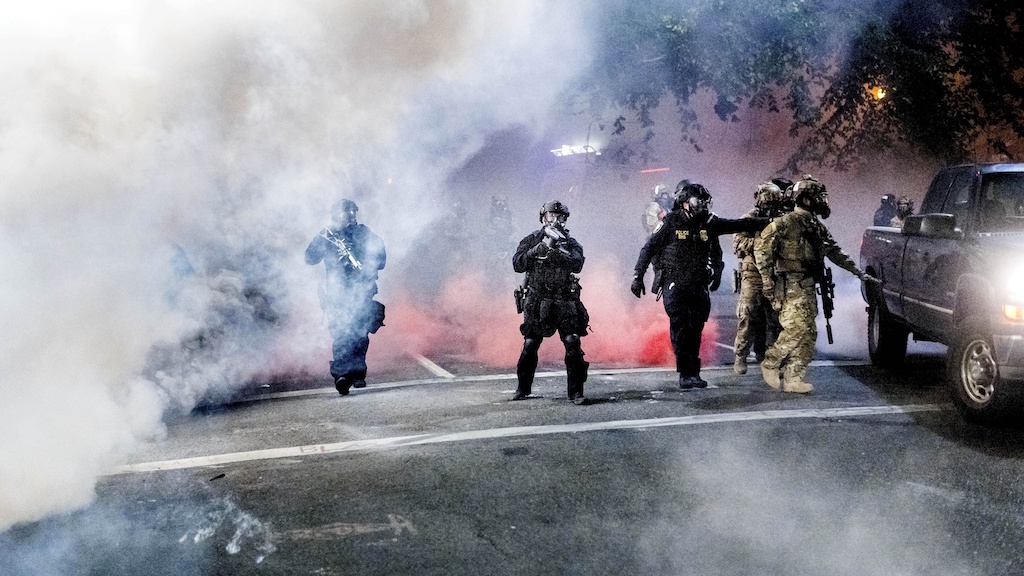 Federal officers use crowd control munitions to disperse Black Lives Matter protesters outside the Mark O. Hatfield United States Courthouse on Tuesday, July 21, 2020, in Portland, Ore. (AP Photo/Noah Berger)
Local activist groups including Black Lives Matter Chicago are seeking to protect the rights of peaceful protesters, one day after President Donald Trump announced plans to send "more than 100" federal agents to crack down on crime in the city.
Attorneys representing BLM Chicago, the Black Abolitionist Network, Chicago Democratic Socialists of America, GoodKids MadCity and several other groups filed a lawsuit in federal court Thursday seeking an injunction to halt the feds from interfering with peaceful protests or making arrests without probable cause.
"The President and his appointees are sending federal agents to the streets of Chicago in order to intimidate and falsely arrest civilians who are exercising their constitutional right to speak and to assemble," the groups claim in a 41-page complaint filed in the Northern District of Illinois. "Plaintiffs are entitled to this Court's protection of their constitutional right to peacefully protest. This Court must check the unrestrained and unlawful actions of the executive branch."
The lawsuit names U.S. Department of Homeland Security Acting Secretary Chad Wolf, U.S. Attorney General William Barr, FBI Director Christopher Wray and a handful of other federal officials as defendants.
According to the complaint, activists fear the planned deployment in Chicago will include the "same secret police force" that was sent to Portland, Oregon, where unidentified federal agents have used tear gas and other weapons to disperse protesters and arrested demonstrators without clear probable cause.
Tess Kleinhaus, an attorney with Loevy & Loevy, one of the legal groups that filed the lawsuit, claimed the Trump administration has also used other "authoritarian tactics" in Portland including attacks on the press, the physical abuse of protesters and "disappearing people into unmarked vans" – moves she said are more likely to be seen under a dictatorship than a democracy.
"They are trying to suppress our righteous anger and we will not be suppressed. We will continue fighting back," Aislinn Pulley, of BLM Chicago, said during a press conference Thursday outside Federal Plaza. "We have been fighting back consistently for two months, for two months, and we will not be stopped. We will not be threatened, we will not be coerced into suppressing our rage."
Crime began surging in some cities like Chicago, New York and Philadelphia when stay-at-home orders lifted following widespread coronavirus-related shutdowns. Criminal justice experts seeking answers have pointed to the unprecedented moment: a pandemic that has killed over 140,000 Americans, historic unemployment, a mass reckoning over race and police brutality, intense stress and even the weather.
Chicago has already recorded more than 400 homicides and 1,600 shootings this year, according to Chicago Police Department data. Both are significantly higher than totals seen over the same period in 2019.
Mayor Lori Lightfoot called the feds' actions in Portland an "unconstitutional travesty" and "undemocratic." She said the agents coming to Chicago won't be part of any "secret police," but rather additional FBI, Drug Enforcement Agency and Bureau of Alcohol, Tobacco, Firearms and Explosives agents who will operate under the supervision of John Lausch, the U.S. attorney for the Northern District of Illinois.
Lightfoot warned Trump in a letter late Monday that any decision to send troops or agents to Chicago under the authority of Homeland Security would "foment a massive wave of opposition." The mayor has said that if the Trump administration does seek to replicate what's happening in Portland in Chicago, the city is prepared to fight those orders in court.
The U.S. Department of Justice did not immediately respond to a request for comment about the lawsuit Thursday.
Wolf and Barr both said this week the mission in Portland – to protect federal property – differs from the focus in Kansas City, Chicago and Albuquerque. Barr claimed the number of agents being deployed to Chicago is "comparable" to the Kansas City surge of more than 200.
But the activist groups believe these agents are coming to Chicago for the express purpose of discouraging and suppressing lawful protest, thus violating individuals' First Amendment rights.
"Their exercise of their rights to speak, assemble, petition, and gather news is being chilled," the complaint states, "due to the well-founded fear that they will be brutalized or kidnapped by federal agents for no reason other than being a protestor, journalist, or legal observer on the streets and sidewalks of Chicago."
Heather Cherone and the Associated Press contributed to this report.
Contact Matt Masterson: @ByMattMasterson | [email protected] | (773) 509-5431
---