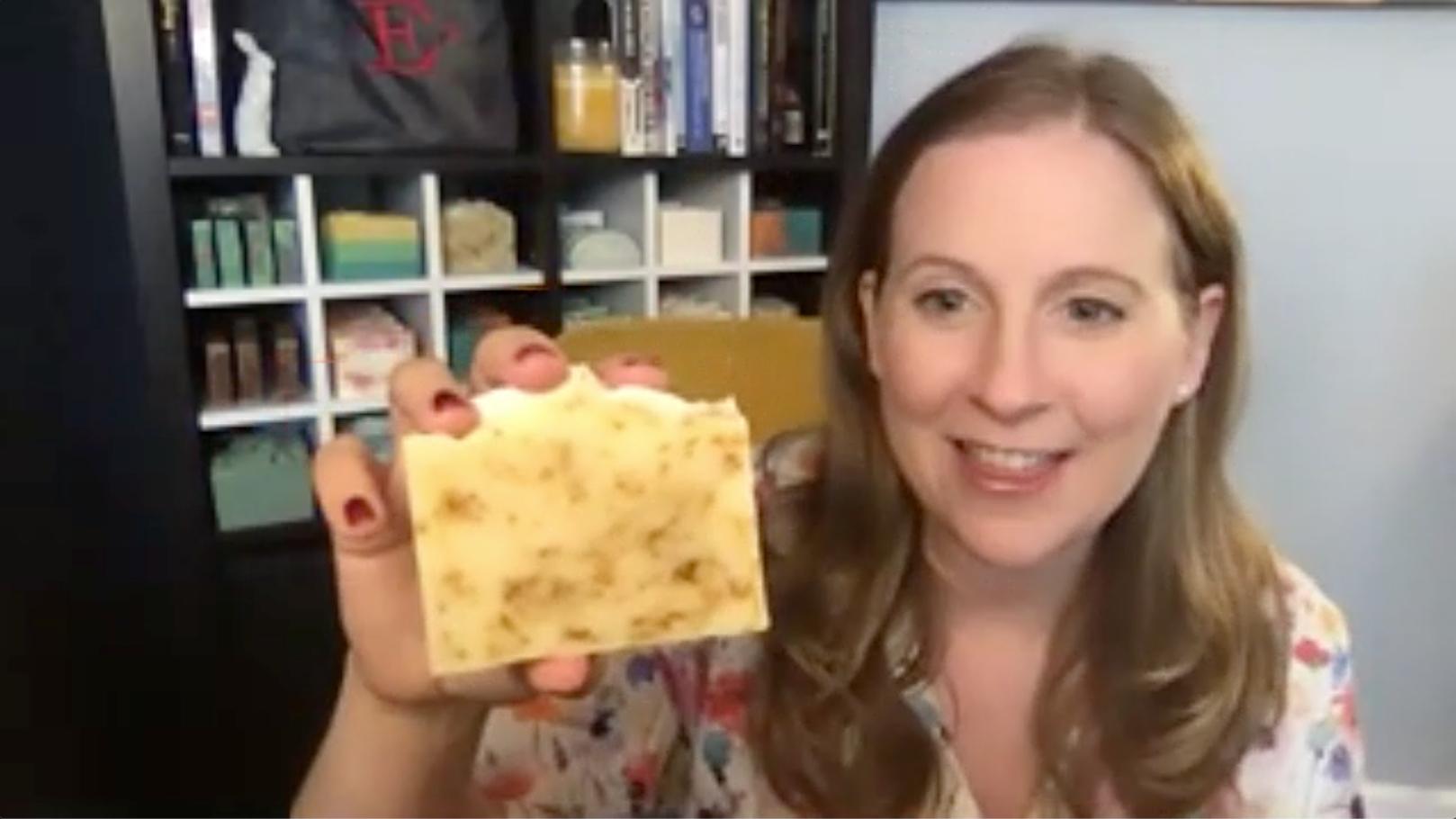 Dr. Emily Landon holds up a bar of soap she made. The infectious disease expert has been making soaps and candles for years. (WTTW News)
For the past six months, Dr. Emily Landon's job has focused exclusively on the coronavirus pandemic.
When the infectious disease expert, who specializes in bone and joint infections and infection control at the University of Chicago, started working on COVID-19 on Jan. 21, the state had yet to report its first case of the virus. That came just a few days later, on Jan. 24.
The long days and nights that followed took a toll, Landon said. "I would check my email before I rolled out of bed even, and I was working way late and barely sleeping, and getting paged all night," she said. "During this pandemic stuff, I was feeling really burnt out."
Recently, she stopped working most weekends and in May began making soap to unwind. It's not a new hobby — Landon has been making soap and soy candles for years — but she says she never realized how therapeutic it was until now.
"I made it and I was like, 'Oh, my gosh. Why have I not been doing this?' I felt so much better afterward. My mind felt clearer. I felt more ready to get back to work," she said. "I didn't realize how therapeutic this making soap or candles was to me until (I had) the experience of not doing it for a while because of this pandemic."
The bar that got her back into the habit? A peach and pink version that smells like pink grapefruit and yuzu ("I like citrusy," she said). Landon estimates she has about a hundred different scents for her soaps and candles. Among her favorites: citrus, oud wood and lavender, as well as a combination of eucalyptus and lemongrass.
She and her son started the hobby together as part of an annual holiday gift-making practice for family and friends.
"About four years ago, he asked to make candles. We got all the stuff to make soy candles in containers and it was super fun, and I liked it so much I kept making them," Landon said.
Stores that sell candle-making supplies often sell soap-making supplies, according to Landon, who dipped her toe into the craft with melt and pour soaps. "You just heat it up in the microwave and you pour it into little molds, and that was really fun," she said. "My son and I made them for Christmas one year and we put little trinkets inside the soap and as you used the soap, you got to a toy inside."
But Landon wanted to try more advanced techniques, including those using lye, which requires protective equipment. "It will burn you. It's very dangerous. … I figured I could handle it. I studied science. I did a lot of labs. I take care of patients with infections," she said.
Video: Landon talks about a few of the soaps she's made, including the first one she made since the start of the coronavirus pandemic.
After watching lots of YouTube videos, Landon got herself a soap-making kit. Her first bar combined olive, coconut, castor and sustainable palm oil with a citrus scent. "It's a really simple recipe," she said. 
She calls it "Late-for-work soap."
"It smells so good and I want to stay in the shower longer to use it and (that'll) make me late for work," she said, laughing.
She graduated from simple recipes to incorporating colors and flower petals to creating soaps with swirls and patterns and crafting her own recipes.
"There's a lot of measuring and converting – a lot like an organic chemistry lab. But there's calculators online to help you," she said. "You do not need to have an organic chemistry class to make soap. You can figure it out."
From start to cleanup, it only takes about an hour and half to make soap, depending on how complicated the recipe is. "The more colors you have, the more time it's going to take," Landon said, adding the soaps need to sit for a day or two in their silicon molds.
But you'll have to wait a little longer before you can grab a bar and begin scrubbing away with it. Soaps need to cure for up to six weeks, according to Landon.
"I used to have these baking racks full of soaps and they were running out of room because they have to sit on the racks for four to six weeks," she said. "I was at Ikea and I saw these inserts for wine bottles and they're great for soap and then it looks pretty."
You can see those soaps yourself in many of the TV interviews Landon does. They're lined up on the shelves behind her and serve as decorations while they cure.
While Landon hasn't had much time to make soap and candles recently, she usually sells them at craft fairs over the summer in the suburbs. Not to "make a ton of money," Landon said, but to get rid of them because she makes so many. As she puts it: "There's only so much soap you can give your family."
Landon has a website for her homemade soap and another for her candles. "I have an Etsy shop but no one should go there because I can't be bothered to send people soap right now. But someday," she said.
Landon, who also makes her own face wash and cream,  may not be selling any soap or candles soon, but she will continue to make them and encourages others to tap into a creative outlet.
"You gotta take care of yourself. You have to have things that make you happy … especially in a time like this where we're all suffering a lot," Landon said. "Creative hobbies make a big difference, I think."
Contact Kristen Thometz: @kristenthometz | (773) 509-5452 |  [email protected]
---