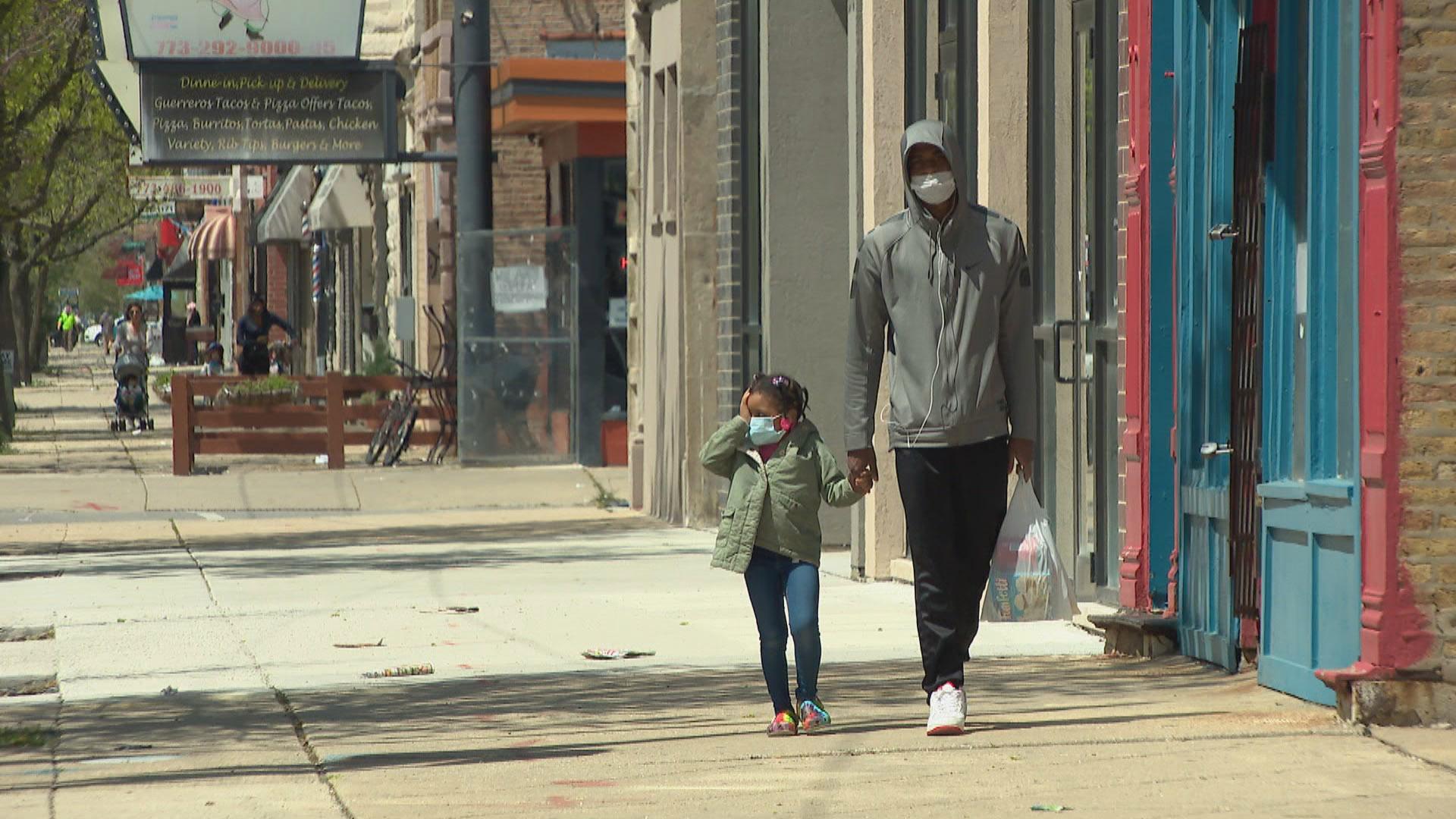 Family members wearing masks walk along the sidewalk in the Humboldt Park neighborhood on Thursday, May 7, 2020. Under Gov. J.B. Pritzker's stay-at-home order, all residents should wear face masks or coverings when social distancing is not possible. (WTTW News)
On Monday, the city of Chicago announced it was reimposing restrictions aimed at curbing the spread of COVID-19 after a recent uptick in cases.
Gov. J.B. Pritzker said he supported Mayor Lori Lightfoot's rollback decision and that all cities and local municipalities "can and should do what they know is right to protect residents."
But residents also have to do their part and wear a face covering every time they leave their homes, Pritzker said.
"Wear a mask. If you're walking anywhere in a public place, please wear a mask," he said. "You don't have to belittle people who aren't wearing a mask, but they should get the idea if everyone else is wearing a mask."
A mask mandate has been in place in Illinois since May 1, requiring people to wear face coverings in public places and in situations in which social distancing can't be maintained.
"Doctors and scientists have determined in hundreds of studies that wearing a face covering will reduce transmission of COVID-19 by 80%," Pritzker said. "To everyone in Illinois: Let's protect the gains we've made."
Efforts by Pritzker to curb the spread of the virus began in mid-March when he shuttered schools across the state, closed bars and restaurants to in-person dining and then issued a stay-at-home order. At one point the state's positivity rate reached 23%, according to the governor, but it has since remained around 3% despite a recent uptick in cases.
Increases in COVID-19 cases and positivity rates are occurring throughout the state, not just in Chicago and Cook County, according to Pritzker. "We've got situations, frankly, all over the state," he said.
Last week, the governor outlined a plan detailing the metrics that would trigger additional COVID-19 restrictions, such as closing indoor service at bars and restaurants and prohibiting elective surgeries. Pritzker says he's watching closely the number of cases, virus-related deaths and hospitalizations, positivity rates and the number of tests completed daily to determine if restrictions need to be reimposed.
"I worry about it because our numbers should be going down when actually they're about steady," he said. "Steady is better than up, but what should be happening is a downward slide."
Pritzker also called on people to follow social distancing guidelines to remain at least 6 feet apart from others.
"The virus is still here. It' isn't going to go away soon," he said. "We hope there will be a vaccine or effective treatment, but there isn't one now."
Contact Kristen Thometz: @kristenthometz | (773) 509-5452 |  [email protected]
---