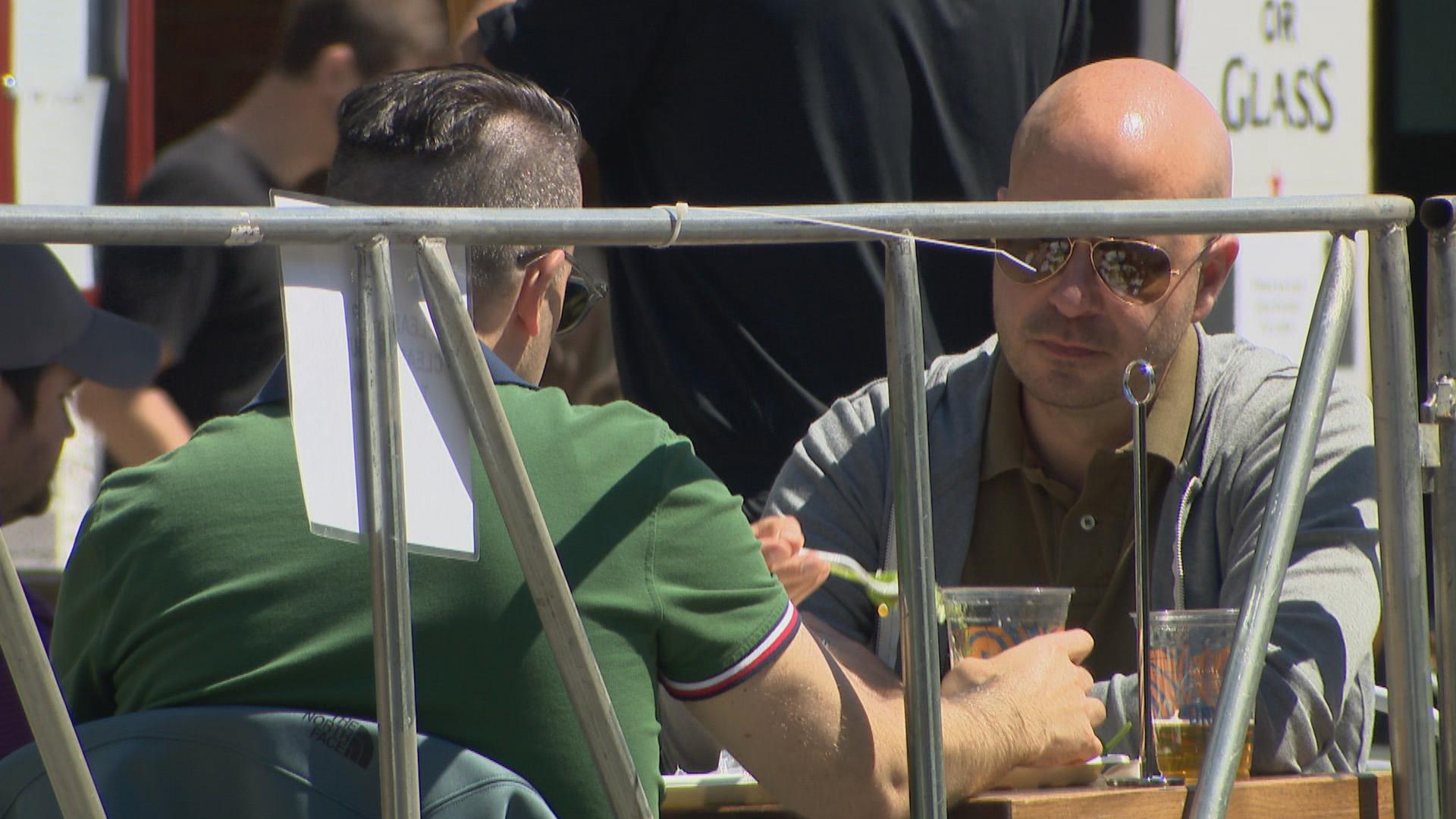 Diners take advantage of expanded outdoor seating along a stretch of Broadway in Chicago on Friday, June 12, 2020. (WTTW News)
Mayor Lori Lightfoot had clear words for bar and restaurant owners who refuse to follow the city's coronavirus guidelines during the Fourth of July weekend: You will be shut down and you will not reopen soon.
The mayor told hundreds of bar and restaurant owners just that on a call Thursday morning, telling them their fate is in their own hands. But if they allow large crowds without social distancing like the ones seen in various neighborhoods last weekend, the city will not hesitate to force them to close.
"This is a make-or-break weekend for you," she said. "Abide by the rules, or unfortunately, you're gonna suffer the consequences."
Businesses violating health and safety guidelines could face citations up to $10,000 per offense, according to Rosa Escareno, commissioner of the Chicago Department of Business Affairs and Consumer Protection.
And for those who display "egregious disregard" for those guidelines, "we will not hesitate to shut you down," Escareno said.
"Thank you to those who are doing everything right. But we will be out there and we will be taking enforcement actions," she said. "The time for awareness and education is over and the time to be serious about keeping our city safe starts now."
In Wrigleyville last weekend, Block Club Chicago reported that it "felt and looked" much like a normal summer night, with long lines lacking social distancing and many patrons not wearing masks.
Under phase four of Illinois' reopening plan, indoor dining and alcohol consumption is allowed, but bars and restaurants cannot surpass 25% of their capacity or 50 total people, whichever number is smaller. Outdoor dining is also permitted with social distancing requirements.
Escareno said she's already seen numerous issues since the city moved into phase four: to-go cocktails being opened and drank on the sidewalk; long lines with no social distancing; and packed bars exceeding city and state health guidelines.
"I have seen standing room only on rooftops and bars," she said, adding that patrons must instead be seated at all times. "Butts in seats, I cannot say that enough times as I talk to businesses."
Several states have already halted their own reopening plans as COVID-19 cases spike again across the U.S. Lightfoot said that is "not gonna be our story."
Beaches are still closed in Chicago, but the Lakefront and 606 trails will remain open this weekend, though visitors are not allowed to stop or congregate in those areas. Lightfoot said the Chicago Police Department's bike and marine units will patrol these areas to keep people in compliance.
Beyond compliance enforcement, the police department beginning Thursday will deploy 1,200 additional officers each day through the holiday weekend in an effort to stymie the gun violence that has already claimed more than 320 lives this year.
Already through the midpoint of 2020, Chicago is matching the pace set in 2016 when the city recorded more than 750 homicides, the most it had seen in nearly two decades.
Lightfoot and CPD Superintendent David Brown on Thursday both reiterated the "all-hands-on-deck" approach city departments will take to combat the violence during a press conference in Ogden Park, less than 2 miles from where a 3-year-old was injured and a 1-year-old was killed in separate shootings within the past week.
"I ask you, I beg you, and I pray that you will find your humanity, that you will think about the sanctity of life before you pick up a firearm and pull the trigger, aiming for somebody else," Lightfoot said. "Think about the number of children that have been killed just in the last two weeks. … Value your own life but also value the lives of others, particularly our children."
Contact Matt Masterson: @ByMattMasterson | (773) 509-5431 | [email protected] 
---