Chicago's Chinatown neighborhood on the city's Near South Side was the first to feel the economic impact of COVID-19, weeks before the shutdown began. 
Interactive: More from our series, COVID-19 Across Chicago.
Months later, on the eve of the city's move into phase four of its reopening plan, the enduring message in the community is that Chinatown is still here, and it is open for business. Restaurants in Chinatown Square mall along Archer Avenue are preparing for outdoor dining as well as limited indoor capacity Friday. 
It's been a long journey for the neighborhood. WTTW News first visited as part of our "COVID-19 Across Chicago" series on March 23. 
By then, Chinatown had already been experiencing an economic slowdown for weeks because of unfounded fears surrounding the virus. The community was a ghost town – and the area's business leaders were hoping then that the shutdown would last a few weeks and be over with. 
Of course, a few weeks turned into three-plus months. 
One business we visited in March was Triple Crown Restaurant on Wentworth Avenue. At that time, owner Spencer Ng vowed to keep his entire staff by making them part-time shift workers. 
Today, Ng says he was able to keep his employees working while doing only about 30% of his regular business. And he arranged with his landlord to pay what he could for the time being. 
Ng is waiting until mid-July to safely reopen inside, and says survival is a day-to-day affair at this point. 
"Every month it gets harder," he said. "So I'm looking forward to opening in the middle of July and seeing where it goes from there. Definitely, COVID changed our lives." 
Gift shops are another huge draw in Chinatown. Pacific Furniture – which sells gifts and furniture — is also in survival mode. Owner Cindy Nahn says she worries that people won't have disposal income to spend on gifts once they spend it on food and other basics. 
And throughout the shutdown, the Pui Tak Center has helped residents with social service programs, and has assisted many Chinese Americans with their unemployment claims. 
President David Wu says the organization will also help sponsor a march on Sunday of Asian Americans in support of Black Lives Matter. 
"Asian Americans, especially the immigrant generation, doesn't understand the protests, too often kind of connect looting and protesting together," Wu said. "I think second generation Asian Americans realize that African Americans blaze trails in terms of the civil rights battles throughout their history, and immigrants benefit from that today." 
Chinatown Square is also one of five new sites announced by the city this week for expanded outdoor dining in public streets and sidewalks.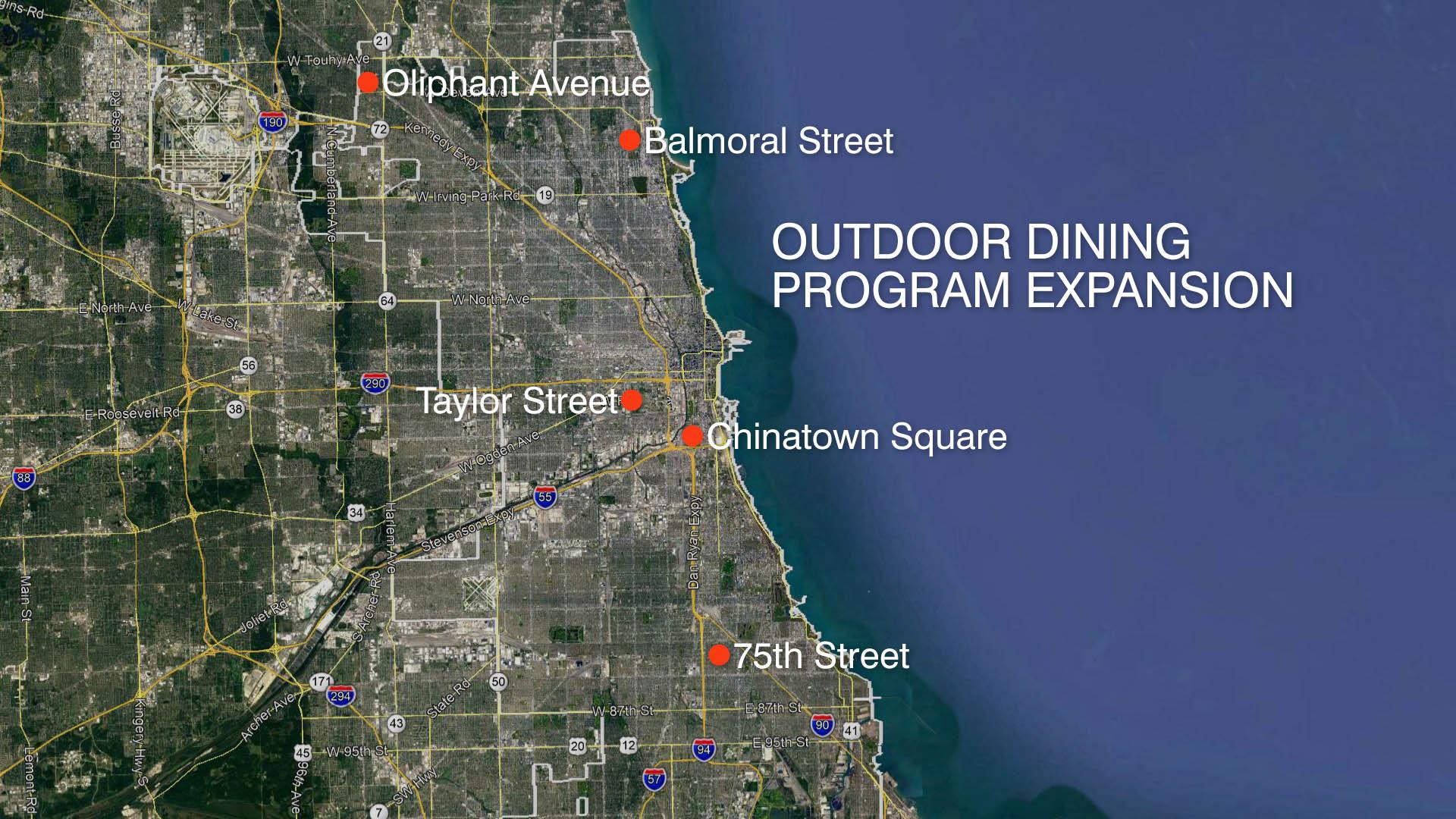 Samir Mayekar, Chicago's deputy mayor for neighborhood and economic development, says the closures are essential to keep restaurants afloat, while also making sure staff and customers stay safe. 
"This expanded outdoor dining program is so important to help restaurants gain more revenue," Mayekar said. "Right now, we need businesses to get online as fast as possible, and as safe a way as possible, and the outdoor dining program is designed so the city can be as flexible as is needed." 
Video: Our full interview with Samir Mayekar, deputy mayor for neighborhood and economic development.
Chinatown is represented in Springfield by state Rep. Theresa Mah (D-Chicago). She says the neighborhood is bouncing back, but has been through a lot of challenges over the past few months. 
"Chinatown has been through quite a lot, because the businesses were suffering from lack of foot traffic even before the stay-at-home order was in place," Mah said. "We're seeing things open back up, and it's looking optimistic … the foot traffic is picking up." 
Video: Our full interview with state Rep. Theresa Mah.
Follow us on Twitter: @paschutz / @rquinnmyers
---
Community Reporting Series
"Chicago Tonight" is expanding its community reporting. We're hitting the streets to speak with your neighbors, local businesses, agencies and leaders about COVID-19, the economy, racial justice, education and more. See where we've been and what we've learned by using the map below. Or select a community using the drop-down menu. Points in red represent our series COVID-19 Across Chicago; blue marks our series "Chicago Tonight" in Your Neighborhood.
---