Longtime viewers might remember a time when for one wild week a year, they could buy everything from spark plugs to mink coats right here at our studios.
Geoffrey Baer revisits the era when WTTW was your window-shopping to the world.
---
Could you provide details on the annual Channel 11 auctions, which I think began in the mid-1960s? I missed watching my shows that week, but I always was impressed by the amount and scope of available items. When did they end?
— William Stone, Wheaton
Back before our pledge programming became standard, WTTW's big annual fundraiser used to be an on-air auction. Between 1967 and 1984, for more than a full week our entire broadcast schedule was preempted from noon until sign-off around midnight and replaced with eight 12-hour blocks of live auctions.
Luckily for us, the research on this one was easy to do – we have plenty of longtime WTTW staffers who were around during the auction days, though one staffer said there's really no way to fully describe what it was like unless you lived through it. She called it a gargantuan undertaking, involving literally the entire staff of WTTW and several thousand volunteers. 
First they spent months soliciting thousands of items with the help of so-called "go-getter" committees in local communities. Then they had to fetch the items and store everything in a huge warehouse behind WTTW, price items and write product descriptions, stage the items in the studio for bidding, and then send them back to the warehouse where endless lines of viewers came to pay and cart them home.
This was before the days of the Home Shopping Network and the internet, so it was truly a novelty to buy things on screen, making the auction wildly popular. Everyone knew about it and watched it. In 1973 the Chicago Tribune said that "watching WTTW's annual auction is like eating peanuts: you can't stop watching after one sale."
The first WTTW auction was a five-day event in 1967, 12 years after WTTW's first broadcast in 1955. It kicked off at noon on April 25, that year with a high school marching band playing its way into the studio. At the end of each day everyone in the studio would parade out to Frank Sinatra's "My Kind of Town," a tradition that stuck for the remainder of the auction years.
Local and national celebrities were recruited as auctioneers and guests, including newscasters from local commercial stations and stars visiting Chicago. No less a luminary than Sammy Davis Jr. shilled for WTTW in the first auction, which made a little over $200,000.
Catherine O'Hara at the WTTW auction. (WTTW)
Within a couple of years, the auction grew to an eight-day affair and you could buy just about anything you can imagine. A few highlights include a Mercedes Benz, a Rolls Royce, a Chevy Camaro, a Chrysler Imperial, a London taxicab, a Shetland pony, a polo pony, a pedigreed cow, an Afghan hound puppy, trips to the Caribbean, Israel, Vail, Madrid, Stockholm, and Hawaii; a mink bikini, a 20-foot Vienna sausage, a solar home, a fallout shelter, a stuffed two-headed llama called a Pushmi-Pullyu, belly dancing lessons, a chicken autographed by Svengoolie, and lunch with a chimpanzee. We hear the most prized item, though, was Bozo tickets, which any longtime Chicagoan can tell you were priceless. 
But most of the stuff was just everyday items, tools, clothing, home décor. A staffer recalls her father bought a bag of fertilizer and drove all the way from the south suburbs to pick it up at WTTW, something his family never let him live down.
Most items were shown and described only twice in one of three areas, with bids updated on boards, but a special area called the "kwiky" board had items that were shown only once so callers had to act fast.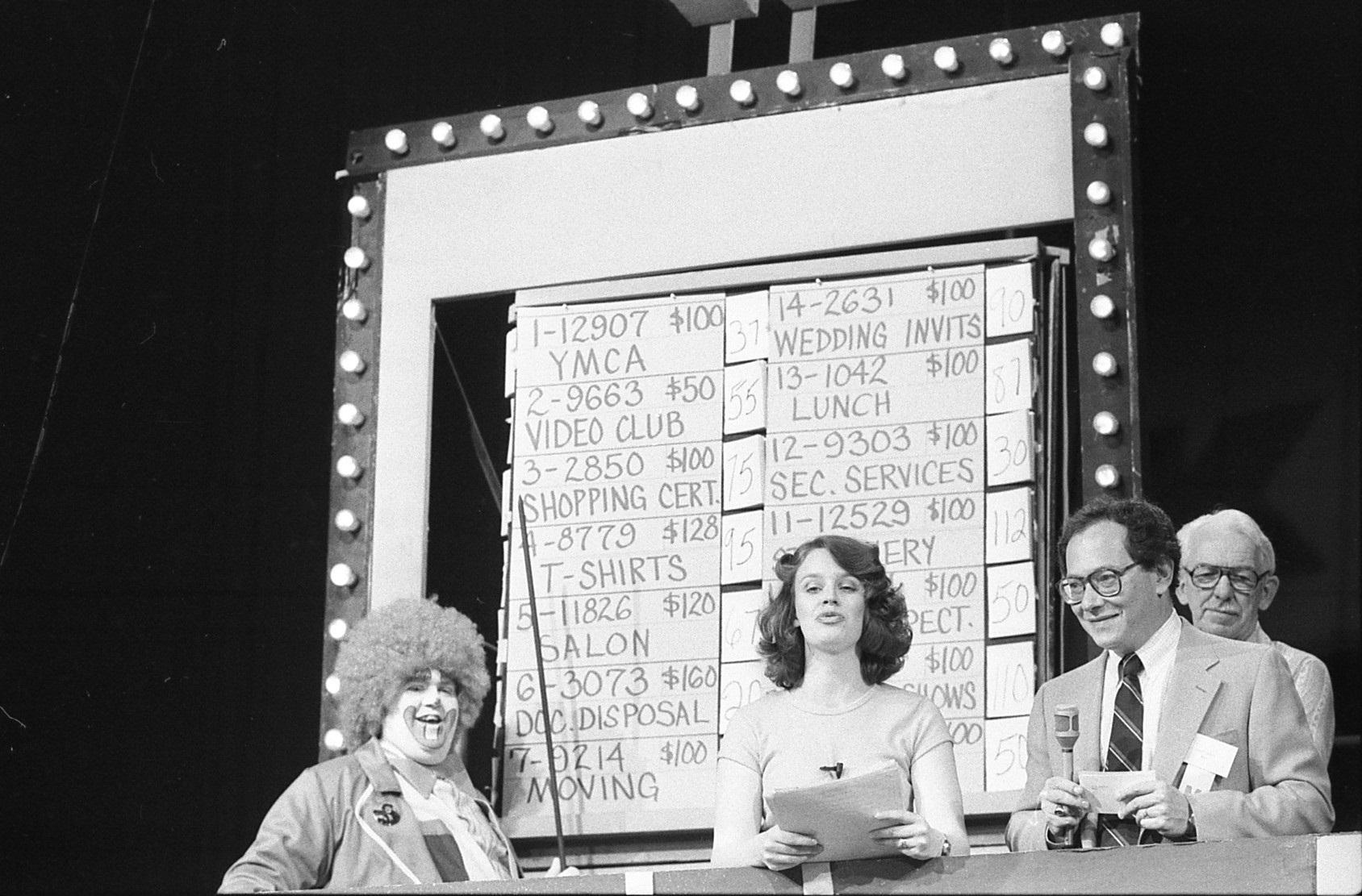 There were of course no computers in those years, so an army of volunteer operators took bids and waved bid sheets over their heads for other volunteers who ran them down to the floor to update the boards. 
Once it became clear that some bidders would get cold feet and leave items unclaimed, WTTW started offering surprise bonuses to entice people to show up quickly to claim their prize – cookie jars from Quaker Oats, chicken dinners, pillows, all sorts of things. 
One fringe benefit for the employees working long hours was that items that remained unsold or unclaimed were offered to employees at deep discounts after the auction. One employee got her wedding cake for pennies on the dollar. Our former program director got a tuxedo for $25 that he said he still wears!
As you might imagine, after a few consecutive marathon shifts, employees started getting a little punchy, leading to some pretty fun stories. One perennial favorite last-day prank was showcasing an antique vase supposedly valued at thousands of dollars and having a crew member "accidentally" back into it and send it crashing to the floor. 
Naturally, there were prank callers, too. Someone annually donated a toupee and if they offered it after school they'd get flooded with fake bids from students using the names of their bald teachers or principals.
Others would bid using names like "Anita Bath" and "Seymour Butts" (or less family friendly variations) in hopes the announcer would read them on air.
But after 17 years of bargains, WTTW decided that not only was the colossal effort the auction took not worth the money it earned, it also wasn't worth giving up eight days of programming, and the bells, buzzers and gongs fell silent.
Still, the auction lives on in the hearts of many WTTW alumni and viewers, who all remember it very fondly.
---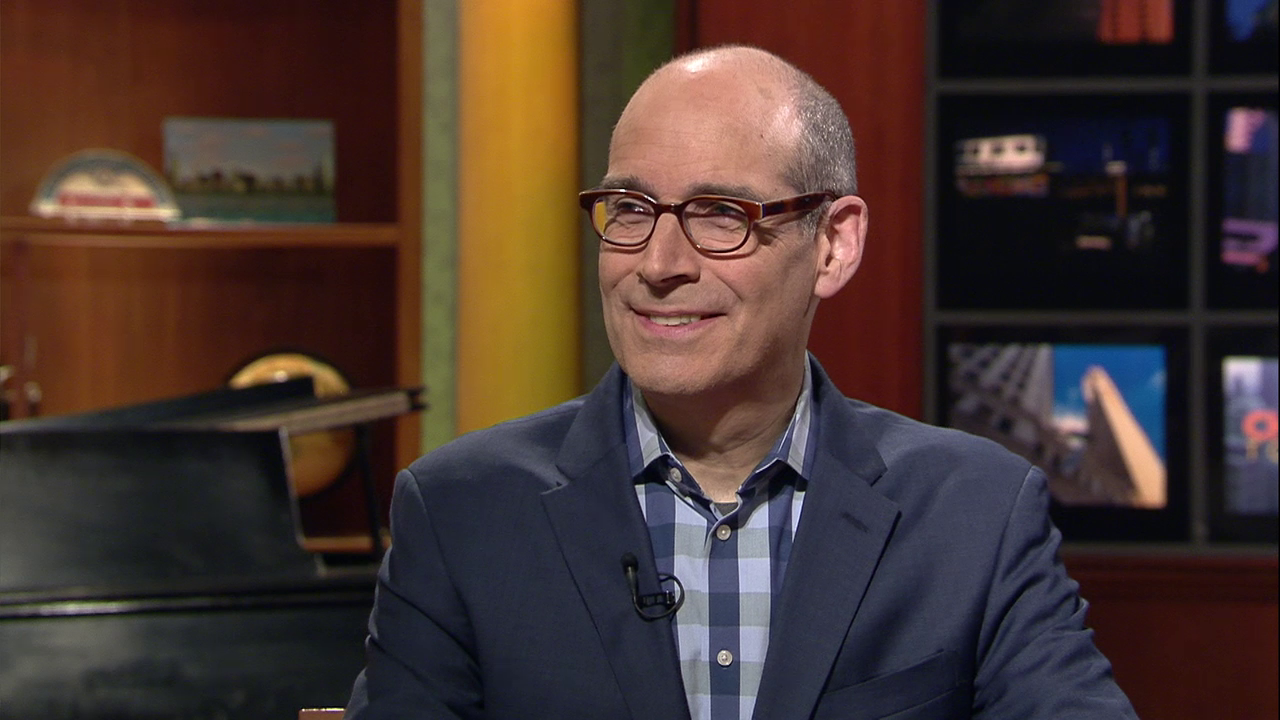 Did you know that you can dig through our Ask Geoffrey archives? Revisit your favorite episodes, discover new secrets about the city's past, and ask Geoffrey your own questions for possible exploration in upcoming episodes. Find it all right here.
Do you have a question for Geoffrey? Ask him.
---