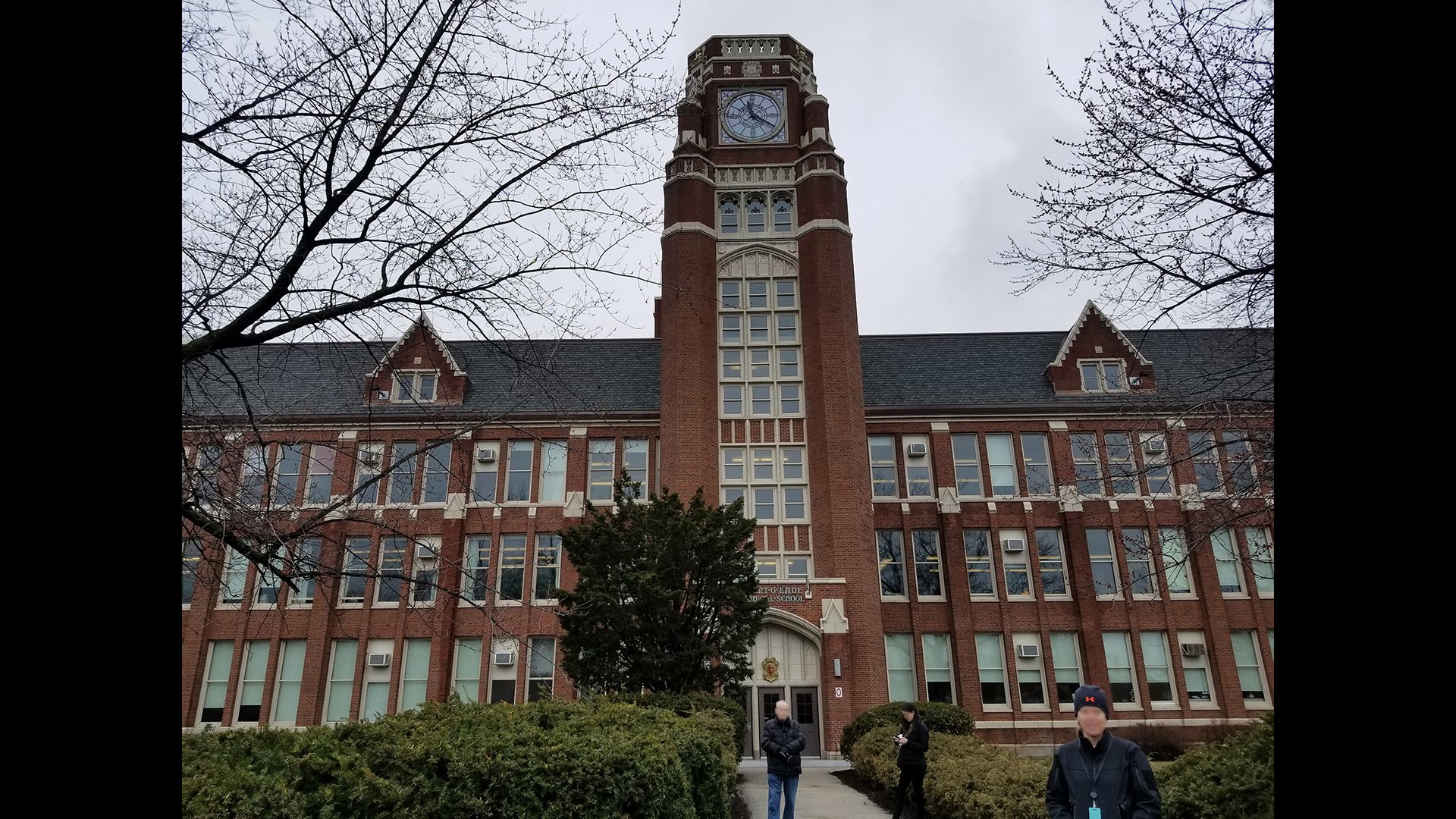 Lane Tech High School (Matt Masterson / Chicago Tonight)
Chicago's largest public high school is taking the first steps toward changing its mascot after years of controversy and complaints over its use of Native American imagery.
In a letter to parents and families, Lane Tech High School Principal Brian Tennison said his administration has begun working with their local school council and Chicago Public Schools on the required procedures to consider selecting a new mascot.
"During this important time of confronting racist structures within our society and in our school, we as a school community have been hearing from various stakeholders asking to change Lane's mascot," he wrote in the letter Tuesday. "As a school community, we champion diversity, inclusion, and understanding, and it's essential that we live up to these ideals in all possible ways."
The school's current "Indians" mascot has long been criticized as insensitive and racist.
Students over the years have led petitions to change that name and mascot, and in 2016 the school's student newspaper, The Warrior, opted to drop the school's mascot from its logo.
"We believe these illustrations are insensitive to the Native American community and are not representative of the direction of our publication," the paper's editorial board wrote at the time.
Lane Tech is far from the only school or brand to consider a change amid Black Lives Matter protests, which have spread around the world and prompted companies to rethink their policies, from hiring practices to giving employees off for Juneteenth, the anniversary of the end of the slavery in the U.S.
A school district in New Jersey this week voted to change the "Cowboys" and "Indians" mascot names of two local high schools. The University of Cincinnati is removing Marge Schott's name from its baseball stadium and a library archive in light of her racist comments while owner of the Cincinnati Reds.
And Quaker Oats on Wednesday announced it will retire the Aunt Jemima brand, saying it recognizes the character's origins are "based on a racial stereotype."
Earlier this year, legislation was introduced in Springfield to try and weed out mascots similar to Lane Tech's in Illinois. That bill would prohibit schools from using Native American imagery unless it received the express written consent of a Native American tribe based within 500 miles of the school.
That consent would have to be reapproved every five years, and those schools would also have to offer programming and courses on Native American culture and contributions to society.
Tennison said Lane Tech's LSC will offer opportunities for community members to share their viewpoints, with next steps to be announced "in the coming weeks."
"We appreciate everyone who has provided feedback on this topic," he wrote, "and we look forward to having productive conversations that will help make our school community stronger and more welcoming."
The Associated Press contributed to this report.
Contact Matt Masterson: @ByMattMasterson | [email protected] | (773) 509-5431
---