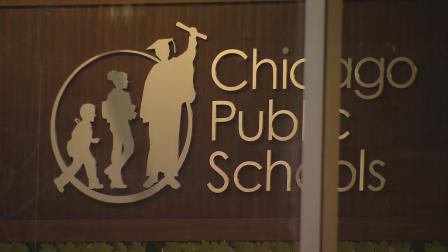 (WTTW News)
Chicago Public Schools could become the latest major school district to pull police officers from its school buildings amid nationwide calls for police reform in the wake of the killing of George Floyd in Minneapolis last month.
The Chicago Board of Education on Wednesday will vote on a motion to terminate its $33 million contract with the Chicago Police Department and instead direct district leaders to come up with alternatives to the existing school resource officer (SRO) program.
"There is a well-documented history of police misconduct, abuse, violence and disregard of human dignity and Black life," the proposed motion states. "In addition, recent incidents of police violence against Black people across our country, and in our city, are in direct conflict with the values of the District and require us to take action."
But the district itself is opposing the move, claiming SRO decisions should be made at the school level rather than in the form of a top-down mandate.
It's currently up to local school councils to decide if they want school resource officers in their respective schools, and earlier this month, Mayor Lori Lightfoot said she wouldn't consider canceling CPS' existing contract with the Chicago Police Department.
Despite the scheduled board vote, CPS CEO Janice Jackson on Monday reiterated her belief that the district has a "strong process in place," saying she doesn't want to take that control away from local school councils.
"My personal thoughts on this issue are evolving," she said. "But there is no doubt in my mind that allowing elected local leaders, parents, educators and community members to make this hard decision is the right place to be."
There are currently 144 school resource officers assigned to CPS schools, according to the board, as well as 48 mobile school officers and 22 staff sergeants.
While noting there is still room for improvement, Jackson said there have already been significant changes made to the existing SRO program, including a new selection criteria for officers, additional training and a more clear definition of their role and responsibilities in schools.
She said the district is also strengthening its screening process to "more critically evaluate" any officer's previous disciplinary history.
School districts in other major cities including Minneapolis, Denver and Seattle have already suspended or terminated contracts with local police in the aftermath of Floyd's killing.
Chicago aldermen attempted to advance a measure that would've terminated the contract and redirect those funds toward additional nurses, counselors, case managers and other wraparound services in CPS schools, but it was blocked last week.
The Chicago Teachers Union, which has voiced opposition to keeping officers in schools, has scheduled a car caravan protest downtown on Wednesday afternoon to call for the termination of the police contract.
"The need is critical," the union wrote in an email Monday morning. "Many of CPS' predominately working class students of color face trauma in their lives from poverty, unemployment, unstable living conditions, lack of access to health care and affordable housing, and over-policing in their schools and communities. Criminalization in schools only compounds that trauma, yet CPS has declined to invest in proven, cost-effective alternatives like restorative justice."
While the CTU wants police officers out of schools, Jackson said the board has been provided with the results of a survey showing that teachers are actually more in favor of maintaining the SRO program. The district did not provide additional information about this survey following a request by WTTW News, syaing it would be shared during the board meeting Wednesday. 
Joining Jackson on Monday were a handful of CPS principals who spoke of the positive impact they say SROs have had in their school communities.
Myron Hester, principal at Julian High School, said SROs have protected kids both inside and outside the school. Michele Clark Magnet High School Principal Charles Anderson said his SROs lead classes for both students and parents.
And Amundsen High School Principal Anna Pavichevich said the officers at her school have had a significant impact on student safety, including protecting kids outside after hearing calls of an "armed threat" in their neighborhood.
"When there is a school-based threat," she said, "we can't risk waiting minutes."
Despite those positive interactions, the board's motion focuses on the potential harm that can come to students, particularly those of color.
In the motion, they note that between 2012 and 2018, Black students accounted for 66% of police contacts despite making up just 36% of the CPS population. The rate of school-based police notifications for Black girls was also seven times higher than that of White girls.
"The staffing of sworn police officers to act as SROs in district schools does not align with the District's Core Values, Vision and Equity Framework," the motion states. "The Board must identify alternative ways to holistically support, rather than criminalize students."
The board's monthly meeting will begin at 10:30 a.m. Wednesday.
Contact Matt Masterson: @ByMattMasterson | [email protected] | (773) 509-5431
---