For every one dollar of accumulated wealth that white families have, black families have just one cent. 
That's the finding of a new study from Northwestern University which used data on consumer finances from the Federal Reserve to track changes in family wealth from 2004 to 2016.
The study found that Latino families fare slightly better, with eight cents for every dollar.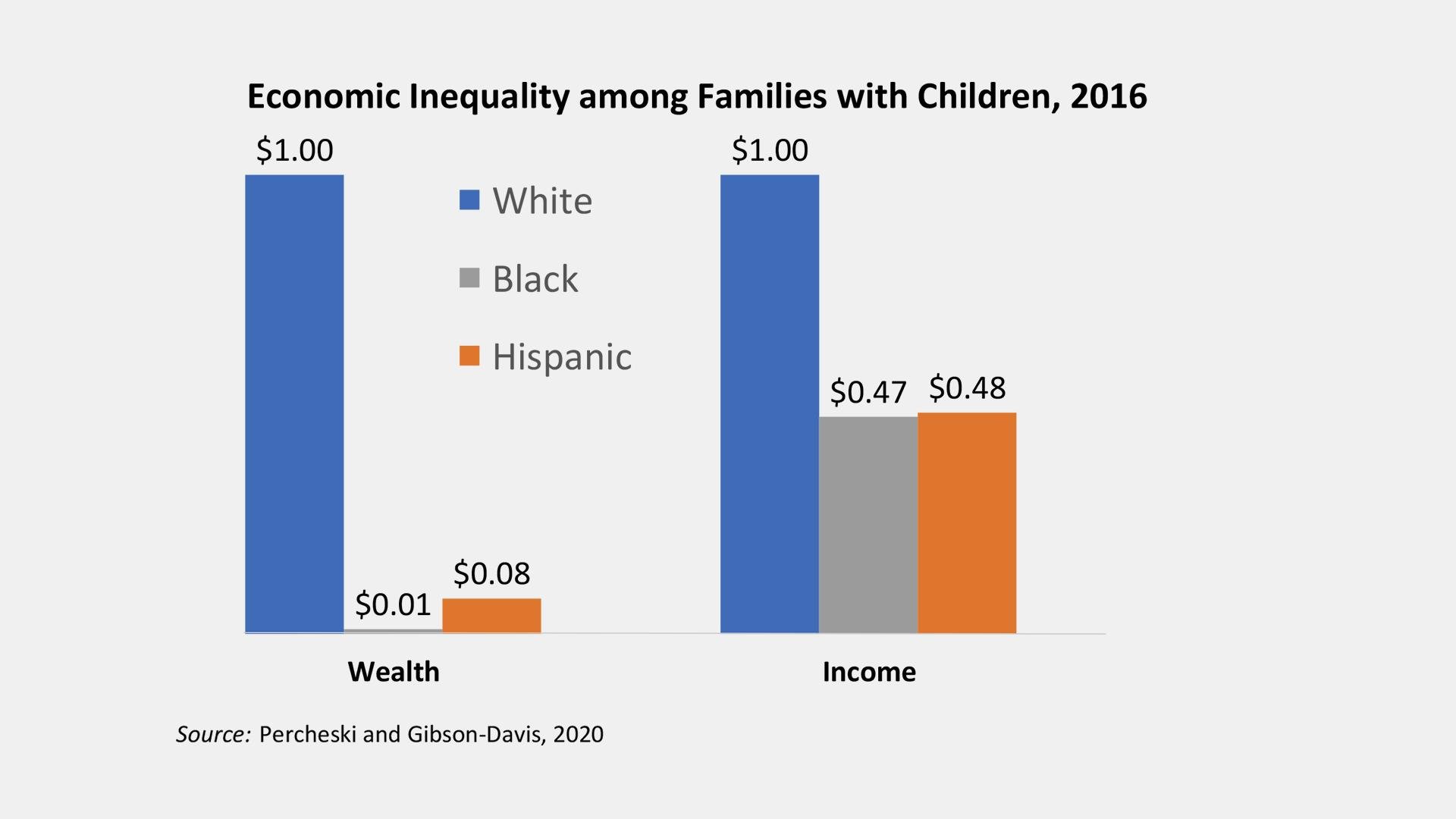 (Courtesy of Christine Percheski, Northwestern University)
Northwestern University sociologist Christine Percheski, who co-authored the study, compared the wealth — assets minus debts — of households with children for black, white and Latino families, noting that a family's wealth is key to a child's future success.
"Racial inequality in income for families with children has not grown recently, but racial wealth inequality has grown tremendously," Percheski said. "The level of racial economic inequality in the U.S. is staggeringly high, and that is an important part of the story of racial violence and racial injustice and health disparities of the COVID-19 pandemic."
Percheski points to discrimination in housing and mortgage lending, including predatory lending, as well as inequities in the way higher education is financed as some of the contributory factors that have created the huge disparity in wealth between black and white families. She also notes that after the Great Recession of 2008, many white and Latino families were able to regain much of the wealth they lost. But that hasn't happened for black families who have seen a nearly 20% drop in homeownership since that time.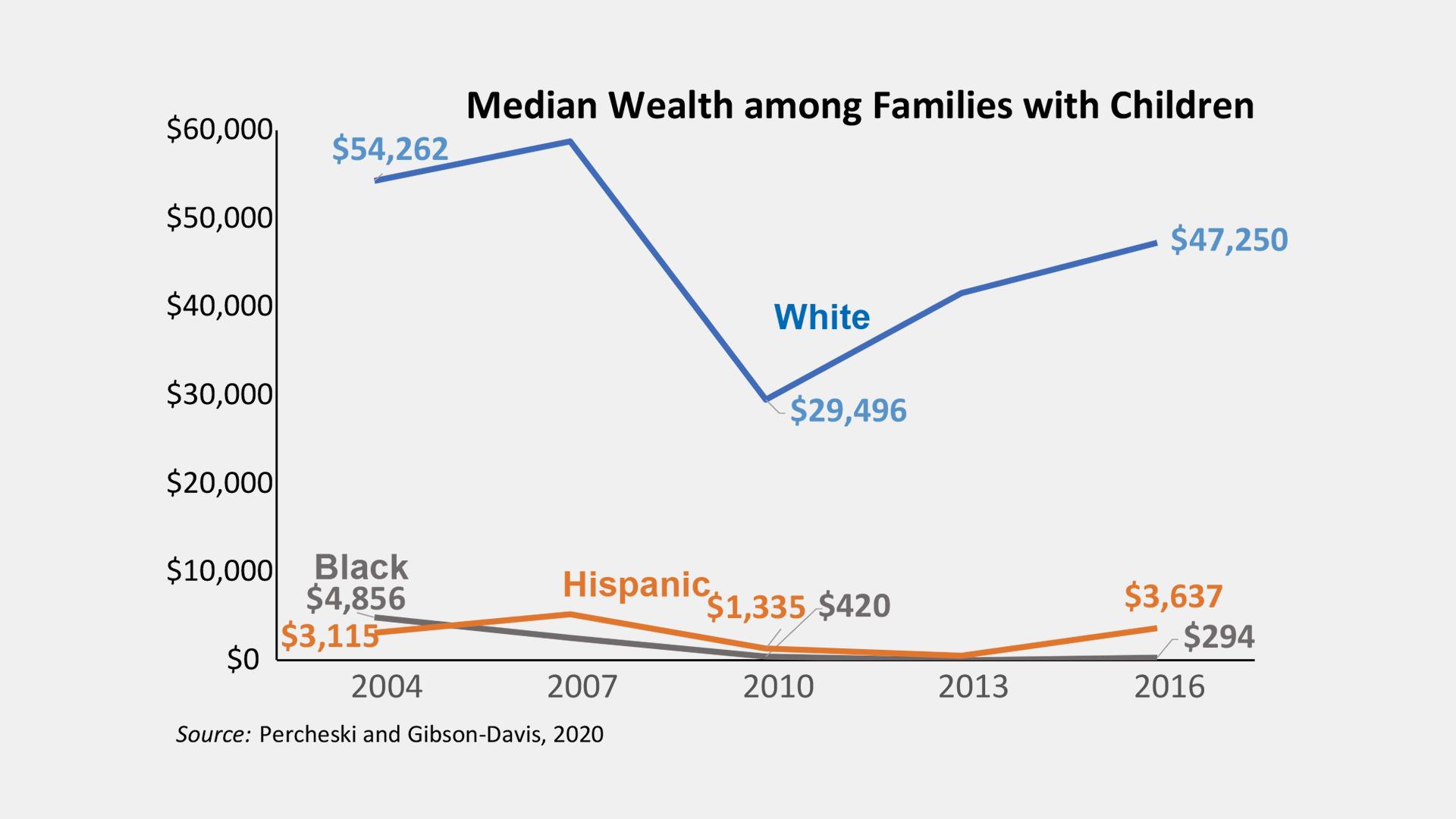 (Courtesy of Christine Percheski, Northwestern University)
"Racial economic inequality is an important part of the story of racial violence and racial injustice," Percheski said. "We absolutely need to think about how we can start to reduce wealth inequality, and it's not going to be quick or easy, and it will require radical action."  
Rendel Solomon, managing director with Muller & Monroe Asset Management — a Chicago-based private equity firm — knows much about the systematic denial of opportunities to generations of African Americans through his own family history. His grandmother moved to Chicago as part of the Great Migration that saw many African Americans move from southern states to northern cities like Chicago.
"The system that my grandmother lived in in Mississippi didn't afford her the opportunity to learn skills and understanding of how money works," Solomon said. "She passed down all that she could pass down to my late mother, who focused on education, recognizing how critical that would be to any potential success that I might have in the future. So for me and my generation, I'm first generation college and my two sisters — all three of us are college graduates — I felt it was incumbent on us to push things even further."
Solomon says there's a constant conflict and battle between the notion of individual responsibility and systemic pressures which have held back economic development in the black community.
"Those two things are in constant battle, so when we talk about creating solutions both of those paths have to be addressed," he said. "There is mindset shift that has to happen on both sides of the equation and there are structural impediments that need to be addressed. And we have to continue to reinforce the importance and significance of education to our community."
He also notes that while calls for greater investment in black communities is seen by some as a handout, they fail to take into account the theft of wealth from African Americans for generations — starting with slavery.
"There is an extraction of wealth that took place and that was followed up by a denial of opportunity — and the two work together," said Solomon, who founded the nonprofit One Stock One Future to increase the financial literacy of disadvantaged youth through stock ownership. It's goal is to empower one million young people from disadvantaged backgrounds by making them shareholders and exposing them to basic concepts related to ownership, money management and investing. 
He also wants to inspire entrepreneurship.
"There is $70 trillion of capital that flows down from institutional investors according to a recent Knight Foundation report and less than 1.5% of it is managed by firms that are owned by women and minorities combined," Solomon said. "We need to look deep within the structures to look at who gets to manage that capital and invest that capital that goes to build businesses. We have to ask ourselves if that number was different could we possibly see different outcomes if there wasn't such a disparity in that flow of capital?"
---