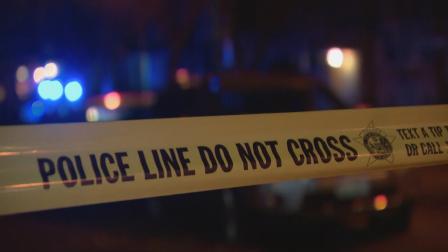 (WTTW News)
Through the first six months of 2020, the number of gunshot wound victims treated by Cook County Health has increased by 20% compared to the same time last year.
Speaking on National Gun Violence Awareness Day, Cook County Board President Toni Preckwinkle said Friday there has been a marked increase in gun violence in 2020, despite a stay-at-home order that was in place statewide for more than two months during the COVID-19 pandemic.
"We know that people are tense and anxious, with the highest unemployment rates in our nation's history and families worried about where their next meal or their next rent payment will come from," she said during a press conference Friday. "It's no wonder that some, in their hopelessness, turn to violence."
According to Preckwinkle, Cook County Health treated 354 gunshot wound victims between Jan. 1 and June 2, 2019. Over that same period in 2020, there have been 425 victims. That data tracks with Chicago Police Department data, which showed a 14% increase in the number of murders, year-over-year, through late May.
Since then, Chicago has seen two of its most deadly weekends in succession amid warmer weather: the extended Memorial Day weekend and unrest following the police killing of George Floyd in Minneapolis.
#WearOrange Day is a somber day of commemoration after an especially somber two weeks. Today reminds us that gun violence is still a pandemic, one that our nation has yet to address.

Read my remarks on National Gun Violence Awareness Day: https://t.co/Gb6yy87bXT pic.twitter.com/CEiOUr1Tko

— Toni Preckwinkle (@ToniPreckwinkle) June 5, 2020
---
Dr. Faran Bokhari, Cook County Health's chair of trauma, said that each year his department braces for an increase in violence during the summer months. The first day of summer is still more than two weeks away, but he said gun violence is already trending upward.
"Every day we are seeing the impact of that violence and tragedy has on the families and communities we serve and how it affects them for generations," Bokhari said. "This is not the story of one person getting shot, it is the entire family that's getting shot."
During their press conference Friday, Preckwinkle, Bokhari and others wore orange pins in memory of Hadiya Pendleton, the 15-year-old girl who was shot and killed as she stood with friends in Harsh Park on the South Side more than seven years ago.
Orange was the color Pendleton's friends wore in her honor after her killing, and it has since become a symbol recognized nationwide for gun violence prevention.
Preckwinkle said Friday is a day to remind people that gun violence remains a pandemic – one "our nation has yet to address."
"Many have suffered, many have died, including Hadiya Pendleton," she said. "We wear orange because we are exhausted by the senseless killings. We wear orange because we are tired of lawmakers who listen to the National Rifle Association instead of the parents of Sandy Hook, Columbine and the countless other schools that barely make the news."
Contact Matt Masterson: @ByMattMasterson | [email protected] | (773) 509-5431
---