The killing of George Floyd has brought the conversation about policing people of color in America front and center — again.
While the charges filed against officer Derek Chauvin, who kept his knee on Floyd's neck for more than eight minutes, and the swift firing of the other three Minneapolis police officers on the scene demonstrate authorities are not covering up or condoning the killing, the ensuing protests and riots show that many people feel justice is a long way from being served. 
What can be done to change the relationship between the police and the people they are sworn to serve and protect?
Retired police officer Richard Wooten, founder of the nonprofit Gathering Point Community Council, believes that the problem lies in what he calls the original pandemic. 
"Racism is the pandemic. This is enough. Every time a situation like this occurs we always focus on the wrong questions, and it distracts us from the main purpose," he said. "Unless we solve that, we are never going to be at the point we need to be to unify this country."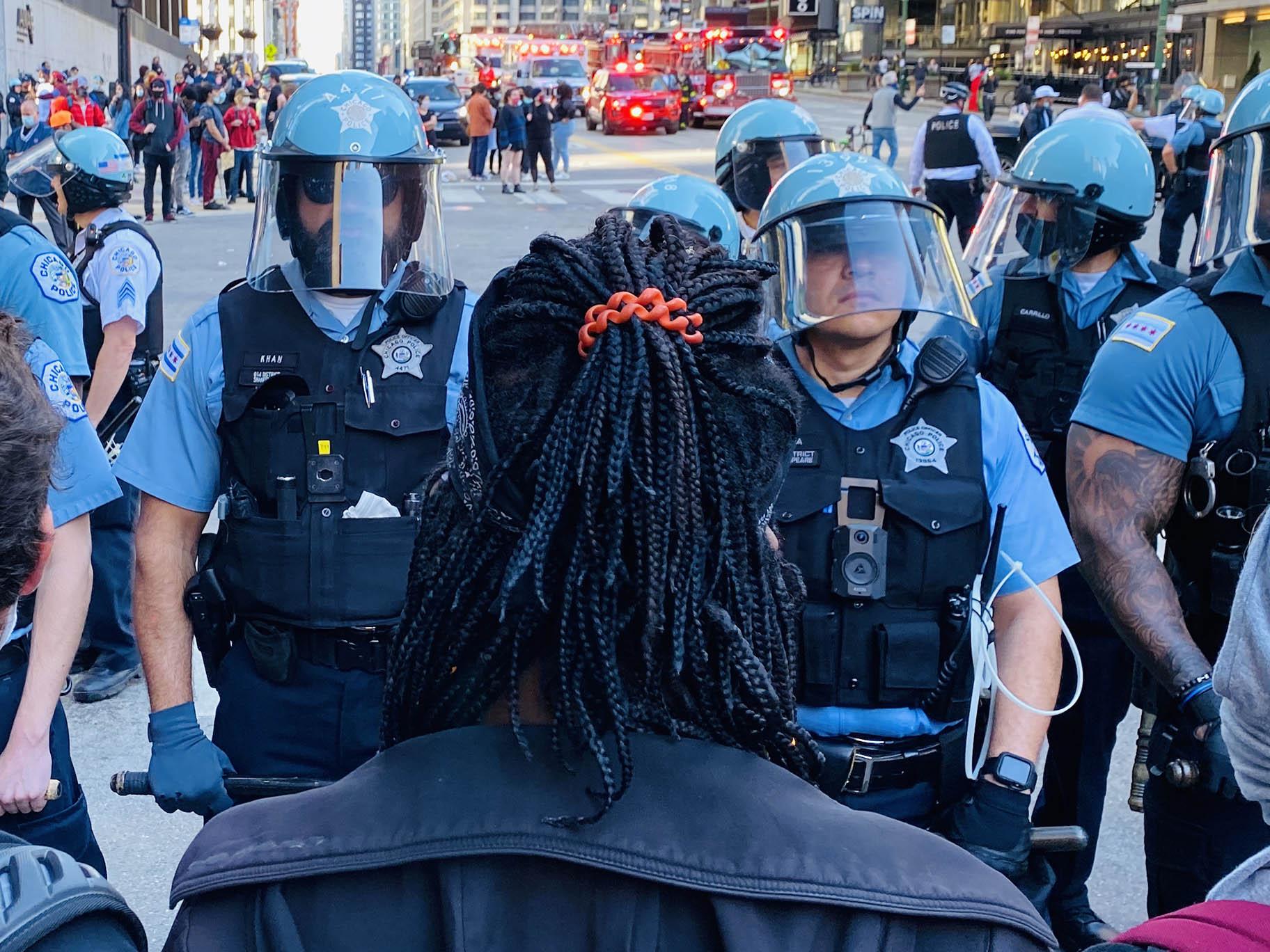 A protester faces off against police in Chicago on Saturday, May 30, 2020. (Hugo Balta / WTTW News)
Activist Ja'Mal Green thinks the issue is at a boiling point. 
"Like Dr. Martin Luther King Jr. said, a riot is the language of the unheard. There has to be accountable and justice for this to change," Green said.
He points out that the other three officers on the scene in Minneapolis when Floyd was killed have been fired, but not charged. "Until there is justice, folks are going to continue protesting. You can't talk about reform and justice until you get the accountability portion out there," Green said.
Theater director Wardell Julius Clark, who's worked at TimeLine Theatre Company, Shattered Globe Theatre and Berwyn's 16th Street Theater, says it would take a reimagining of the job of the police for any real change to occur.
"When I was doing research for 'Kill Move Paradise,' a play about black men killed by police, I came to understand that the police are trained to fear black and brown people. And if the officer is black, they are trained to be blue," he said. "That color blue comes before any race. We are in an epidemic of killing black men, who has always been seen as dangerous simply for existing. They needed to be trained to be compassionate service to their community. We need a large, optimistic leap forward."
Note: We invited the Chicago Police Department to participate but they declined. Police union President John Catanzara was expected to participate but canceled.
---