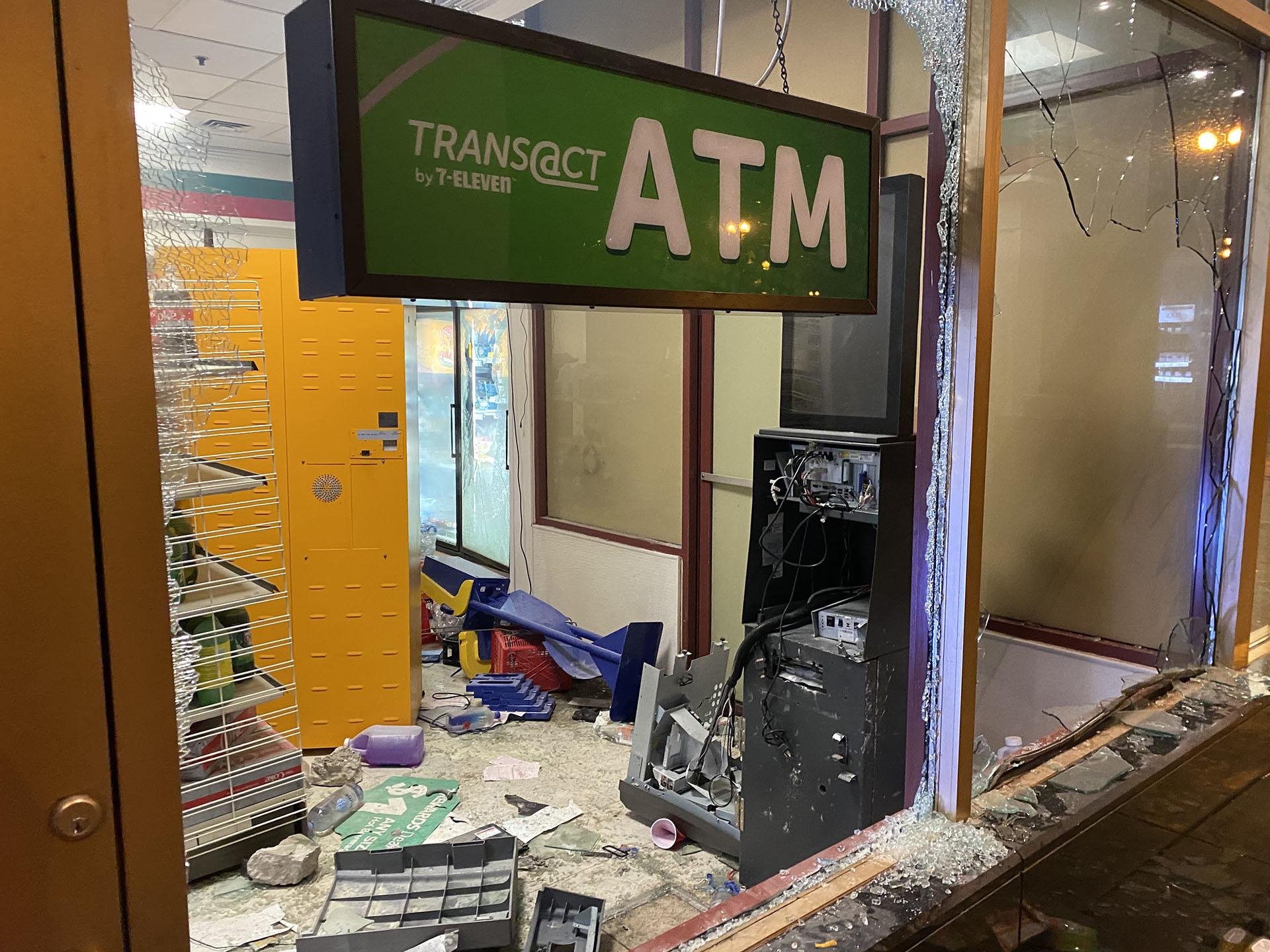 Scenes from Chicago protests on Saturday, May 30, 2020 over the killing of George Floyd. (Hugo Balta / WTTW News)
The American Civil Liberties Union of Illinois is considering taking legal action to rein a nightly curfew Chicago Mayor Lori Lightfoot has imposed on the city for an indefinite period.
The 9 p.m. to 6 a.m. curfew was first imposed on Saturday night, as city leaders strove to quell looting.
"The curfew is enforceable by law and restricts people from remaining in any public place – including but not limited to streets and highways; common areas of schools, hospitals, office buildings and shops; or on the premises of any establishment – defined as any privately-owned business operated for a profit to which the public is invited, within the City of Chicago during curfew hours," the initial notice read.
Breaking curfew could result in "warnings, fines and/or arrests" by city police.
The ACLU is taking issue with the broad terms of the curfew, which spans all city neighborhood and the mayor's office said is in place "until further notice."
"Any curfew must be limited to the specific places in the city where there is imminent threat of danger or harm, not the entire city," said ACLU director Colleen Connell in a statement. "The broad and vague nature of this order – and the suggestion that it is indefinite in time – invites arbitrary and discriminatory enforcement. We encourage the mayor to rethink this strategy immediately. The ACLU of Illinois is exploring all options including litigation." 
ACLU spokesman Ed Yohnka said the organization has a general skepticism of an order "not targeted where there's actual threat of bodily harm (and) at the same time we always want to closely monitor how the curfew ends up being enforced, so that it's enforced fairly and equitably and in a way that's not any more harsh than is necessary."
Yohnka said Lightfoot should be transparent by giving fair notice about the curfew, what triggers a violation (For example, is someone allowed to go outside to take the dog out?), and who is arrested for breaking it.
"I think the concern is that the curfew would be enforced in a racially discriminatory way," Yohnka said.
Transparency about those who are arrested and under what conditions will "help to avoid, I think, perpetuating (and) continuing the harm of policing in black and brown communities that the mayor and other officials have denounced," he said, adding the sooner that comes, the better.
Chicago police superintendent David Brown said that information will be forthcoming.
On Sunday morning, Brown said 240 individuals were arrested overnight, though he could not say how many of those were related to curfew violations.
Lightfoot on Sunday said she didn't make any decisions about the protests and riots lightly, including whether to impose a curfew.
"I'm a lawyer. I know the law. But I also know it's critically important that we enforce the rule of law," the mayor said. "We cannot allow lawlessness to prevail and the measures that we have taken and maybe measures that we will next take are ones that we are thoughtful, and considerate about. They are very similar to steps that have been taken in cities across the country and with due respect to the ACLU, I know what we need to do to make this city safe and I'm going to make those calls every single time."
Chicago Ald. Brendan Reilly, whose lives in a building that was vandalized Saturday night, responded to the ACLU's constitutional concerns in a tweet.
"I'd encourage my friends at the ACLU to take a stroll through downtown Chicago with me in a few hours at 6 a.m. I respect and support your mission, but tonight cannot be repeated. Ever," he wrote.
The ACLU and other critics also take issue with Lightfoot announcing the curfew restrictions on Saturday night, while protests were underway and as bridges over the Chicago River were lifted so crossing was impossible.
The mayor first posted the curfew order on her own Twitter account at 8:40 p.m. Saturday, just 20 minutes before it took effect.
The City of Chicago's Twitter account at 9:34 p.m. sent notice that "in order to comply with the curfew, you must be on the way home. If you are in the Loop, you may exit on foot via the LaSalle Street bridge or any direction south. @cta buses and L stations are open and running outside of the Loop. Please be safe."
While some individuals applauded the mayor for taking action to help stop the ongoing violence, others questioned how protesters would be able to safely make it home in time, and said that suspending public transportation was likewise making it difficult for individuals seeking medical attention.
"Lower the bridges" was a common response, while the ACLU statement from Connell said individuals downtown at the time were effectively "trapped."
"The mayor's summary announcement of a potentially indefinitely curfew tonight for the entire city – with hundreds of people trapped in the Loop – raises serious constitutional questions that need to be remedied," Connell said in a statement on Saturday.
Follow Amanda Vinicky on Twitter: @AmandaVinicky
---