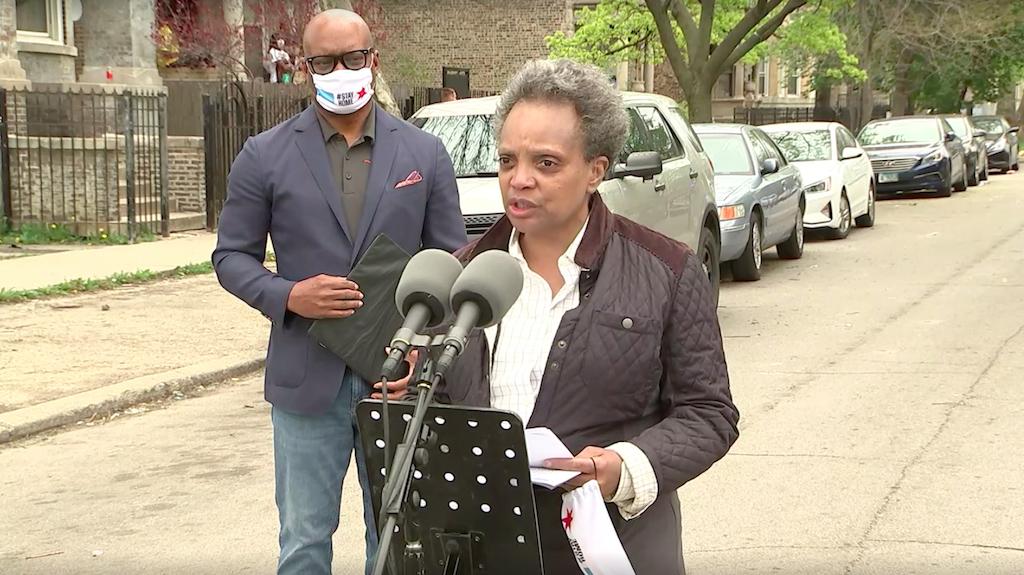 Mayor Lori Lightfoot speaks during a press conference in West Garfield Park on Saturday, May 2, 2020, once again imploring Chicagoans to stay home during the COVID-19 pandemic. (Chicago Mayor Livestream)
Whooping it up during the pandemic isn't just a party foul.
It could get you arrested, Chicago Mayor Lori Lightfoot and the city's new Police Superintendent David Brown warned on Saturday – a balmy, partially sunny day with a high hitting the mid-70s.
"We will shut you down. We will cite you and if we need to, we will arrest you and we will take you to jail. Period," Lightfoot said. "Don't make us treat you like a criminal, but if you act like a criminal and you violate the law and you refuse to do what is necessary to save lives in this city during a pandemic we will take you to jail, period."
Don't be stupid, she said, "we are watching."
Brown said the Chicago Police Department will "be on the lookout for gatherings large and small."
Anyone caught congregating will be told to disperse. If they don't abide, there will be consequences, he said.
"Non-compliance will result in citations, fines and yes, arrests. As silly as that sounds you could be arrested for having a party in this COVID-19 virus environment," Brown said. "CPD has the ability to arrest offenders that adamantly refuse the stay-at-home order. Those that organize any large parties will be held accountable."
Hosts and party promoters will be ticketed or arrested, and cars will be towed, he said.
"Don't leave your house unless absolutely necessary. Don't invite people over either," Brown said. "Chicagoans have done too much good thus far to risk a spike in cases of this deadly virus. This isn't something CPD is going to take lightly."
Heading into Saturday night, Brown said the CPD was aware of six large parties, mostly through "bold" party promoters who had cast open invitations on social media.
Brown said there were parties all over the city on Friday, and while officers forced some to disperse, no arrests were made. Some had more than 100 people in attendance, officials said.
Do what's right and stop the spread. Anonymously report house parties and large gatherings to https://t.co/1xUCRz71hV. #StayHomeSaveLives pic.twitter.com/GXKIR80xTN

— Chicago Police (@Chicago_Police) May 2, 2020
---
Three Chicago police officers have died from the coronavirus, as have two firefighters.
"For a silly party you are risking first responders' lives. Think about that," Brown said. "That's the silliest thing … how you justify having a party, risking all of our lives, including our first responders. So we're going to take any and all measures necessary to discourage and end this partying during the COVID pandemic."
Last weekend, a Chicago woman shared on Facebook Live a crowded house party. Officials slammed the mostly African American partygoers for endangering their friends and family, particularly given that COVID-19 has impacted the black community at disproportionate levels.
"Yes folks, black people can get COVID-19," Lightfoot said.
The mayor sounded stern, and raised both her voice and her finger during the last-minute press conference, as she called COVID-19 a "ruthless" disease.
"You absolutely must stay at home. And that means your home. Not somebody else's home. Not an Airbnb. Not some party place. You need to stay at your home. That's what this means," Lightfoot said. "Going to a party now during this pandemic while Chicagoans are still dying every day is a height of foolishness."
She also encouraged people to notify the city if they see a neighbor having a party or hear of someone organizing a gathering.
"When you go out and party, when you go home to your mama, your grandma or anybody in your household who has an underlying medical condition, you are bringing death to their doorstep, make no mistake about it," Lightfoot said. "And if you care about them you will stop this foolish, reckless behavior."
Follow Amanda Vinicky on Twitter: @AmandaVinicky
---