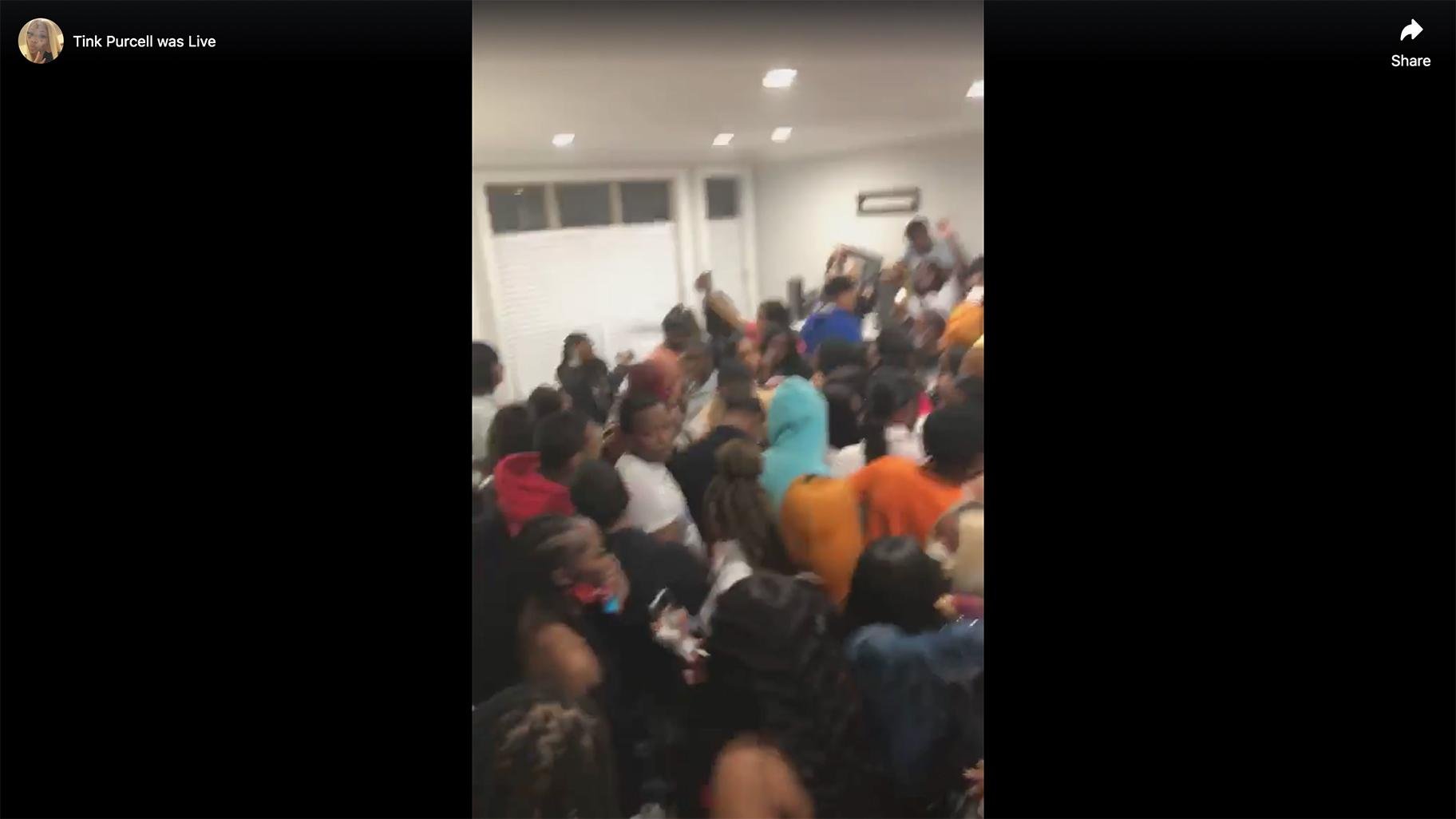 A screenshot taken from a Facebook Live video shows a crowded house party that appears to have been held in Chicago on Saturday, April 25, 2020.
Chicago Mayor Lori Lightfoot is asking residents to anonymously report tips about house parties after a Saturday night bash in Chicago drew international disdain, and she hinted that party organizers and attendees could face repercussions.
Social distancing guidelines in place to prevent the spread of the coronavirus call for people to keep 6 feet apart, at minimum.
Dozens of young adults flouted those rules Saturday night, as they were packed shoulder-to-shoulder at a house party that appears to have been held in Chicago.
Some wore Chicago sports gear – a Bulls jersey, a Bears hat.
A handful wore face masks.
"You can't even move in this b***h," someone says in the more than 23-minute video posted on Facebook by user Tink Purcell. 
Lightfoot tweeted on Sunday evening that the party was "reckless and utterly unacceptable."
"I have seen the video which shows what appears to be a house party taking place inside a Chicago residence," she wrote. "While most Chicagoans are doing their part to prevent the spread of COVID-19, reckless actions like these threaten our public health and risk erasing the progress we have made. We will hold those responsible accountable."
Gov. J.B. Pritzker said Sunday that everyone in attendance had violated not only the trust of his stay-at-home executive order, but "they've violated the trust of their friends and family."
The video shows attendees impressed by the number of people who watched the video on Facebook Live; at one point a woman shakes her butt for the camera, as the person filming it remarks that 800 people are watching.
The Chicago Police Department on Sunday morning wrote on Twitter that it is aware of the video circulating on social media.
"While we cannot authenticate the nature or location of the gathering, we want to remind everyone of the social distancing requirements in place," the CPD's News Affairs assistant director Luis Agostini wrote. "CPD will disperse crowds in violation of social distancing requirements, and if necessary, issue citations or as a last resort, enforce via arrest.
The video has received international attention, with a writeup in the UK's Daily Mail.
Purcell posted Sunday on her timeline: "I had my mask and sanitizer I was good."
Pritzker on Sunday afternoon said he had not seen the video, but that he is aware of it.
"You're literally putting everyone around you in danger. You are. They are putting you in danger. And, very importantly, all of those people are putting their families and their friends who are not there with them in danger," he said.
With COVID-19, Pritzker said, you can feel fine, especially in the early stages of carrying the virus.
"You'll go home. You'll feel fine. And you might give it to people at home. You'll see your friends, you'll feel fine, you give it to one of your friends, or more, and then you are a spreader of COVID-19. The whole purpose of social distancing, of wearing masks, of staying at home, in fact, is that we don't want to spread this to our loved ones or to others in the community," he said.  
As Chicago's weather warms, and as the executive order extends into a second month, there's a belief that people may increasingly relax their quarantine and social distancing practices.
Police have the ability to enforce the order. But Pritzker said he hopes to rely mostly on self-enforcement, and that he wants police to first nudge violators with a reminder.
"If they refuse and if they repeatedly refuse, there is the ability by the police officers to charge them with reckless conduct and take them into custody," he said. "Though again we have discouraged police from doing that because we believe that people will in general follow the rules."
Pritzker said parties like the one apparently held this weekend on Chicago's West Side should be broken up.
The Chicago Police Department did not respond to questions as to whether any further investigation into the party is underway. 
Chicago residents can send tips about house parties to cpdtip.com and "CPD will shut them down immediately," Lightfoot tweeted Sunday. "The fewer people who comply with the 'Stay At Home' Order, the sicker our residents will get and the harder it will be for us to recover."
Follow Amanda Vinicky on Twitter: @AmandaVinicky
---