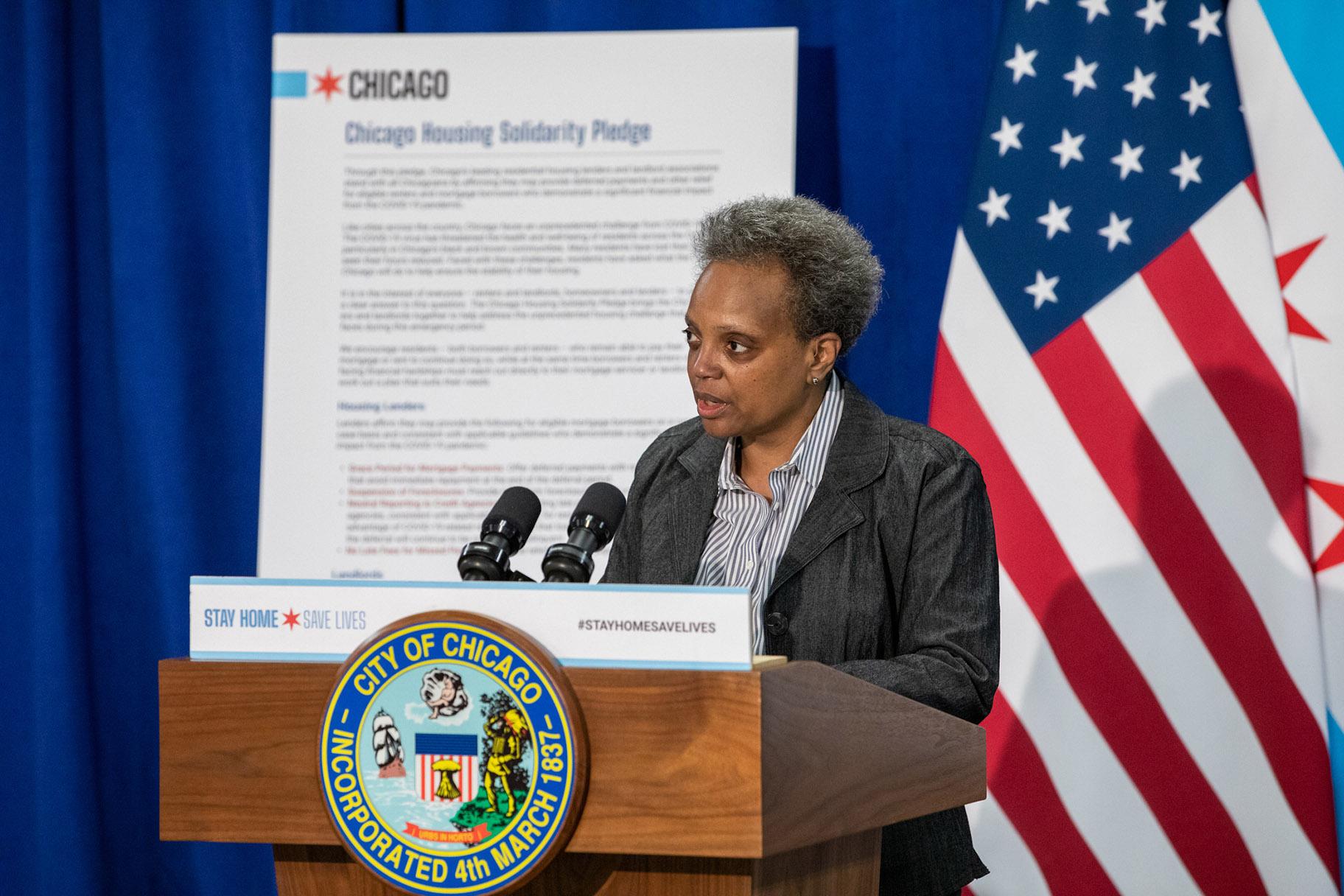 Mayor Lori Lightfoot announces the Chicago Housing Solidarity Pledge on Wednesday, April 29, 2020. (@chicagosmayor / Twitter)
Chicago officials acknowledged Wednesday that renters are being hit by the coronavirus pandemic "10 times harder" than property owners — and called on landlords and banks to be compassionate and flexible when demanding rent and mortgage payments.
Lightfoot praised the 17 organizations that signed on to the Chicago Housing Solidarity Pledge, saying they were helping the city protect its most vulnerable residents during the pandemic — and working to prevent a wave of foreclosures and evictions once the worst has passed.
The non-binding pledge calls on landlords to allow tenants who have lost income because of the pandemic more time to pay their rent and ink repayment plans without charging late fees.
The pledge calls on banks to offer grace periods for mortgage payments, to not make negative reports to credit agencies and to suspend foreclosures.
Lightfoot acknowledged that the city could not enforce the pledge — but said she would rely on "public accountability."
"We can't mandate that it happen, but I think the moral imperative that has been expressed by every single speaker who's come to this podium hopefully will prick the consciousness of everybody, including landlords, to step up and say, 'I can do better,'" Lightfoot said in response to reporters' questions.
Lightfoot said Chicagoans must do their best to "meet their obligations" and pay their rent and mortgage if possible.
But 20 tenant groups and progressive political organizations that have been pressing Lightfoot to support legislation requiring rent and mortgage relief blasted the pledge as "wholly insufficient" even before the mayor stopped speaking.
The groups have also urged Gov. J.B. Pritzker to use his emergency powers to lift the statewide ban on rent control. However, because the ban was enacted by the General Assembly, the governor has repeatedly said he is powerless to act.
The Chicagoland Apartment Association, Chicago Association of Realtors, Bank of America, BMO Harris Bank, Byline Bank, Fifth Third Bank, PNC, Wintrust and Seaway Credit Union signed the pledge, according to the mayor's office.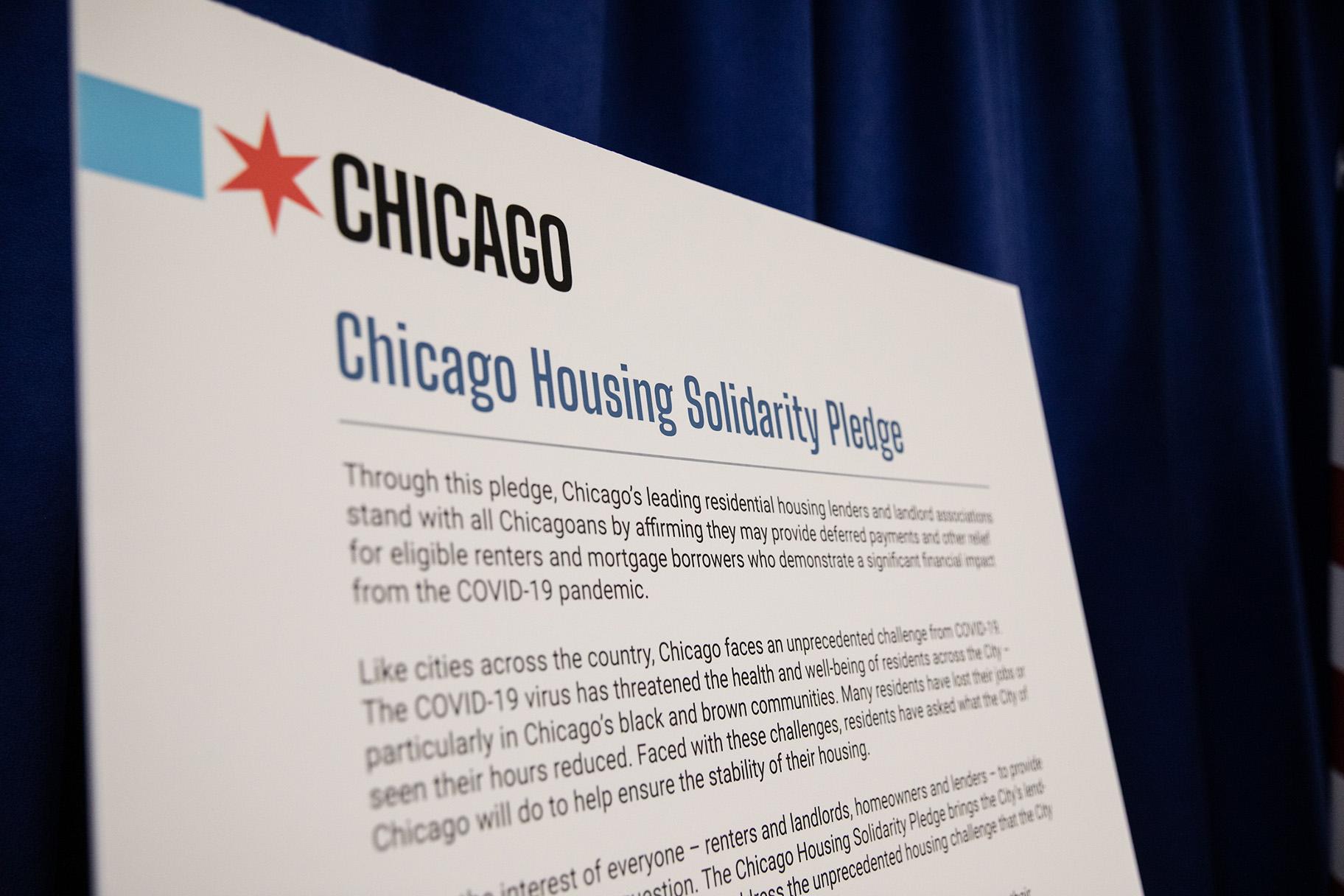 (@chicagosmayor / Twitter)
Earlier this month, approximately 83,000 Chicagoans who lost their jobs or found their paychecks scaled back because of the coronavirus pandemic applied for $1,000 grants to help them pay their rent or mortgages.
City officials had enough funds to help 2,000 applicants.
Chicago Department of Housing Commissioner Marisa Novara said landlords reported a 61% decrease in rent collection in April. Rent for May is due Friday.
Department officials later clarified that Novara was referring to an informal survey conducted by city officials of affordable housing providers.
The pledge is designed to ensure that Chicago emerges from the pandemic "without a wave of evictions and foreclosures," Novara said.
Lightfoot opposed a measure that was introduced Friday by Ald. Matt Martin to give renters who lost income during the coronavirus outbreak 12 months to pay missed rent, saying it did not address the hardships faced by landlords.
Aldermen allied with the mayor blocked that proposal from advancing, and it is now languishing in legislative purgatory.
Martin called the pledge announced by the mayor Wednesday "a fine step to take."
Martin said he remained concerned that some Chicago residents would "fall through the cracks" since some landlords are unwilling to heed the mayor's call for "grace."
Martin said he would push for a vote.
"While passing this legislation has been made more challenging, the stakes are too high to stop here," Martin said.
Contact Heather Cherone: @HeatherCherone | (773) 569-1863 | [email protected]
---