After much anticipation, Gov. J.B. Pritzker announced Thursday that a stay-at-home order meant to curb the spread of the new coronavirus across Illinois will not be lifted at the end of the month.
Instead, a modified version of the order that strengthens social distancing requirements will remain in place through May 30 as the state continues its battle against COVID-19.
"The projections are clear. If we lifted the stay-at-home order tomorrow, we would see our deaths per day shoot into the thousands by the end of May, and that would last well into the summer," Pritzker said during a press briefing Thursday. "Our hospitals would be full and very sick people would have nowhere to go. People who might have otherwise won their fight against COVID would die because we wouldn't be able to help them through."
But "May will look somewhat different than March and April," Pritzker said. 
Among the changes taking effect May 1: new rules on face masks and coverings, which will be required in public places where a 6-foot social distance can't be maintained, according to the governor's office.
Enforcement of the new requirement, which applies to people over age 2 who are medically able to tolerate a face covering, will be left to local municipalities, according to Pritzker. "We are not encouraging arrests," he said. 
Also, garden stores, nurseries and greenhouses will be allowed to operate as essential businesses starting May 1, while nonessential retail stores can reopen in a limited capacity to fill orders made online or by phone and facilitate pickup.
The Illinois Department of Public Health will also begin issuing guidance to hospitals and other surgical centers to allow for certain elective surgeries for non-life-threatening conditions, starting May 1. And educational institutions will be allowed to create procedures for students to pick up any necessary supplies or belongings, including dorm move-outs, according to the governor's office.
Health officials announced 1,826 new cases of the virus Thursday, and 123 new deaths. A day earlier, Illinois reached a grim milestone: 2,049 new confirmed cases of the coronavirus in a 24-hour period, a single-day record. 
"To everyone listening, we are impossibly in the most difficult part of this journey. I know how bad we all want our normal lives back. Believe me, if I could make that happen right now I would, but this is the part where we have to dig in," Pritzker said. "And we have to understand the sacrifices we've made as a state to avoid a worst case scenario are working. We need to keep going a little while longer to finish the job."
State parks will also begin a phased reopening under the modified stay-at-home order, which Pritzker will sign next week. In Northeastern Illinois, those parks include: Chain O'Lakes State Park, Illinois and Michigan State Trail, Kankakee River State Park, Moraine Hills State Park and North Point Marina, according to the Illinois Department of Natural Resources.
Parks will be open sunrise to sunset. Visitor centers, campgrounds beaches and concessions will remain closed, according to IDNR. Visitors must practice social distancing and leave an area if they arrive at a park and crowds are forming, according to IDNR, which also recommends people visit parks closest to where they live with only members of their households.
People can also go golfing come May 1, as long as strict safety and social distancing guidelines are followed, according to the governor's office.
Pritzker also issued a warning.
"If we start to see crowds or people violating the order or breaking the rules, I will need to bring back these restrictions," he said. "I'm hopeful we will not need to do that."
Chicago Mayor Lori Lightfoot called the extension appropriate. "A month ago in March, we were all thinking this week would be the peak that we would reach. But I think what we've seen now is not so much a peak, but a flatten, and that's a good thing," she said Thursday. "But we don't know at this point how long it's going to take not just to flatten but to decrease."
Thursday's announcement follows Pritzker's decision to keep all public and private schools across the state closed for in-person instruction for the remainder of the academic year because of the pandemic.
During his press briefing, Pritzker also detailed modeling assembled by Illinois academic institutions and researchers that predicts the course of the coronavirus in the state over the coming months.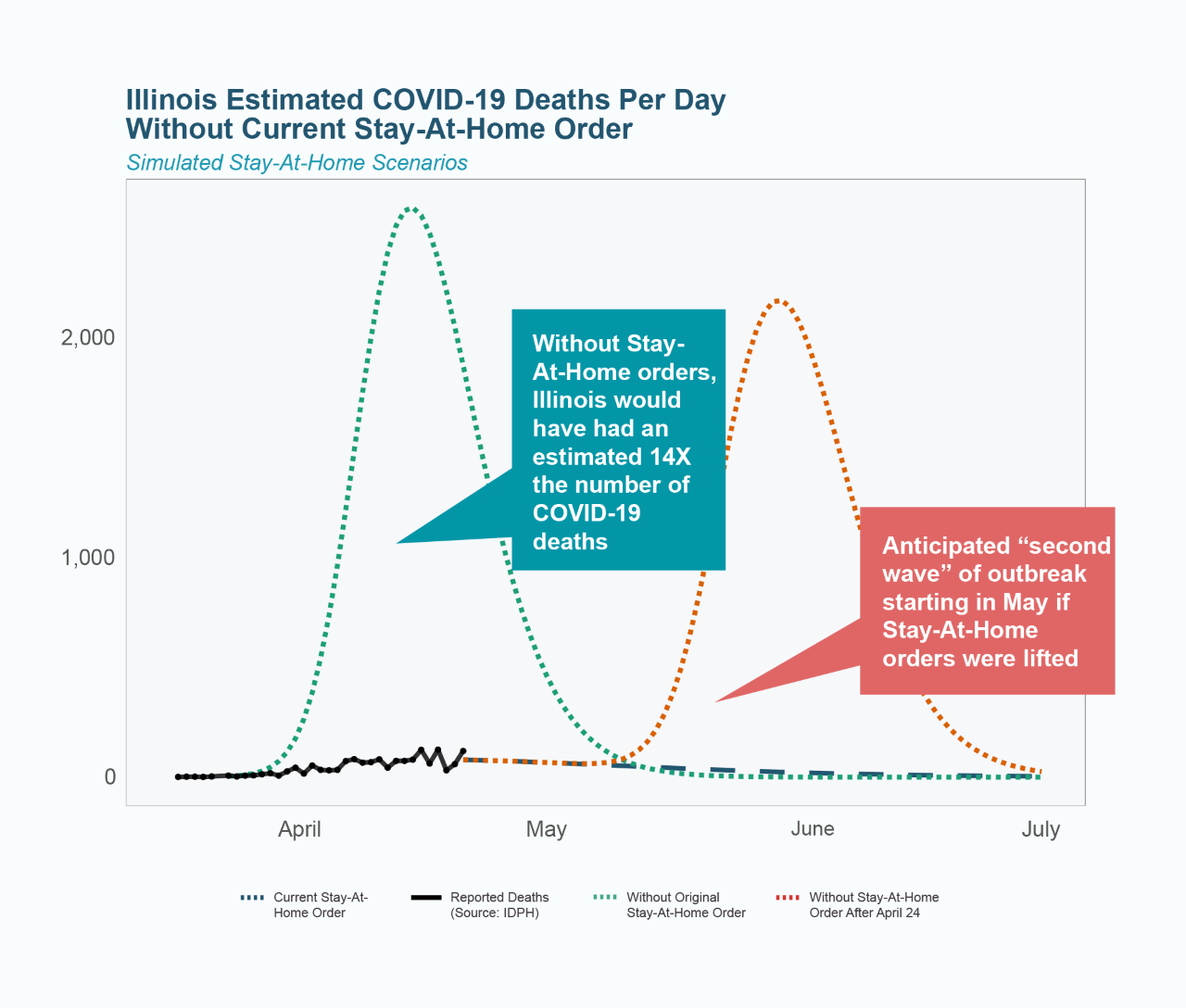 (Courtesy of Gov. J.B. Pritzker's Office)
According to that data, the state is projected to see a peak or plateau in the number of deaths per day between late April and early May, but if the stay-at-home order were lifted this week, the model anticipates a second wave of the outbreak starting in May.
According to the governor's office, the modeling shows the stay-at-home order is having its intended effect of flattening the curve. Without it, there would have been an estimated 10 to 20 times as many deaths to date (about 30,000), and the peak death rate and peak usage rate of hospital beds and equipment would have been 20 to 30 times higher.
"Make no mistake, Illinois has saved lives. By staying home and social distancing, we have kept our infection and death rates for the months of March and April thousands below rates projected had we not implemented those mitigation strategies," Pritzker said.
Contact Kristen Thometz: @kristenthometz | (773) 509-5452 |  [email protected]
---
---